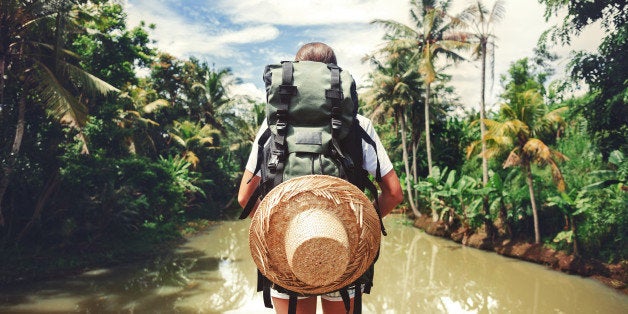 For today's generation, the ability to travel the world is no longer just a luxury, but an achievable reality. Advancements in technology have made it easier to discover more affordable travel opportunities, find the best routes, and even meet new people to travel with. However, the travel industry is overflowing with options, making it difficult to figure out what type of trip is right for you. Vacation time is also sparse with 41 percent of Americans revealing they didn't take a vacation in 2015, making the ability to organize a trip with a group of friends all at the same time almost impossible. So, what should you do if you still want to travel but don't want to go completely on your own? The coveted solo travel option works for some, but it's certainly not for everyone. If you're looking for an experience where you can have freedom with the safety net of traveling with friends, choosing to go solo with a group tour might just be the perfect solution. Here are four reasons why:
A Built-In Set of Friends
Whether you're an introvert, or the most talkative person in a room, it can be difficult to meet new people when you're alone. Traveling solo but within a group guarantees a built in social network. Because you're all choosing the same trip and activities, you're guaranteed to be surrounded by people with common interests. In fact, according to research from our company, Topdeck Travel, 18 percent of Millennials hope to make lifelong friends while on the road. Such strong bonds are made through travel likely due to the psychology of shared experiences. When we share an experience with another person, it intensifies our own experience, and a commonality results. Not to mention, you'll always have someone to to take your Instagram photos!

You Won't Bust Your Bank Account
Solo travel can be seriously expensive. You're responsible for paying for your own room, your own activity passes, and all of your own food - all with little to no discount. When you travel with a group, you have the benefit of a huge accommodation discount. Almost everything on group trips, outside of the flight, is included in the upfront cost, so there are no surprise fees for anything on the itinerary! Tour operators also often negotiate costs for the group, so you can be sure you're getting the best bang for your buck.
Let Someone Else Pour Over the Details
When you're traveling anywhere, you want to make sure you're checking everything off your bucket list in the short (or long) amount of time you have. According to our recent research, Millennials don't get around to doing or seeing everything they planned to while on vacation. Planning your own solo vacation and fitting in every little detail is harder than it seems, and one in five Millennials find the process very stressful. Tour companies and guides alleviate the stress by showing you the best the destination has to offer. There are also plenty of hidden gems that only tour guides and trip leaders know, like where to find the best slice of street pizza or where all the locals go for the live music. So, let someone else take the reigns on the planning front so you can relax and avoid the post-travel FOMO. Although the planning aspect has its advantages, one of the best parts of letting someone else strategize your trip, is that they're available if something doesn't go as planned. If you lose your passport or get sick while abroad, someone is around to ensure you get the care you need, and get home safe.
Experience the Local Culture
Traveling alone, especially in a country where you don't speak the local language, can be intimidating. On a group trip, there will always be someone who speaks the language to help you find the bathroom, or make sure you don't accidentally order the snails. You can travel off the beaten path to places typically inaccessible to the general public or that you would never even think to visit when on your own. For example, our Road to Phnom Penh trip allows travelers to partake in the daily almsgiving, a Buddhist tradition where monks beg for food to learn humility. Groups also often get special treatment, such as a private cooking class or farm feast and wine tour. The insider knowledge of the guides and the locals they employ will allow you to truly immerse yourself in the culture of the country.
From saving funds for future trips to making new friends while exploring unique, less touristy destinations, traveling solo in a group gives Millennials the freedom to explore alone with the added protection and advantages of traveling with friends.