Last year, Outside Magazine named Switzerland the Best Country to Emulate in its annual Outside Travel Awards. Not surprising, when you consider the country's strict anti-pollution policies and nature conservation standards. Living and playing in the outdoors seems to be built into the Swiss' DNA, too - skiing, skating, hiking, biking and mountain-climbing are sports meant to be partaken of in this beautiful and culturally diverse destination.

I recently met up with Alex Herrmann, director Americas, Switzerland Tourism, and he gave me an eye-opening education about Switzerland and the many wonders it offers travelers - outside of skiing. In fact, summer is the most popular time of the year for tourism, especially among those living in North America.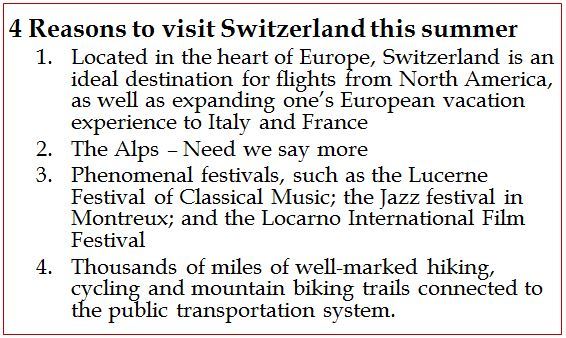 For starters, Switzerland resides in the heart of Europe, making it an ideal destination for flights from North America and allowing tourists to expand their European experience to Italy and France. But when it comes to touring Switzerland, Herrmann suggests using the country's unique public transportation network - the trains, buses, boats, and the transit systems in the cities. Purchasing a "Swiss Pass" for four, eight, or fifteen days gives complete access to all means of transportation with every town and village in Switzerland accessible by train, bus, or boat.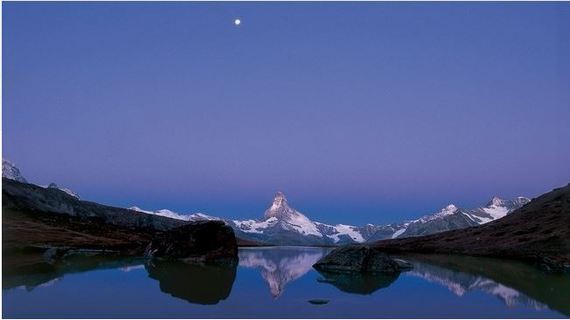 Of course, the Alps are on most everyone's bucket list and the perfect times to visit the mountains are late summer and early fall (late August, September, early October), as the crowds are gone and rates are more moderate. For the cities, June is a great time. It's warm and the days are long, and so is the time leading up to the Holidays, as all cities are decorated, many offer Christmas markets, and shopping is fantastic.
There are festivals in Switzerland throughout the year, too. Some of the most famous are the Lucerne Festival of Classical Music with its main festival including many symphony concerts for a full month in late August/early September, the piano festival in December, and the festival for religious music around Easter.
For the fans of popular music, the Jazz festival in Montreux, on Lake Geneva, is a must. It takes place in July, and features world-renowned pop, jazz and rock musicians and bands. Deep Purple's legendary hit, "Smoke on the Water" features the festival prominently.
For fans of film, the Locarno International Film Festival, in the Italian-speaking part of Switzerland, the Ticino, takes place in early August. Highlights are the nightly screenings under the stars where up to 7,000 people watch a movie on the historic Piazza Grande of the town.
Switzerland is a natural playground for kids and adults alike. Thousands of miles of hiking, cycling and mountain biking trails, well-marked and always connected to the public transportation network - crisscross the country. An excellent place for hikers is Zermatt. This resort offers hikers of all levels not just excellent trails, but also wonderful views of the Matterhorn. Switzerland is full of mountain railways, cable cars and gondolas - many of the most spectacular were built a century ago or longer by tourism and hospitality pioneers. They continue to offer access to the mountains like nowhere else. So, even beginners can hike in high alpine terrain, as a gondola takes them up and a chairlift brings them back down to the valley again.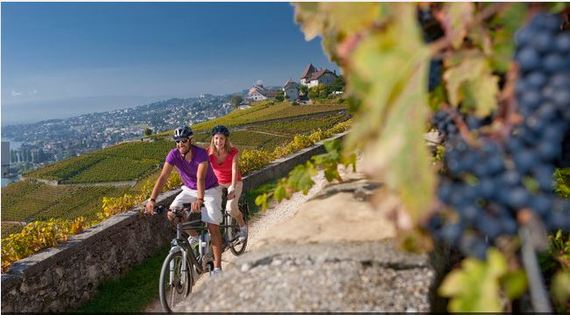 For bikers, a huge trend in Switzerland is the e-bike. The electric bike, with several different levels of support, which require pedaling, but allow the bikers to go farther and higher, is perfect for a country of mountains and hills. Particularly for groups with various levels of fitness and strength, e-bikes help keep everyone together and going to the same places at roughly the same speed.
"As a people, says Herrmann, the Swiss are generally friendly. While not as outgoing as Americans, once you get to know them a bit, they are warm and have a great sense of humor." A particular point of pride among the Swiss is that the hospitality industry was founded in the country - and the legacy of Swiss hospitality continues to attract visitors today. Visit www.myswitzerland.com, for information on hotels in various categories, e.g. family-friendly hotels, wellness hotels, design and lifestyle hotels etc., and a long list of things to see and do.