Saturday, September 26, 2015, is a date that will go down in history. It's the day the world begins a new commitment to eliminating extreme poverty, increasing shared prosperity, and protecting our planet. It's the day when the Sustainable Development Goals (SDGs) are officially put into action.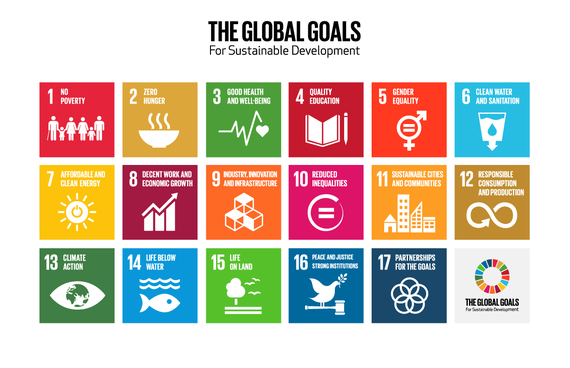 The Global Goals are, in many ways, a revolution. They are the new iteration of the Millennium Development Goals (MDGs), the global community's first shared attempt at coming together to reduce poverty. But this time is different.
These Goals give us a new way of looking at the world and at our place in it. They focus on the root causes of poverty, like lack of safe drinking water and toilets, rather than just on the symptoms. They give us something truly worth celebrating. Here are four reasons why.
1. The Global Goals prioritize some of the world's biggest challenges for the very first time. Until the Global Goals, we had a fragmented set of international commitments, pledges, and policies, each focused on a separate topic or a small group of political priorities. The Global Goals not only bring together 17 of the most pressing issues of our time into a single framework, but they prioritize important issues that were left out of the MDGs or buried under a bigger headline.
One of these life-changing-but-often-forgotten issues is water and sanitation, Goal 6 in the new framework. For my colleagues and I at WaterAid--and for millions of people around the globe--the fact that water and toilets now have a headline of their own is big news.
It means that governments have agreed to pay more attention, not only to whether people can access water and toilets but also to what it means for disease prevention, education, nutrition, and gender equality. Being a headline issue also means and that citizens may be better able to demand these basic rights. Like other issues that have their own goal for the first time, such as Gender Equality (Goal 5) and Decent Work and Economic Growth (Goal 8), water and sanitation now have the chance to really shine--and save lives.
2. The Global Goals treat people as the complex, multi-faceted beings that we are. A girl in Zambia is not just a student. She is also a patient at the health clinic, a water collector, and a conservationist. A woman in India may have to balance care-giving with working, privacy with menstruation, chores with staying safe. Human beings aren't a bunch of separate challenges to be addressed by their own programs and government agencies; rather, we are a collection of linked issues that need to be addressed together for us to be whole.
The Global Goals try to change the way we look at development and health by promoting issues that cut across the goals. For example, the Goal on Gender Equality includes a target to reduce unpaid labor, which also requires that governments provide water close to every home (Goal 6) so women and girls can eliminate that chore, and get their precious time back for things like studying, running a business or caring for their families. Success in one area should help advance another area. That's the reality of our complex lives. The Global Goals were carefully crafted so our governments can respond to our needs as smartly as possible.
3. The Global Goals recognize that our planet and our people need each other. For years, the environment has been addressed by one global process while poverty was addressed by another. The Global Goals bring them together, with huge implications. Both water safety and water conservation are on the agenda. Air and water pollution are linked to human livelihoods and health in a global policy, rather than just in rhetoric. It elevates the well-being of our planet to the same level as the well-being of our people, and recognizes that there are ways to do international development that help--rather than hurt--both.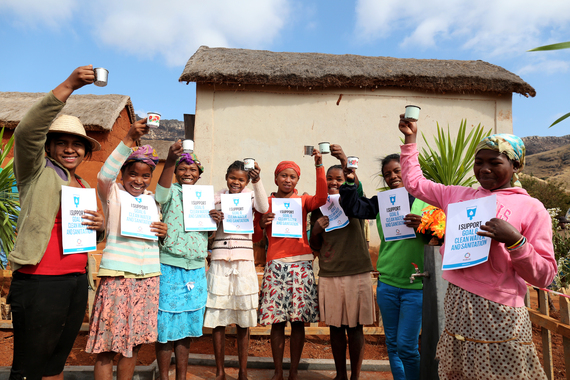 Women and girls from Lovasoa village smiling and holding up a glass of clean water in front of a water poin in celebration at getting water and sanitation in the Global Goals. Lovasoa village, Fihaonana commune, Ankazobe district, Madagascar. September 2015. WaterAid/ Ernest Randriarimalala
4. The Global Goals are for all of us. They aren't just for governments and the UN (although governments are responsible for implementing them and the UN is responsible for making sure governments do their jobs). The new goals are universal. That means they apply equally to rich countries and poor countries, giving us all the same obligations to reduce inequalities, address the root causes of poverty and poor health, and protect the environment. And that means you have a role to play.
Whether it's speaking out on behalf of the poorest people in the United States who live without reliable drinking water (such as many American Indians and homeless people) or advocating for a fully funded International Affairs Budget so that USAID can reach the poorest people around the world with services and training, the world needs your voice.
The Global Goals should change the equation for us all. But it's up to us to make sure they are meaningful. Celebrate with us, and spread the word that there's an ambitious and visionary new game in town, a game that articulates your basic rights. This party is for the entire human family and it will happen only once in a generation. We're all in it together.
Calling all HuffPost superfans!
Sign up for membership to become a founding member and help shape HuffPost's next chapter