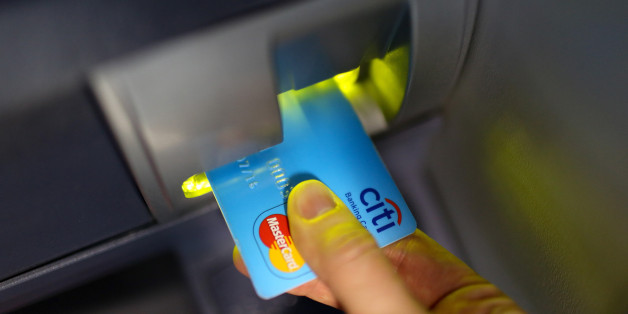 Will Google be your business banker? Think about it: Does your business really need a bank? Or maybe, you should just let Google handle it all.
According to this
recent piece
in the
Washington Post
the
...universe of (banking) competitors has grown to include T-Mobile, Wal-Mart, Google and a host of other retail, tech and telecom companies that are now operating like banks. These upstarts are gaining footing in the banking world with prepaid debit cards that customers can use to pay bills, make purchases and deposit checks via a smartphone camera -- pretty much all the things you can do with your traditional checking account.
Banking with Google? Hey, why not. They'll be driving our cars and controlling our vision soon enough, so why not just let them take over our finances too? If not them, then how about other online services like Simple, PayPal, and Square? They're also out to replace our banks too.
The banking industry is undergoing an enormous change. And, whether you like it or not, your business is stuck in the middle of it. Your paper checks are slowly disappearing in lieu of electronic payments. Your need to make a physical deposit at your branch is becoming less necessary. It's hard to believe that, for many of us, our moms and dads had to take cash out of the bank every week, and be there before the branch closed at 3 p.m.! Those were simpler times. So, like gas station attendants and Tab cola, will banks disappear altogether?
Relax. Google's not going to take over the world. Or your banking. At least, not anytime soon. In fact your banking relationship will soon be changing... for the better.
"Yes, banking will significantly change for most companies," says Keri Gohman Executive Vice President and General Manager, Small Business Bank at Capital One (a client of mine). "Good banks will not only adapt, but also play an increasingly vital role to many small companies."
Gohman is right. Banks are surely not going away. That's because many small companies will need the cash management and financing support that only a good bank can provide. But there is no question that your company will have a different relationship with your banker over the next few years, and particularly in these four ways:
•Crowdfunding and other alternative investments will help both banks and small companies. Today's small companies can raise crowdfunded money from sites like Kickstarter and Indiegogo to help them fund projects in return for favors and gifts. Soon, the SEC will ultimately allow these same companies to use these platforms to raise equity financing too. Couple that with the recent proliferation of venture capital firms, angel investors and micro-lending businesses too. It's becoming easier and easier for a small business or startups to raise some much needed seed money from places that, frankly, bankers don't want to be. Going forward, they won't have to be the bad guy as often. That's because markets will perform the due diligence for these young companies that banks were in the past forced to provide. If a company can survive this early stage and mature, more of tomorrow's banks can pick up the ball and deliver next stage financing, comfortable that there's a track record and that someone else assumed the early stage risk.
•Big data will help banks prove creditworthiness. In addition to the help that crowdfunding and other alternative investments can provide to get companies out of the startup stage, banks will increasingly rely on more data to make better financing decisions. Information will soon be coming faster from their existing customers (see below). But other sources of data such as purchasing and payment histories, popularity and conversations about your company on social media sites such as Facebook and Twitter and reviews on other sites such as Yelp, Foursquare and Angie's List will all play into a bank's loan making decision process. There will be no place to hide from the bank's credit department.

•New software will put your bank in a better position to help you (and themselves). Banks are increasingly developing applications to help small businesses pay their bills, do their invoicing, receive money, manage their cash flow and even do payroll. Most integrate with popular accounting applications like QuickBooks and I wouldn't be surprised to see some banks develop their own simple bookkeeping software in competition with companies like Intuit and Xero. This benefits the bank because they can keep closer, more real-time tabs on their customers. But it also benefits you, as good bankers will also provide feedback and advice based on the latest metrics and data that you're providing to them as you do your day to day work. Loans can be provided, increased (or decreased) based on this information, reducing delinquencies and losses.
•Finally, retail and small business banking will go almost entirely mobile. Capital One, for example, has a suite of products called Spark Pay, which enables their customers to do all of their banking from any mobile device from wherever they are. Other good banks are increasingly offering similar options. Ultimately we'll see more "co-opetition" between the banking community and the growing number of companies who now provide mobile payment and cash management services. This will enable small businesses to pay their employees, contractors and suppliers wherever they are, whoever they use as a bank and in whatever currency they require. The smallest of banks will be providing the types of international transactional services that only the big guys could once perform. And, dare I say it, even virtual currencies such as bitcoin will likely find their way into the banking mainstream.
"We're going to lean on our customers to tell us where we can do things better and what services we can provide," Gohman promised. "We can build or we can partner with others because the banking and financial ecosystem for small businesses needs to become more linked together."
Will you be banking with Google in a few years? For most small businesses, probably not. But the relationship you have with your banker will be much different over the next few years. Hey, whatever happened to getting a new toaster?
__________
A version of this column previously appeared on Inc.com.
REAL LIFE. REAL NEWS. REAL VOICES.
Help us tell more of the stories that matter from voices that too often remain unheard.