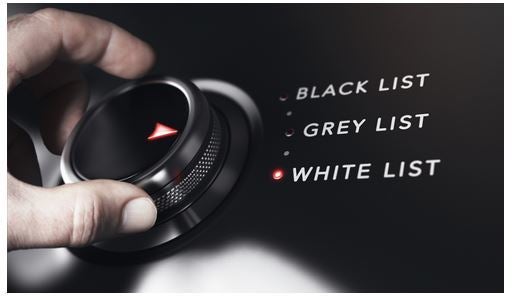 Get your business on the whitelist bandwagon...STAT.
I don't like malicious software, identity thieves, fraudulent programs, or phishing scams. I assume you don't, either. That's why whitelisting exists. It's a way to protect your business network from programs and applications that you don't want to access devices on in your business.
Protect Your Business From Employee Devices
In today's business climate, BYOD or "bring your own device" policies have become increasingly popular. In a BYOD environment, employees bring their own devices to work, from smartphones to laptop computers and smart watches. Without creating a whitelisting policy, those employees can access any website, program or app they wish.
If that doesn't sound like a recipe for disaster, you might need to pay closer attention. A single application can infect your network and create chaos for your business. If you want to protect your company from hackers, DDoS attacks, and other threats, creating a whitelist policy proves essential.
Keep Malicious Programs at Bay
You might already use a whitelist for your email account. You add email addresses of people you know and trust to your whitelist so that emails from those recipients don't go to spam. A business whitelist works similarly, except that it's intended to keep potentially dangerous programs out.
Application whitelisting can take some serious technical chops, so you might need to hire an IT consultant or ask your in-house IT expert to handle the process for you. Creating a whitelist program gives you ultimate control over the programs, websites, and applications that people access while they're on your network.
Maintain Your Employees' Focus
Do you want your employees to spend all day watching cat videos on YouTube? Yeah, me neither. That's another benefit of whitelisting. You can whitelist programs that aid in productivity, then blacklist sites and programs that have the opposite impact.
Some employers have more stringent requirements than others. For instance, I've worked with corporate customers who restrict their employees from visiting any website that isn't business related. Others block only potentially malicious or distracting apps such as certain social media sites. The choice is yours.
A word of caution, though: If you treat your employees like kindergartners, they might start acting like them. The idea is to trust your employees, but to protect them and your business at the same time.
Get On Your Customers' Good Side
As mentioned above, email whitelisting can also become extremely important. No matter how many hours you spend crafting that beautiful email for your subscribers, it won't see the light of day if your email lands in your recipients' spam folders. Encourage your subscribers to whitelist your email address or your entire domain. That way, your emails hit recipients' inboxes instead of the internet black hole.
I'm focused on helping entrepreneurs succeed, but I recognize the need for technology when running my small business. Why don't you sign up for my weekly newsletter to learn more about the tips and tricks I've discovered over the last 18 years of entrepreneurial success. Don't worry — I trust you to whitelist my email address.
Calling all HuffPost superfans!
Sign up for membership to become a founding member and help shape HuffPost's next chapter
This post was published on the now-closed HuffPost Contributor platform. Contributors control their own work and posted freely to our site. If you need to flag this entry as abusive,
send us an email
.