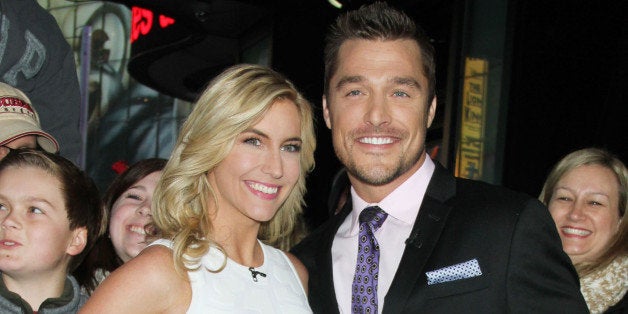 When this season of "The Bachelor" began, I had never watched a full episode. I decided to take the plunge after seeing Chris Soules, because whatever you think about the premise of this matchmaking juggernaut, this gentlemen was clearly serious about finding a wife. First impressions of mine came when the rumor of Soules being in love were sweeping social media, which pointed to the woman who would finally be revealed this week as "the love of his life," Whitney Bischoff.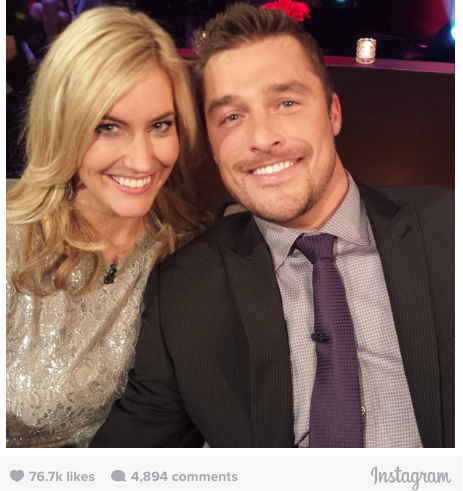 Chris and Whitney blasted the picture above on Instagram, which US Magazine posted for the world to see.
"Look at my beautiful fiance @whitbisch!" the Iowa farmer, 33, wrote, alongside a snap with his smiling future wife. "Finally able to be in public with the love of my life! Thank you bachelor nation for stickin through it all."
The season was tumultuous, even by "Bachelor" Nation standards, according to the show's host Chris Harrison.
What surprised me the most was not just the genuineness of Whitney Bischoff and the man who became the best bachelor in years, according to fans, but also the lessons taught throughout the series that don't just apply to a television pseudo-reality show.
1. Being a virgin in your late twenties isn't a plus when a man is looking for a wife, because sexual chemistry is equally important to friendship in modern relationships.
"I haven't been in love before," she said. "I don't have anything to compare it to, but I knew in my gut that it wasn't right and that it wasn't there yet. I think that's where my head was at the end, that if I had more time I could get there, but I didn't know that." - Becca Tilley
Ms. Tilley wasn't the only virgin on "The Bachelor," Ashley I. also admitting she had never opened up to a man sexually, which also means emotionally. Being vulnerable and exposing all of yourself to a man physically are primary components of intimacy, as well as companions to friendship that seals two people to one another.
In modern relationships, no woman can say she is in love without having sex with the man she thinks she might want to marry. No man should trust a woman who thinks otherwise. It's a recipe for disaster.
If anything was driven home by Chris Soules, Whitney Bischoff and Becca Tilley, it's that love matters, but equally important is where you are in your life. As Soules said to Ms. Tilley, "you're not ready." From the beginning, not only was Chris Soules ready to find his soul mate, but Whitney Bischoff was, too.
Nothing is more powerful or binding between two people than discovering you are both at the same place at the same time, feeling the same way, while also wanting the same things.
3. If you want someone, be brave enough to put it all on the line, reveal who you really are and take the risk to share everything you are with the man you're interested in.
When Ms. Bischoff and "The Bachelor" orchestrated a reality-esque crashing of the wedding, what was very real was Whitney guiding Chris on an adventure he'd never have dared to take on his own. She showed her daring side that presented moments during the night where Chris could lead romantically, which led to a back-and-forth interaction of intimacy that became the defining moment in their love story.
This segues perfectly into the next big thing. "The Bachelor" taught this season and is last, because the other three elements must be present for the next one to manifest.
4. The woman controls the relationship.
The man's role in a relationship is as a woman's protector and provider, which is part of any man's DNA, regardless of a woman's economic prowess, which he can simultaneously appreciate. He is also the champion of her happiness.
A smart woman ready for love tells a man what she wants, guides him on what she expects of him, respects who he is (see above paragraph), while giving him clues along the way that he's on the right track and on safe ground with her. When a man gets distracted it's a woman who reminds him what's important and that if he's not up to what she expects of him, she has no intention of settling for less.
A man wants to be his best self for the woman he loves, and he needs her strengths to make sure he delivers.
Whitney Bishcoff made sure Chris Soules, "Bachelor" Nation and his family knew she loved him amd was ready for the life he wanted, including being a wife and mother to his children. She did so by saying this is what she wants and this is what will make her happy, but also that she's ready for it all. She never waivered, while being honest with herself that it could all go up in smoke at any moment.
All the way through to Jimmy Kimmel's priceless wedding gift of a cow, this arcane matchmaking spectacle made me scratch my head and ask: Why did so many of these women put themselves up for ridicule when anyone could see their own personal issues weren't close to being solved?
A woman can't possibly have a healthy relationship, let alone hope it will last, if she's still finding herself, protecting herself.
Attracting love that will last is for the brave.
If you haven't been naked with a man, figuratively, emotionally, but especially physically, don't kid yourself into believing you're ready for marriage, because you're not.
Taylor Marsh is an author and speaker living outside Washington, D.C. She is the author of The Hillary Effect. Her latest book, chronicles a 10-year adventure into the worlds of relationships, sex and marriage, titled The Sexual Education of a Beauty Queen -- Relationship Secrets from the Trenches.
Calling all HuffPost superfans!
Sign up for membership to become a founding member and help shape HuffPost's next chapter