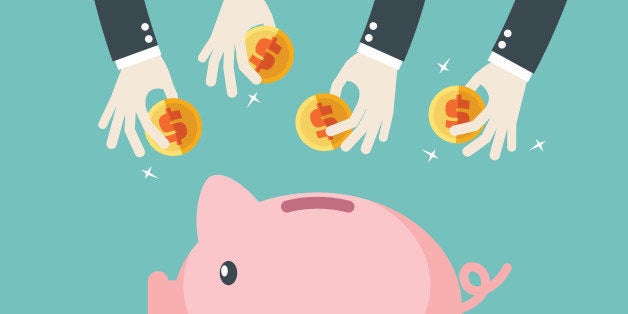 If there's one thing expectant moms lose sleep over, it's the exorbitant cost they're going to pay for childcare. Especially in cities like New York, where childcare costs can be comparable to rent payments. Unfortunately it's not surprising to hear NYC moms say they are paying upwards of $1,500 a month or even more for childcare.
Disclaimer: I am a mom of five living in Brooklyn who's been through the childcare search quite a few times and have never paid more than $600 a month in child care. Maybe you would consider this kind of anomaly just pure luck, but since I've finagled it four out of five times so far, I'll let you in on my top secret tips to finding alternatives to expensive childcare.
Ask for recommendations from seasoned parents. New parents are likely to be stuck in the same conundrum as you hunting for affordable alternatives themselves, but seasoned parents with older kids in preschool or higher can be childcare information gold mines. When I was expecting my first child, I asked friends with kids (and friends without!) for suggestions and referrals. One friend mentioned my hunt to her mom, who referred me to a retired preschool teacher looking for a family to work with. After an interview and reference check, I hired her 3 months before my daughter was even born! (Ok, so maybe this one was a slight anomaly.)
Explore in-home/family daycare. Licensed in home/family daycares are also a great affordable option. Again, the power of the referral will help you find the best of these facilities -- well-run, loving environments with experienced providers who truly love your children like their own and love to teach. A very important pro to mention? In-home/family daycares harbor a smaller cesspools of germs compared to traditional dayscare centers. Not having any luck with referrals? Keep your eyes peeled in your neighborhood. Look for the rows of stroller parking in front of private homes, or rows of cars doubled parked in the evenings, and ask a friendly smiling parent picking up little ones.
Collaborate with another family. Really want a nanny but not sure you can afford it? Do any of your neighbors have a nanny for a child 9 months to 2 years older than yours? See if they are willing to nanny-share with you. Of course this works best if you are already friends with that neighbor, have similar standards of care, and can agree to your child spending time in between two homes. And I bet you'd be willing to make a new friend if it means cutting your costs in half.
Have a spare bedroom? Consider a college student willing to exchange affordable childcare services for room and board or hire an au pair. With the cost of housing in NYC being just as exorbitant as childcare this could end up being a double win for both of you! The au pair process is managed by the State Department and they can only stay with you for up to a year, but a college student (only post this job listing through a college career office) can potentially be available to you for up to 3-4 years! You will have to do a little more homework coordinating that student's schedule with your needs, but if you are open to sharing your home, this can be an excellent solution for everyone.
Have you been on the hunt for alternatives to expensive child care? Would you be willing to pursue any of these? Why or why not?
This piece was originally published by Carrie Pink on Well Rounded NY. Carrie Pink is a personal finance blogger from Brooklyn and mom of five, who writes about ways you can blur the line between frugal and fabulous on her blog.
Please share your opinion below! For more original content, check out Well Rounded NY.
Related