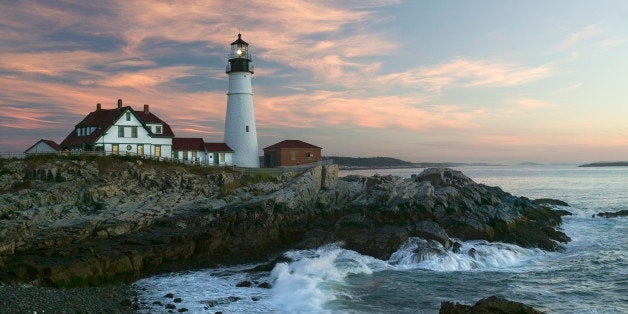 There's something romantic about the way the deep sea can influence our homes. Deep navy blue hues, weathered wood like you'd find on magnificent ships, and accents that remind us of journeys taken on these floating vessels.
But all of these things can feel a little cold too. During the fall and winter, we definitely don't want to feel the chill of these designs (especially not by the windy seashore). And we don't need to. Here are four tricks for keeping your nautical home cozy.
Part of capturing the nautical look is using weathered woods that are reminiscent of docks, ships, and barrels. But be aware, using too much of this material can make a room feel bare and harsh. You want your home to reflect a ship's cabin, not recreate it.
Use this rustic material as the bones of your furniture, but pair it with plump, thick cushions for sofas and armchairs in creams, grays, and whites. Your home will still nod to the seafaring journeys of sailors, but will also offer you a place to curl up by the fire.
When it comes to nautical designs, the color palette consists mainly of gray, navy blue, and white. This gives everything that oceanic look, but can also leave a home feeling pretty chilly.
Add in a touch of red, and you'll not only maintain the nautical feel of the space, but also add a touch of warmth to the designs. Use it as stripes on décor or ship-themed accents to bring heat to your home. We love this example from Right Up My Alley.
Having a fireplace does a lot to add real and aesthetic warmth to the home, so make it the focus of a room. Arrange furniture to face inward toward the hearth, and use the place above the mantle to feature a beautiful painting of a lighthouse or ships. This will bring eyes toward that part of the room and the glowing comfort of the crackling fire.
4. Rely on Light-Colored Rope
Rope is another key feature in nautical designs, but many of the accents you'll find have that antique look and stain from the sea that you'd find on real tethers for ships. Though you'll want to bring some of these pieces into your home, you should also invest in some rope accents that do not have this weathered look.
New, light-colored rope décor can really help to hold onto the nautical theme while feeling fresh and modern. The textured pattern provides a sense of warmth and approachability.
The tricky part about a modern nautical home is capturing that antique-sailor look while still keeping everything light and warm. These four tricks help you get the seafaring feeling while maintaining a cozy and welcoming aesthetic.
What do you think? Do you like this cozy seaside look? What are your favorite sailor-inspired accents that help warm up a space?