Updated on July 27, 2015 at 11 a.m. EST. 
For the Herzfelds, just getting around the house has become impossible these days.
All four siblings in the New Jersey clan have a form of muscular dystrophy, a disease that causes progressive weakness. For three of them, the condition is so severe that they have essentially been confined to the home. But that's not even a safe option considering that the house isn't accessible. The fourth is able to walk somewhat, but falls constantly. 
"We endure hellish struggles just to get through each day," Esther Herzfeld, their mother, wrote in a post for National Mobility Awareness Month.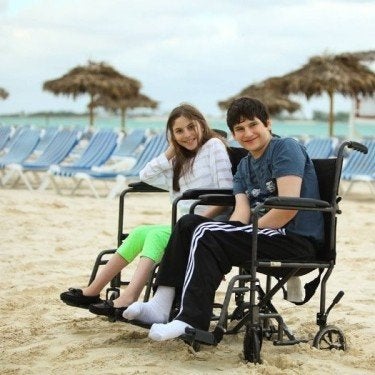 To help bring a semblance of normalcy to the family, and to allow the siblings to pursue their academic and career aspirations, supporters have set up a Crowdrise campaign in the hopes of raising $250,000. 
The goal is to raise enough money to make the home accessible and to help cover the family's debt. A benefactor recently donated a van that accommodates the family's needs, according to Crowdrise.
At 5 feet 9 inches and 165 pounds, Tzvi, perhaps faces the most challenges since his parents can barely lift him in and out of the car. As a result, the recent high school graduate rarely gets to leave the house, and when he does, it's a complicated process.
When the 18-year-old went to the movies in the winter on a particularly cold night, he had to ride home in a scooter while his mother drove alongside him as far as she could since he couldn't get into the family's car.
"I drove parallel to him as long as I could," Tzvi's mother wrote. "When I had to turn down the next street, I cried, knowing that my son was out in the frozen night, and would be for another 20 minutes, while I, his mother, going to the same place couldn't take him."
While the siblings face overwhelming struggles, they remain committed to their goals of using their experiences to help others.
Rivka, 23, recently completed her master's degree in biblical studies and hopes to become a high school teacher. She's volunteered at summer camps and youth group programs, which cater to kids with developmental disabilities. 
Though the commute was a major challenge for Tziporah, 22, who can barely walk, she recently finished college and hopes to become a social worker. She wants to "apply what she has learned from her own physical challenges to benefit others facing difficult life situations."
Tzvi wants to pursue a career in law.
And, last summer, Racheli, 14, volunteered at a special education school, noting that "a life without giving back is not a life worth living."
Learn more about the Herzfeld family and how you can donate to their fundraiser here. Or donate through the widget below:
UPDATE: This story has been updated to include new information about the family's fundraising campaign. 
REAL LIFE. REAL NEWS. REAL VOICES.
Help us tell more of the stories that matter from voices that too often remain unheard.