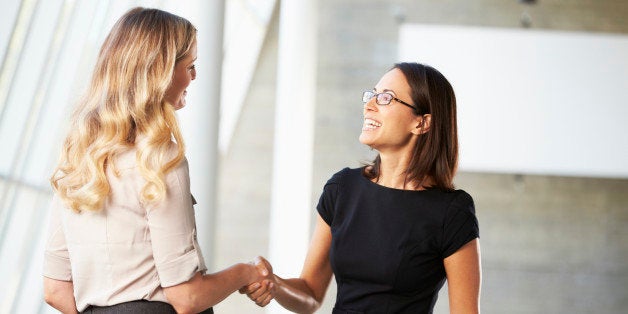 Before I left my role as a human resources director in the city of London, I spent a year working with a coach to make sure I was ready for the transition. Much has been written about introverts but, as an extrovert, I was totally energized by my job. I worried that I would lose a vital source of energy in my life if I took a career break.
At the time, it was obvious that our then-6-year old son needed one of us to be his primary care-giver. He was struggling at school and, despite having the most amazing nannies in the world, we realized that he needed the consistency that one caregiver could provide, at least for a while.
This was six years ago, right before my 40th birthday. With the help of the coach, I started two professional development courses before I even left my role. With a background in Human Resources, I knew that I needed to make the most of my "career break" so that when it came time to return to work, I would be able to show that I had enhanced my skill set.
Back to the extrovert thing, I also knew that engaging in these courses would help me to be more successful and happy as a mom during this time.
So over the six years, I became a certified coach and neurolinguistic programming practitioner. I started my own coaching business in the UK. We relocated to Beijing with my husband's company, where I became a certified Parent Effectiveness Training Instructor and set up a business there coaching parents.
Two years later, we relocated from Beijing to North Carolina, where after getting the children settled into school, I set-up my business, The Parenting Difference. I also co-wrote a book about Expat Entrepreneurs called Inspiring Global Entrepreneurs with my friend, Meghan Peterson Fenn, and together we created a virtual global network of expats. In fact, my life has been a pretty open book as a blogger for this publication as well.
Along the way, I was diagnosed and treated for stage three, triple-positive breast cancer. The fact that the breast cancer did not bring me to tears, but the job search after my "career break" did, was when I knew something was seriously broken with hiring.
Without a doubt, over the six year "career break," I had gained skills that would make me even more valuable as a Human Resources professional. I felt that I had done everything right. After reading Power Through Partnership: How Women Lead Better Together by Betsy Polk and Maggie Ellis Chotas I was inspired to start thinking about returning to the corporate world. Their book helped me to recognize that I still had a contribution to make and was excited to start the job search. In fact, I wrote a blog about that as well.
To say that the job search was frustrating is an understatement. There were plenty of fantastic, senior level roles, but I could not get past the computer screening process to actually land an interview. Yes, of course, I didn't just rely on job boards, but used my network as well.
At first, I was shocked. And then I got angry. I had done everything right, in fact my husband said "Heidi, you haven't really even had a career break." He was right. I felt that there was some inherent bias built into the computer algorithms that meant my résumé was not being seen by an actual person.
1. Check the résumé sifting parameters.
The first on-ramp that companies can put into place is to check the résumé sifting parameters.
In fact, check to see how those are set? Who sets them? Who agrees the minimum levels of qualifications, or acceptable past history? If you are searching for candidates who are currently in a role only, then chances are you, or the algorithm, is weeding out anyone who has had a career break and is looking to return.
This is a real problem. I asked the question on Twitter the other day. I wanted to get some insight into who agrees and sets the algorithm parameters and there was silence.
I asked the research scientists at The National Center for Women and Information Technology (NCWIT) if their excellent research into gender bias had ever looked at bias in these algorithms? The answer was no, not yet.
So, who is actually checking to make sure that these algorithms, that have been a feature of online recruitment since its inception, are not discriminating against women looking to return to work after a career break?
As I thought more and more about it, I realized that hiring is indeed broken. Much has been written about the fact that the job board process is not working for companies or candidates. So, why are we still relying on résumés, anyway?
I kept wishing that one of the companies that I applied to would actually ask me to provide an example of how I might demonstrate my skill set to get over the very productive "career break" hurdle. I knew that if I could have completed a logical gate question, or sample job challenge, that I would be able to show how I could stand out. But, no, that was never an option for any of the positions I applied for.
2. Conduct blind auditions
My second on-ramp suggestion for companies is to stop relying on the broken résumé sifting process and use GapJumpers to conduct blind auditions instead. The co-authors of the excellent Inclusion Nudges Guide Book, Tinna C. Nielsen and Lisa Kepinski, also recommend the blind audition approach, along with many other practical ways to eliminate bias in the hiring process. I highly recommend purchasing a copy if diversity and inclusion is important to you.
Full-disclosure, a few weeks ago, I connected with the Co-Founders of GapJumpers via Twitter. GapJumpers is hacking hiring by conducting blind auditions for their clients in order to address the gender and diversity issues facing the tech industry. I loved what they are doing to address this issue so much that they brought me on board as an advisor and evangelist.
(Note to any job seekers out there: Get engaged on Twitter.) I am so passionate about fixing hiring that I am working for GapJumpers on a pro-bono basis.
Why are we still using résumés as if we were back in the age of "Mad Men," when the technology for conducting blind auditions is readily available? If blind auditions can work on "The Voice," they can work in other industries as well.
Another company that I came across while searching for a solution to fixing what is wrong with hiring is Power to Fly. Their Co-Founder and CEO readily admits to her own biases before becoming a mother herself and she set out to fix the issue. Power to Fly is a job board for remote roles. Although the roles are open to anyone who would like to apply, the specific target market is women.
3. Post jobs on Power to Fly.
My third on-ramp recommendation is for companies to think about posting their remote jobs on Power to Fly. To ensure that you are reaching out to women and letting them know that you truly do want them to contribute.
I am sharing my story because I know that I am not alone in my frustration with the job search process. I am also sharing my story because job seekers are in a very vulnerable position. I think that is why the broken processes have not been fixed. If you are a job seeker you don't want to complain about the process, for fear of ruining your chances of getting a job.
I undertook an extremely productive career break. I was confident in my previous background and also how my enhanced skill set, following my career break, made me an even stronger candidate than I had been before.
I also know that companies do want to hire women like me and I want them to know that we are out there but that the broken hiring process needs to be addressed.
4. Review your hiring practices
My fourth on-ramp suggestion is to undertake a serious review of your hiring practices and identify whether or not you have the appropriate on-ramps necessary. If you aren't doing any of the three things above, you don't.
CORRECTION: A previous version of this post incorrectly spelled Lisa Kepinski's name.
Calling all HuffPost superfans!
Sign up for membership to become a founding member and help shape HuffPost's next chapter