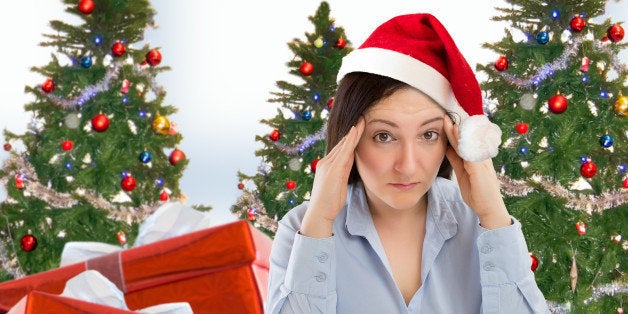 So the pressure is on to have a beautifully decorated tree and home, luxurious and expensive gifts, fantastic home cooked food, to look your best, be in a wonderful mood and the perfect host or guest.
A scenario facing many this holiday season and the pressure can turn what is meant to be a time of love and celebration into something that leaves you feeling exhausted, stressed and simply not good enough.
My personal battle for all Christmas's past along with all the above was the food -- whether to eat it or not -- my all or nothing personality accompanied with an eating disorder meant my mind was in a constant argument over the decision to restrict or binge. Neither outcome make for a positive festive experience.
This year I said goodbye to striving for perfection and that way of life. It is amazing to be approaching this time of year feeling calm and carefree. Key to this transformation was the realization that most of the pressure we feel is that which we have put on ourselves. That striving for perfection steals joy and by allowing ourselves the opportunity to be who we are and taking that pressure off it not only has an immediate positive effect on your life but creates an environment for others to do the same.
Recently I had a conversation with someone who was so stressed about a party she was planning in her home. As she listed all the things she hadn't done and basically told me what a useless person she was I pointed out that in fact no one is perfect and that by the day of the party if she gets everything exactly how she feels it needs to be -- perfect -- the chances are the guests will be comparing their own homes to hers and feel inadequate therefore putting more pressure on themselves and so the cycle continues...everyone setting higher standards to keep up with the idea of perfection they think is expected of them.
This year how about being a bit kinder to yourself and treating yourself how you would treat a friend in the same situation.
4 Simple Steps to Relieve Stress & Feel Good This Holiday
1. If anything has you in a frenzy this Holiday Season - perhaps getting ready for a night out, or hosting a party in your home, finding money for gifts - getting into the present moment, the now is helpful. For me at first gratitude was the quickest way to do this. Stop and for a couple of minutes look around you. Become aware of your surroundings, your body and the fact you are alive. Find one thing that you can be grateful for in that moment maybe simply the fact you are alive. Then focus on it until you feel calmer.
2. Write a list of the positive things about you that have nothing to do with your appearance, job, education, wealth, home, achievements. All the things about us that really matter come from within and are invisible, how we treat others, how we make people feel, kindness, gratitude and love you cannot see these things but you can feel them.

3. Be kind to yourself and others refrain from negative conversations. Kindness feels good and things that feel good make it easier to feel good about yourself. Stand in front of the mirror and smile at your reflection. If it is too difficult to say "I love you" try "I am going to begin to be kinder to you"
4. Imagine yourself as a child -- how much love does a child deserve? Limitless. Each time you criticize yourself ask would you treat a child that way? You deserve as much happiness now as you ever did.
The best gift you can give yourself and others this holiday is to be yourself and its positivity will continue to radiate out as you move into the year ahead.