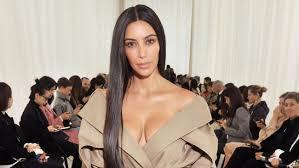 As we go to press the world (or should I say those interested) are still pouring over the details about Kim Kardashian falling prey to a gang who stole $11 million worth of diamonds and held her bound and gagged with a gun to her head. It sounds like something out of a James Bond movie, but the robbery of one of social media's biggest influencers actually happened during Paris Fashion Week last week. Many observers are wondering if the stars obsessive use of social media and subsequent 'over sharing' compromised her personal security. Even the stars close friend, fashion icon Karl Lagerfield, went on record saying 'You cannot display your wealth and then be surprised some people want to share it.'
Social Media is about sharing and engaging, this is true of brands and individuals. As social media has become a staple in our everyday lives and with the Kim Kardashian robbery acting as the ultimate example, it is clear that social media can compromise our security leaving us vulnerable and exposed. While this reality check is sobering, a few steps can be taken to ensure we can still share content while ensuring our safety is in check and our security is not compromised.
1) Less is More
While the majority of us are not on social media sharing images of our new $4.5million ring like Kim Kardashian was just a few hours before she was robbed, many of us have posted that engagement ring, Chanel bag purchase, new shoes, new home etc over social media. While there is nothing wrong with this type of sharing, moderation is key. Only 15% of our social media posts should be showcasing our personal valuables and while this might sound like a small amount consider that this is approx. 1 out of every 7 posts. Also consider showing only 50% of what you really have. Less is always more. In addition to safety and security concerns it is always good to keep some things for yourself, family and real life friends. The element of surprise never gets old.
2) Location Location Location
Kim posted multiple videos from her Parisian hotel on snap chat a few hours before she was robbed and her location was clear. The robbers, who were following her every move were able to see exactly where she was with the valuables she had been showcasing over social media.
When posting social media content from the sanctuary of your home it is always a good idea not to reveal the exact location of where you live or are currently staying. Most smart phones come with geotagging technology, but when sharing images or information from your home or another private residence it is safer to disable the geotagging software and activate it when you want to make a deliberate decision to use it.
3) Up Up and Away
Airport check in's are a fun way to let our friends know we are traveling. It is also a neon sign letting people know that our homes are potentially unoccupied. Consider using airport check ins when you are returning home as opposed to when you are leaving. If you have to or want to do an airport check in status when you are traveling out of town, it is safer not to announce how long you will be away or when you will be coming back in the same post. The element of mystery can remain intact even when revealing information.
4) Delayed Gratification
During Paris Fashion Week, Kim posted her every move on snap chat from her face time calls to when she left her hotel, everything was recorded in real time.
With social media platforms such as snap chat and instagram stories encouraging us to record our real time movements and #currentsituation being the popular hashtag to accompany images of us on the beach, hiking or at similarly exotic location, sometimes it is a good idea to post this content a few hours later. While most of our followers are viewing our posts innocently, you never know who is closely monitoring your timeline especially if you have an open profile. Using popular social sharing hashtags #throwbackthursdays or #tbt and #flashbackfriday or #fbf is a great way to share content while still keeping the exact time of your activities a mystery.
Claudine Moore is a freelance writer and award-winning global public relations, corporate communications, social media and new business consultant working with agencies, companies, brands and business leaders across US, Europe and Africa. www.claudinemoore.com
Follow Claudine Moore on Twitter: www.twitter.com/ClaudineMoore
Calling all HuffPost superfans!
Sign up for membership to become a founding member and help shape HuffPost's next chapter