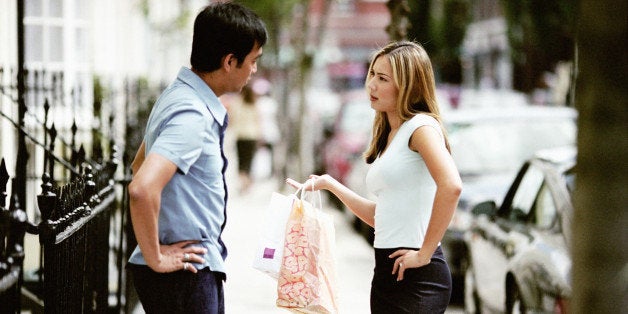 A few weeks ago on a Friday evening I wasn't feeling the greatest. I was really busy, stressed, and, to top all that off, sick with a head cold.
That evening, my boyfriend and I had gone out to get some takeout. During the trip I began sharing some of my recent thoughts and frustrations. One thing led to another and pretty soon I found him getting angry and us nearly getting into a full-fledged argument.
The key here is that I said nearly got into an argument. It was weird because we didn't really end up actually arguing. Him getting a bit angry was as far as things went. In fact, things diffused so quickly that by the time we got home we were hugging and exchanging "I love yous."
How did I do it? Well here are steps to follow to help you diffuse any argument before it actually starts:
Step 1: Remain calm. Whenever the conversation starts to get a bit heated and different views and opinions are conflicting, we tend to get very angry. As a result, we can end up saying things that we didn't really want to say or saying things that we later regret. When this happens, we are caught up in our ego (aka our fear-based mind) rather than our true love-based selves.
When in this ego-driven mode of being, we can tend to really hurt other people and, most importantly, ourselves. So one way to get out of our fixation on our ego is to get calm. Bring your focus back to your body and to your breath. Take deep breaths and check-in on how your feel in your body and overall being -- both physically and emotionally.
Simply making the effort to get and be calm alone can be an incredibly powerful tool, as it prevents us from saying anything that we don't really mean or anything that we will regret later on.
Step 2: Let go of need to be "right" or heard. The second thing that we often do when we find ourselves getting into an argument is that we experience this strong need to be heard and to be "right." This need to be "right" is also an ego-driven response.
Though seems completely contradictory, the reality is that when we let go of the desire to be "right," it gives us more strength and power.
So let go of any drive or desire to be heard or right in the argument and allow things to simply be as it is. To simply let it be, is to choose love rather than fear.
Step 3: Listen. Whenever there is some kind of conflict or problem, many of us start feeling like we need to say something in order to make things better. However, I must say that the older and older I get the more I realize that the opposite is true.
Let me be clear: We don't always need to verbally talk about things to "clear the air" and make things better. Many times, all that needs to happen is for someone to really truly listen. When someone is really truly heard and another person really truly listens, this is where true healing can actually take place.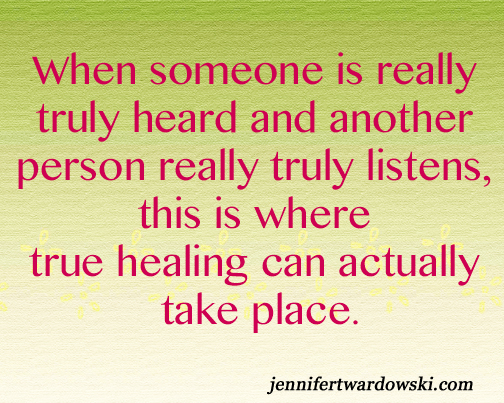 But Jen, whenever I do that I feel like a doormat! Oh trust me -- I totally feel you there! That was like the story of my life for several years, but here's the thing: We will only feel like a doormat when our underlying motivation is fear rather than love. We will never feel like a doormat whenever we are in a place of inner strength and love.
So if you ever do feel like a "doormat" then sit back and ask yourself: Am I calm? Have I fully let go of a need to be "right"? If not, then take the time to do so.
It is when we truly wish to serve that we come from a place of absolute inner strength and love. It is in those moments when we have truly disengaged from our ego and have chosen love instead.
Step 4: Wait patiently. Once you have made the conscious decision for yourself in the previous steps to choose love over fear, now the only thing left to do is wait. Simply allow things to be and allow the other person to process whatever they need to process.
During this time continue to hold this space of love and strength for yourself. Also, if you did happen to say some words that you regret in anyway, then you may feel that now is a good time to apologize.
Remember to be open and receptive. Don't necessarily expect an apology or a reconciliation right away, as that will take you out of a place of love and back into ego. But simply remember to be open and ready to receive so that if it does happen naturally then you are ready to receive it.
Think of an argument that you have been in recently. How have these steps may have changed the outcome? Is there any step that you feel may be more difficult for you to do rather than the others? How will you handle your next potential argument? Share your thoughts in the comments below!
Jennifer is a self and relationship coach and teacher. She helps women worldwide create fulfilling relationships and lives by helping their hearts' true desires to become a reality. Click here for her Free Self and Relationship Healing Meditation.