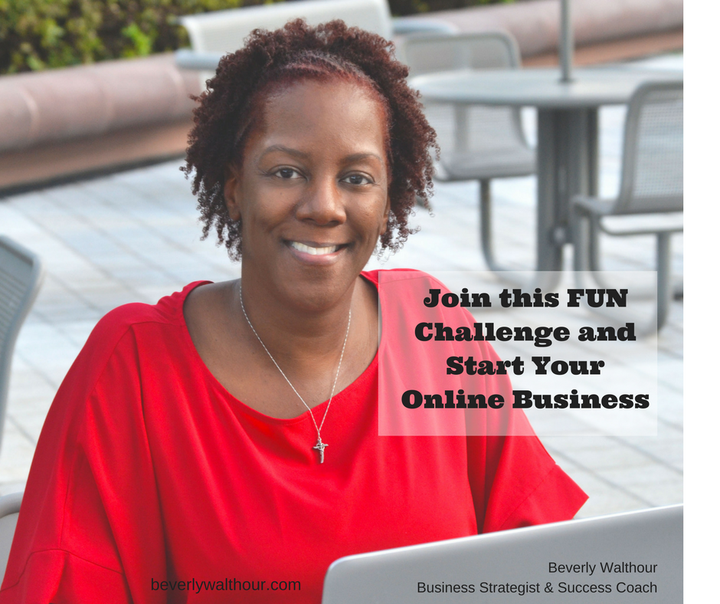 As a Business Strategist & Success Coach, for women who work full-time and want to start an online business, I am asked all the time how to start a business. These women dream about what their life can be as a business owner. They envisioned a life in which they can set their own schedule, spend as much time with their family as they want, and make the money needed to ensure their family is taken care of.
However, many of them don't know how to actually get started. With so much information on the internet, it can be overwhelming trying to figure it all out.
There are usually 4 types of people who want to start a business, but haven't. Can you relate to any of the following?
1) You don't know what kind of business to start
2) You are passionate about many different things and don't know which one to choose
3) You know what kind business you want to start, but you don't know how to get started
4) You are afraid to start a business (fear of the unknown, fear of failure, fear of success, etc.)
If you answered YES! To any of the above, you are not alone. Many people fall into one of the categories. Unfortunately for many, they never get the opportunity to realize their dream of starting their own business.
Fortunately for you, this will not be your reality. Instead, join me in a FUN challenge that will help you determine a business you can actually start in the next few weeks! Over the next two articles, I will provide you with tangible steps you can implement immediately. At the end of each article, you will be presented with a challenge and action steps to get your online business up and started. I hope you decide to join in on the FUN! You ready? Okay great, let's get started!
Your mindset is the #1 asset you need to have in order to have a successful business. Your thoughts determine your level of success, and therefore they must be positive and encouraging. There is power in your thoughts and words!
One strategy you can use to create a success mindset is visualization. It involves you creating a mental account of a major milestone in your business (i.e. getting your first paying client, achieving your first 5 figure month, etc.). Write out this account in VERY vivid detail. Include such things as what you are wearing, what you are saying, what you are doing, etc. when you experience that milestone. Play this picture over and over in your mind for the next 7 days.
A second incredible strategy to use is speaking daily affirmations. This involves you writing and speaking positive and powerful statements about your business. Some examples may include: "I am a successful and profitable businesswoman", "I attract my ideal clients every day", etc. Create 10-15 affirmations, and speak them throughout the day for the next 7 days.
A third powerful strategy to use to create a success mindset is journal writing. Use that journal to record your weekly goals, visualizations, affirmations, and weekly reflections. Writing things down is an excellent way to hold yourself accountable, keep track of your accomplishments, and document your business growth! Commit to writing in your journal for the next 7 days.
Step 2: Identify your business idea
Many of us have a pretty good idea of the type of business we want to start. But, if you don't have an idea, it can be very frustrating trying to figure one out. Also, there are people who are very good at multiple things, and don't know how to narrow down to just one idea. Oftentimes, both of these groups are asked "what are you passionate about"? Yes, you do need to be passionate about the business you start, but it is more to it than that. The graphic below is very helpful in helping you narrow down or decide on a business idea.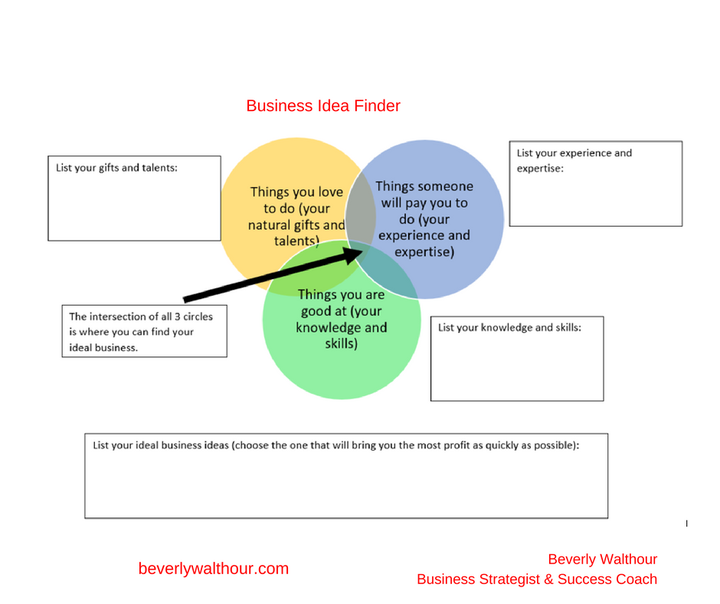 With this graphic, you are being asked to brainstorm a list of the following:
1) Things you love to do (your natural gifts and talents)
2) Things someone will pay you to do (your experience and expertise)
3) Things you are good at (your knowledge and skills)
Once you have your 3 lists, your goal is to choose ideas at the intersection of the 3. You want to choose the idea that will bring you the most profit as quickly as possible.
FUN CHALLENGE #1: CREATE A SUCCESS MINDSET AND BUSINESS IDEA
Now that you have learned a few strategies to get your business started, you are going to put them into practice. Please follow the 2 action steps below:
#1) Implement at least 1 of the mindset strategies over the next 7 days, and record your progress in your journal.
#2) Come up with at least 2 online business ideas you would like to pursue. Use the graphic above if you need help brainstorming ideas.
Let me know in the comments how you are progressing over the next 7 days. I would LOVE to hear from you!
Follow Me on Social Media:
Popular in the Community