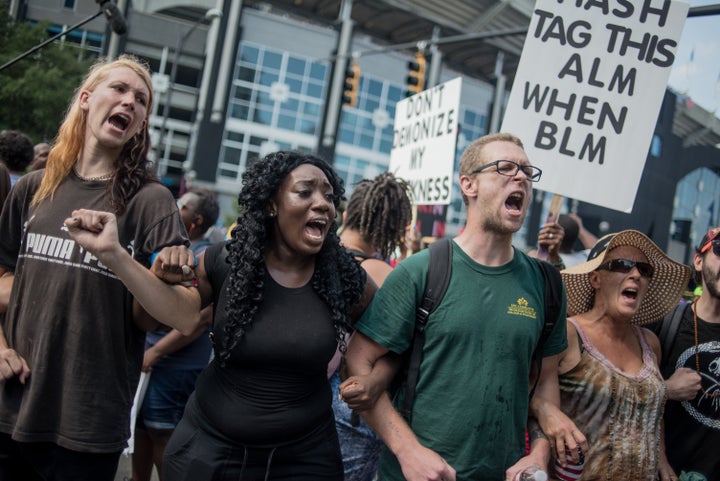 A new study released Thursday reveals some striking facts on how differently black and white people evaluate police performance in America. 
Here are four revealing facts from the study that show where white and black Americans stand when it comes to policing: 
1. Black people are nearly half less as likely as white people to have a positive view on the performance of their local police. 
Overall, about a third of Americans say they have confidence in their local police departments but black Americans express significantly higher levels of skepticism. According to the study, 75 percent of white people say police in their community do an excellent or good job at using the right amount of force for each situation and that they treat racial or ethnic groups equally. However, 33 percent of black Americans believe cops use the right amount of force and 35 percent say they treat all racial or ethnic groups equally. As for their take on how local police departments hold officers accountable over actions of misconduct, 70 percent of white people feel these departments do a good or excellent job while only 31 percent of black people feel the same.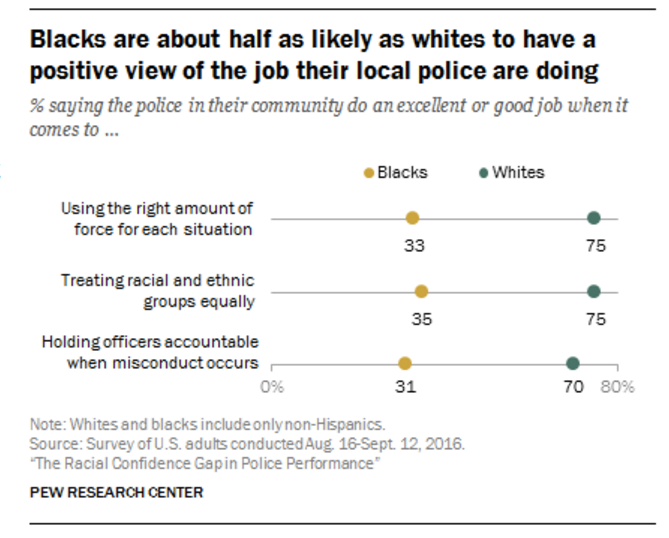 2. Black and white Americans have dramatically different views on how they interpret police killings of black victims.
Forty-four percent of white people view fatal police encounters with black victims as isolated incidents while only 18 percent of black people feel the same. A large majority of black people, 79 percent, believe these deaths are part of a broader problem within policing, which is a shared belief among 66 percent of hispanics, the study found.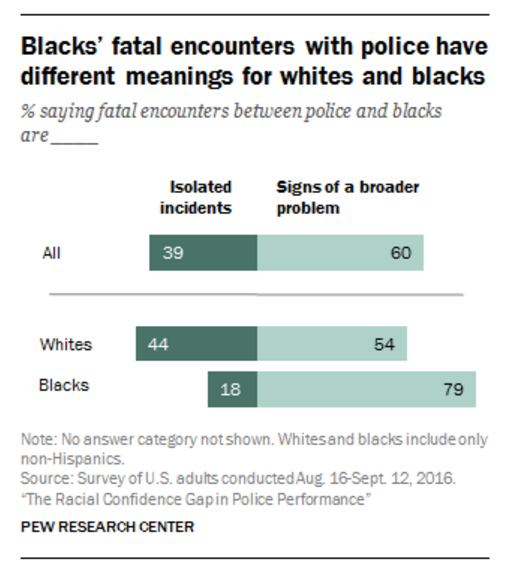 3. White people are more likely to say protests are a result of anti-police bias while more black people say the demonstrations are because of demands for police accountability. 
A large majority of the public, regardless of race, say that a great deal or some of the motivation for the protests that have unfolded after police killings of black lives are because of a long-standing bias against the police (79 percent) as well as a desire to help hold police accountable for their actions (65 percent). However, when broken down along racial lines, a large number of white people (85 percent) believe the protests were prompted by an antipathy towards the police while a majority of black people (79 percent) say the protests are to help ensure accountability against officers.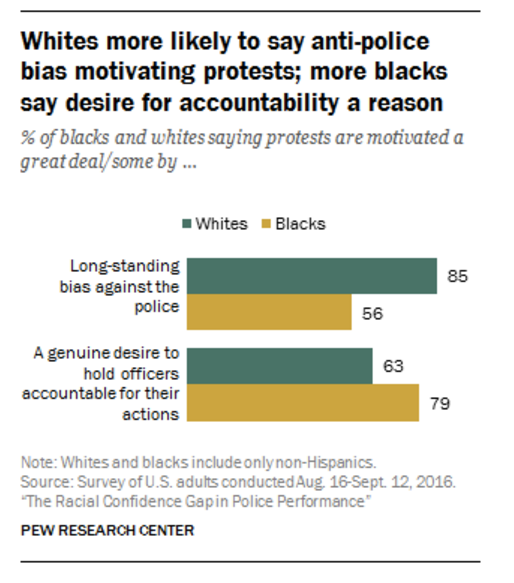 4.  A majority of Americans favor the use of body cameras and believe they help make police act more responsibly. 
An overwhelming majority of Americans, 93 percent, believe body cameras, which are used to record a cop's interactions with citizens, are useful. Many Americans also believe that body cams would help make an officer act more responsibly, which includes a tally of 67 percent of white people, 60 percent of black people and 74 percent of Hispanics who claim to feel this way. 
REAL LIFE. REAL NEWS. REAL VOICES.
Help us tell more of the stories that matter from voices that too often remain unheard.
BEFORE YOU GO
PHOTO GALLERY
"Black Lives Matter" March