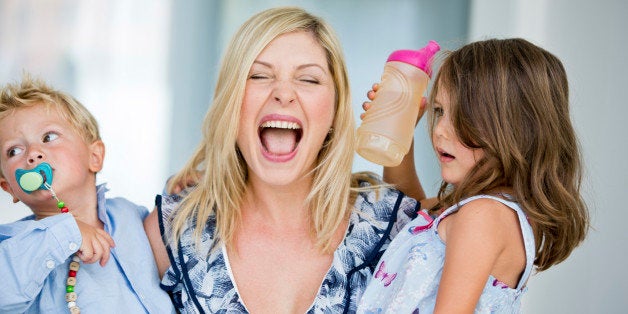 I was always the person who said I didn't know if I wanted kids. Not only am I horribly awkward around young humans, but I was highly selfish as well. Life had a different plan for me, however. The second I became a mom, something clicked inside of me. I knew that this is what I was made for. The two and a half year roller coaster ride of parenthood has had some very high highs, and fairly low lows. I go in and out of moments of pure bliss, and emotional breakdowns. It's not that the good doesn't outweigh the negatives, it's just that sometimes the downfalls are so draining. The constant worrying, self-criticism, and feelings of being alone are hard to deal with. There are a few things I think us moms can agree with that are the most common complaints of mothers.
This is the understatement of the century. "Tired" doesn't even begin to cover what it is that we go through, especially in the younger years. When your little ones are newborn, sleep seems like more of a myth than a real thing anymore. I think most moms can agree that the dads have selective hearing when it comes to the baby crying in the middle of the night. I can't be the only one who has been up feeding my baby at 2 AM, while looking over at my snoring boyfriend wanting to smother him with his pillow, right? Luckily, we adapt and learn how to survive off of 4 hours of sleep and coffee alone.

As soon as you think you are doing it right, you're doing it wrong.
Here's how the story goes: you go and by the latest and greatest baby gear, thinking you are on top of things and getting the best you can get for your baby. The next day, a huge recall sweeps the nation, and it just so happens to include the stuff you just got for your little one. Your moments of being proud and feeling like supermom are gone in the wind.
Ok, I know that sounds melodramatic, but it rings true for most of us. Sure, some of you have husbands that absolutely appreciate everything you do, but a lot of us do not. I'm not saying mine doesn't appreciate me at all, it's just that he doesn't get it. Being a mother is an emotionally and physically draining job. If you're not battling your toddler to eat their supper, you are probably getting kicked in the face or running like a madwoman to keep them from running into the street. When moms feel unappreciated for the struggles we go through, it can really wear on us emotionally. A little appreciation goes a long way.
I hear that this is even worse for stay at home moms, and I believe it. I work outside of the house, but I am fairly anti-social, which doesn't help the loneliness at all. I feel very blessed to have my son by my side every evening, but sometimes I would kill for a long, meaningful conversation with another adult. When it's the end of the day, and you have so much to say, it would be nice to have someone to talk about those things with. I understand why my SO is working most of the time, or exhausted when he is home, but it doesn't help the loneliness I feel most days.
I guess if you were to look on the bright side, I would not be able to list the positives about motherhood as I did the negatives, because there are so many. I wouldn't trade it for the world, and I hope my son always knows that. However, I hope one day my son has kids of his own so he can feel the ups and downs that comes with the territory. Us moms are pretty badass, and I think we need to give ourselves a little more credit. Somehow managing to survive while keeping the rest of the world spinning is tough work, but there's no one better for the job than moms.