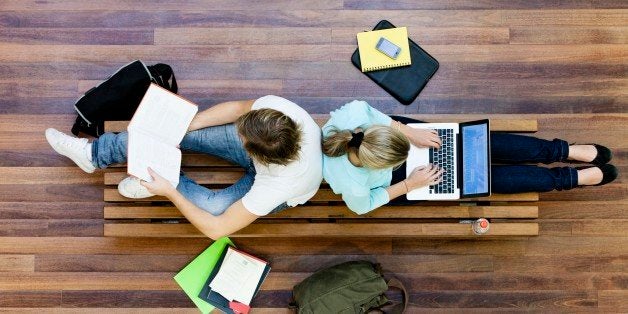 The application process. The registration process. The financial aid process. Yes, there are a lot of processes when it comes to returning to school to finish (or start) your degree. Before you dive into all that, consider another one: the selection process. How can you find a university that's a good fit for you? What can (and should) you expect from a university? And where do you start?
Reputation, reputation, reputation
Start by doing your research. Look for colleges with rankings and recognition on national, regional and local levels. Learn about partnerships and programs between a university and businesses and nonprofits in its community. Read student, alumni and professor satisfaction surveys. Find out what companies hire graduates. You're getting a degree to get ahead in your career -- make sure it's going to work in your favor by providing you with skills and contacts that will set you apart and make it worth your while.
Mix and match
Most colleges offer a variety of class formats. You can come to campus for class each week. You can take a class online. You can meet once a month on Saturday. Some classes are a mix of in-person and online sessions. Consider what format best matches your learning style. Do you have the self-motivation to be successful in online classes? Do you want more interaction with your professor and peers than you'll get online? Or would you like to have all these options available?
Expect flexibility
Kids, parents, work, appointments -- adult students always have a lot going on. Find a college that understands the demands on your time and can be flexible. If you've earned credit at another university, find out if it will transfer. Ask about earning credit through tests like DSST and CLEP. Explore options like the portfolio process, where you earn credit for learning gained on the job or in the community. Also consider worst-case scenarios -- can you take time off to deal with something unexpected without losing credit or standing?
Help -- and where to get it
Look into what resources a college offers its students -- financial aid, academic advising, research support, tutoring, career planning -- and then contact them with a question. Do they return your call or email? Does it take a few days, or a few weeks? Do your questions get answered, or do you get the runaround? Whatever your experience as a prospective student, you can be fairly confident you'll get the same treatment as a student and a graduate. Make sure it's a positive one.
Once you've found a university that offers the academic environment and support system you're looking for, let the application process begin. If you've done your research, the hardest part is over. You can feel confident you've made a good choice. And you already have the resources and contacts to guide you through the next steps.
Lori Eggleston Thorp is director of New College Support Services at St. Edward's University in Austin, Texas. She has taught and advised adult students for more than seven years and has an M.Ed. from Texas State University. Lori has also presented at the Association for Continuing Higher Education International Conference, the Region 7 National Academic Advisors Conference and the Texas Academic Advising Network.
Calling all HuffPost superfans!
Sign up for membership to become a founding member and help shape HuffPost's next chapter