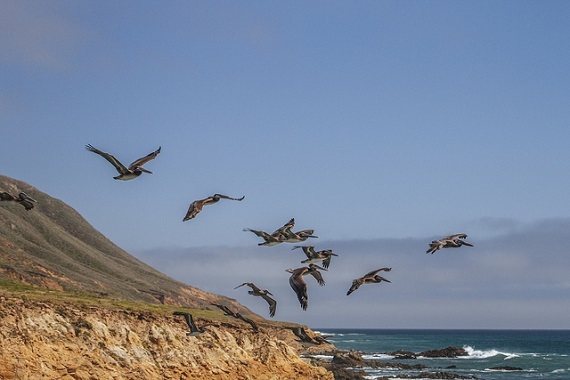 Photo by Fred Moore
"Go confidently in the direction of your dreams. Live the life you have always imagined." -- Henry David Thoreau
"No, there have been four deaths," my mom's husband corrected me. "Your cousin's mom died yesterday." Talk about a grim way to start off the New Year. The man who lived across the street from my mom, the elderly lady my mom cared for years ago, my brother's friend's wife -- she was only 32, four years younger than I am -- and now my aunt. How is that for the first week of 2015?
The interesting thing about death is that if we're not "old" or in poor health, it isn't something that is at the forefront of our mind. Meaning, we think we have plenty of time. It's this false sense of time that keeps us in jobs we're unhappy with for a decade or in passionless relationships or from chasing our dreams.
Five years ago my brother's friend Jona found out he had a rare form of cancer and within a few weeks he passed away. Jona documented his last six weeks in a blog -- prepare to shed some tears. He was only 27. What would you do if you knew you only have six weeks left to live?
To have four people within my extended circle of family and friends die within the same week, made death feel not only inevitable, but closer to home. Regardless of how much or little time we have left, here are four things death teaches us about life.
"It often takes suffering and lost in order to remind us of how precious life is." -- Rob Bell
1. Our time is limited. Whether we live to be 27 years old like Jona or we live to be 107 years old, until science is able to figure out a way to make us live forever, one day our life on this planet will come to an end. Meaning, that we don't have time to wait to take that trip to Italy we've been dreaming about the last few years or to start a business or to spend more time with our family because, like it or not, the clock is ticking. So how do you want to spend your precious days or weeks, or even minutes?
Six months ago while in France, I had a brush with death when a motorcycle nearly ran me over. That was enough to make me speed up the changes I was considering making at the end of the year. I'll just give it a few more months and see, I kept thinking, when in fact I already knew what needed to happen and was basically procrastinating.
2. Follow our heart. As Steve Jobs so famously said, "Remembering that you are going to die is the best way I know to avoid the trap of thinking you have something to lose. You are already naked. There is no reason not to follow your heart." I know it can be scary chasing after our dreams, ask anyone who has tried, myself included. Following your heart, following your passion, dreaming big is not easy, because if it were everyone would be doing it. But, here's the thing, would you rather live a life of What ifs? or a life of I'm going for it!
"You are never too old or too broken. It is never too late to begin, or to start all over again." -- Bikram Choudhury
3. Second chances. Life is all about second chances. Bikram Choudhury, the founder of Bikram Yoga said "You are never too old or too broken. It is never too late to begin, or to start all over again." Each day, each breath, each moment is an opportunity for us to try again, a chance to create the life we truly want and to go after our dreams. When was the last time you asked yourself, Am I living the life I really want? If the answer is no, then maybe it's time to figure out what you can do to change it.
4. The present moment. Now is the only guarantee we have. Now is what matters most in life. In the Power of NOW, Eckhart Tolles says, "Realize deeply that the present moment is all you have. Make the NOW the primary focus of your life." Although some things take time and cannot be created overnight, the now is where the miracles happen. Now is when we have the opportunity to experience the intricate details of life. However, to fully experience the joys of watching your child take their first step or the majestic Na Pali coast, it is important for us to be fully present, to live in that space of wonderment where life is currently happening.
Related