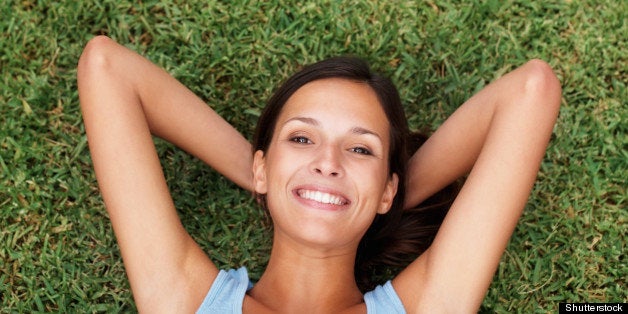 I recently attended an event called "The Baby Issue" (formerly known as The Boom Boom Room) in a Manhattan hotel room filled to the BRIM with everything and anything a pregnant woman or mama to a little one could ever need or want. As I'm hustling through the space, trying to make sure I get the deets on all these incredible products, I happened to eavesdrop on some 22-year-old editors -- who, interestingly enough, work for big name parenting mags, but don't have any kids yet. Apparently, based on their convo, these editors are single and living it up in the big Apple, and they were chatting about this whirlwind date one of them had the night before.
As I pretended to be fully immersed in the latest breast pump, I hungrily devoured all the details of this editor's date, which had "I'm single, just having a great time and don't need to worry if this guy is The One" written all over it. She had me thinking... if I had the luxury of what I know now after 14 years of marriage back when I was an unattached single girl living in the city, what would I say to my younger self? What is that bucket list of stuff I'd tell her to get crackin' on before she hitched her wagon permanently to someone else's? So, of course I decided I needed to make a list, and here it is: Five things EVERY woman should do before she gets married:
1. Date guys just because you like them.
So simple. If you make a connection, don't question it -- don't dismiss him because his area code is undesirable. Take a leap! You have NOTHING to lose and every thing to gain. Kiss that boy for hours... because when you are married, kissing kind of takes a backseat to The Main Event.
2. Travel with your girlfriends.
If you have dreams of going somewhere, don't procrastinate; book your flight and go with your girlfriends. Explore every inch of a new destination. Drink, flirt and eat with the locals. You can do it -- you are not married to anything but your happiness. Go to Paris just for the shopping... because chances are when you are married, shopping in Paris will not be high on the list of desirable vacations your husband would like to take.
3. Spend an exorbitant amount of money on something you love that is completely selfish.
Why? Because you don't have to explain or rationalize said purchase to a spouse. The only one who has to agree and like your decision is you, so go crazy! That completely non-sensible pair of stilettos that could be classified as "hooker heels" that costs a month's rent? Get them. (Because when you are married, you will have *someone* tsk-tsking in your ear about the fact that those shoes are not good for your feet).
4. Revel in your singlehood and be selfish.
See it as your time instead of as this albatross around your neck that you must get rid of. While being coupled up is great, it is a different kind of freedom, and you will never again be able to simply be selfish. And everyone deserves to dote on themselves. Sleep in as late as you can. Fill your home with as many pink and frilly things as you can humanly stuff into it. Watch marathons of "The Real Housewives" and "The Client List" until your eyes bleed.
Calling all HuffPost superfans!
Sign up for membership to become a founding member and help shape HuffPost's next chapter