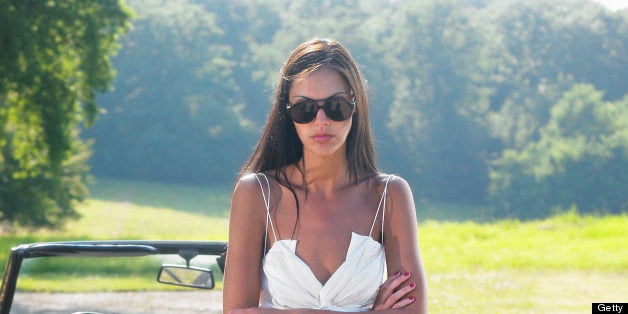 Back when I was in my early to mid-20s I was worried and concerned about getting married, but every attempt to create a stable, loving and committed relationship turned into an utter failure.
Based on what I've learned, here are four things to remember when you want to get married, but it's not happening:
#1 -- You gotta focus on making yourself happy.
Be your own best friend. Learn how to love your life whether there is a guy in your life or not. The more joyful and loving that you are when alone with yourself, the better because others are going to recognize that energy that you are putting out.
And trust me -- being joyful, happy, and loving is a lot more attractive then being depressed, self-conscious, and anxious. Just imagine what it'd be like going on a date with someone who is really depressed, self conscious and anxious. Would you want to go out with them again? Enough said.
#2 -- Know that you deserve and are capable of having a loving relationship.
We can be happy and joyful in our lives and with ourselves all we want, but if we don't think that we deserve and are capable of having a loving and joyful relationship that can turn into a successful marriage then it's not going to happen. We have to really truly know and believe that we are worthy.
Doing this doesn't have to be super complicated. It can happen at any given moment that you choose to fully admit to yourself and the universe what it is that you truly desire and you choose to fully know you are worthy. And, as a result, the universe can respond very quickly.
I know this very well from experience. A few years ago I was traveling in Japan after spending several months suffering with the aftermath from a breakup. I was working on being happy by myself but nothing new came along because I didn't really believe I was ready for a new relationship. I deeply believed that I'd screw any new relationship up. I didn't trust myself.
While walking around the Golden Pavillion (Kinkai-ju) in Kyoto I saw a section where you could buy candles for various different things and light them for a prayer. These were all in English so I felt inclined to light one. At first I rationalized and started telling myself to do one for world peace, but my eyes kept going back to one that was for finding love.
In that moment, finally admitted to myself and the universe my true desire and I knew that I deserved it. I lit the candle and left -- forgetting about it.
Later that day, upon trying to get to the airport, a storm came through that caused me to miss my flight. I ended up meeting a man in this this stressful situation who helped me with language translations. This man I ended up having a stable relationship with for about a year.
Which leads me to my next point...
#3 -- Always be open to possibilities.
When we have this very specific picture of what it is that we want then we are not going to be open for all of the creative possibilities. We may overlook or not even allow ourselves to see what is right in front of us.
It's okay to have some standards of what you want: Like someone who is honest, loyal, caring, and so on. But if we're going so far as to being very particular about how someone looks, their job, or where they grew up then we may be blocking ourselves from being with who we are truly mean to be with.
Also, I think it's very important to remember that when I say "be open to possibilities" it's not about letting go of the desire completely. It's not about shifting your thoughts in a way to be forcing yourself to be thinking, "I don't want to get married" because that doesn't leave you open to the potential of marriage ever. It's like going up to the universe and saying "I'm closing up shop" and the universe is thinking, "But, wait, I had all these customers lined up for you. What gives?"
The key is to learn how to get into a neutral space of "I am happy and love my life no matter what happens". It's about letting go of any concern or worry about the outcome and being open for all creative possibilities. That creates the foundation for a real change (or miracle) to occur, internally and, ultimately, externally.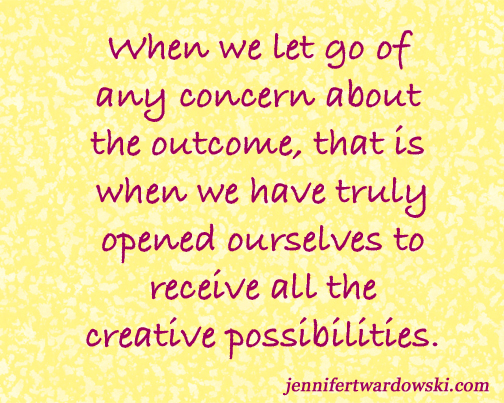 Trust that what is going to happen will happen. Not all of us are meant to get married or have children by a certain age. It's also true that not all of us are meant to only be married once. Things happen -- it's just the way life works out sometimes.
So trust and have faith that what comes to you is what is in your highest good. You have you own individual lessons to learn in this life that is totally unique to you. Nobody else shares those same specific lessons that you need to learn with you. So trust, have faith, and follow the flow of your own intuition and inner guidance.
Let's do #1: What can you start doing today to help yourself love your life more? Share your thoughts in the comments below!
Jennifer is a self and relationship coach and the founder of JenniferTwardowski.com. Her mission is to help women create loving relationships with both others and themselves. Click here for her Free Self and Relationship Healing Meditation and weekly blog updates. To learn about how you can work with her, click here.
Calling all HuffPost superfans!
Sign up for membership to become a founding member and help shape HuffPost's next chapter