Time to get in shape, America, because "The Runner" premieres on Friday, July 1, and you've got a LOT of work to do. 
Matt Damon and Ben Affleck -- maybe you've heard of them -- are the executive producers behind the series, which will run on AOL.com and Verizon's mobile TV network, go90 (AOL, The Huffington Post's parent company, is owned by Verizon). 
"We're thrilled for the opportunity to launch the first-ever, real-time competition show produced with the mobile viewer in mind that enables everyone to get in on the chase and [receive] prizes through social media," Damon and Affleck said in a joint statement to The Huffington Post. "We're proud to be bringing "The Runner" to go90, and to be part of a new kind of entertainment experience."
Before you watch the show, here are a few things you should know:  
1. "The Runner" is 16 years in the making. 
The actors first sold the show to ABC in 2000, but production was canceled after 9/11, Deadline reports. Yahoo tried to revive it in 2006, but 10 long years later, the show is finally hitting the small screen.
2. The show is divided into three major parts. 
The main focus of the show is, of course, the "runner." This guy or girl is attempting to make it across the US in 30 days without getting caught and (if they're successful) pocketing $500k in cold, hard cash. A group called "chasers" (made up of eight two-person teams) try to hunt down the runner. And then there's you, the viewer. Here's a handy chart to keep it all straight: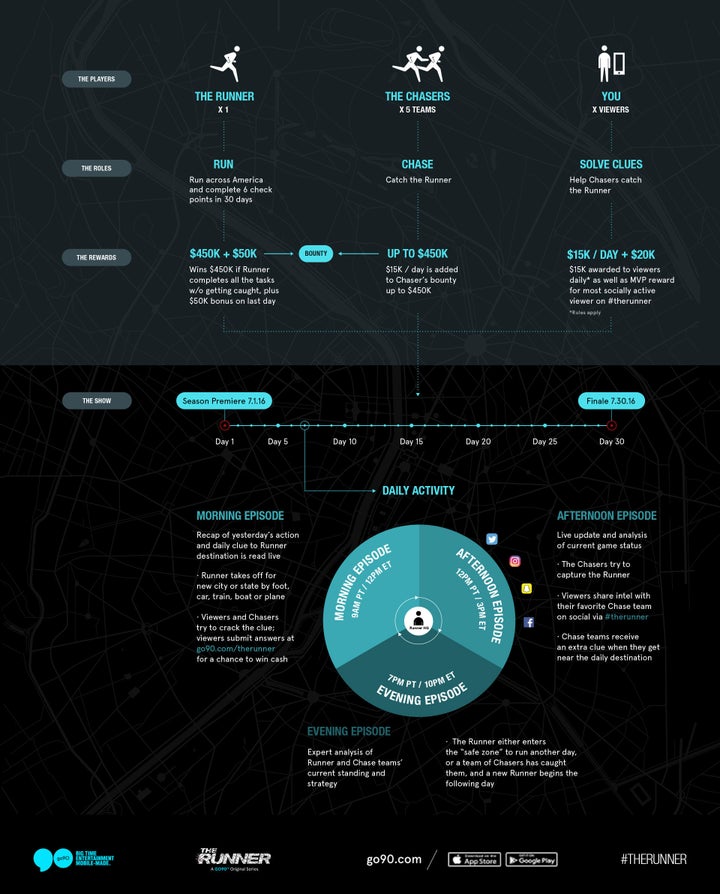 3. You can win MAJOR money by participating. 
You can win money by helping the "chasers" hunt down the "runners," or just by offering them support! At the end of the series, a lottery system will randomly pick an MVP fan to win $50k. Not bad for just watching a program on your phone. 
4. A Navy Seal is running the show. 
Kaj Larsen, the Los Angeles Bureau Chief for VICE News and one of the hosts of "The Runner," spent five years as a U.S. Navy Seal (he is now a reserve officer, according to a press release). Larsen will be running the show with Matthew Patrick, also known as YouTuber extraordinaire MatPat.
Calling all HuffPost superfans!
Sign up for membership to become a founding member and help shape HuffPost's next chapter
BEFORE YOU GO
PHOTO GALLERY
Celebrity News & Photos