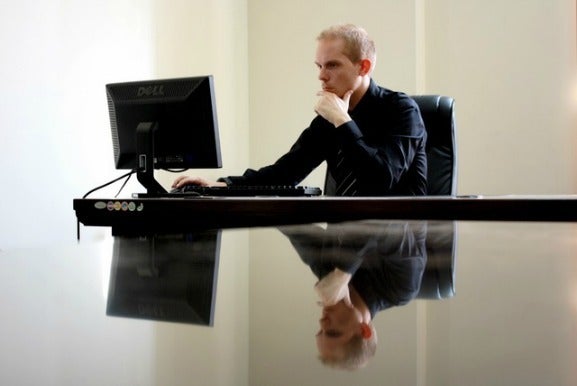 No matter how much you try to mentally prepare for working for yourself, you will get blindsided. Remember these tips to make your adventure easier.
I started my first business when I was 22. It was a graphic design business.
Since then, I have started up and successfully run another three businesses.
I've been in business for over 23 years and coached other businesses for the last 12 years. I have learned so much, although I would have loved to have been pre-warned on a few things that I had to figure out the hard way.
Here are four of the big ones…
1. People are disorganized wherever you go.
In school, they tell you about how scary the real world is, how you're going to get a rude shock and about how you need to be prepared.
I think it's because of this that I decided not to go to university and simply get stuck onto it.
But when you get into the business world, pretty soon you realize something…
And that is that everyone is just as disorganized as everyone else. And it doesn't matter what industry you are in either. People are people and people are inherently flawed.
2. No one really cares about you. They only care about themselves.
This relates directly to what I teach. That just as Steven Covey talks about in The 7 Habits of Highly Effective People, you need to seek to understand first, before being understood.
So often in business we are passionate about what we do and what we sell and while this is healthy, most people don't give a stuff. They just don't. It's only where our product can help them solve a problem they need fixed that they even start to take a remote interest.
3. You are going to get ripped off—more than once.
When I teach teams how to create outstanding customer service, I have a saying.
"There are only 10 nasty people in the world. They just travel around a lot."
This is also true for dishonest people. They are out there and if you are in business long enough, you are going to get ripped off.
I have had mentors that I paid a fortune to who have given me almost no value whatsoever.
I have been blatantly conned by a financial planner who cost me over $300K of my net wealth.
I have had clients not pay and I have paid people who have promised the world and delivered nothing. (Not even an atlas!)
But here's the thing: it's easy to tar the rest of the world with the same brush when someone does the wrong thing by you.
And here's the other more important, even bigger thing…
I have been helped by people who I would have paid thousands to who didn't charge me a cent.
I have also helped people in their business to create hundreds of thousands in extra turnover who I didn't charge at all.
The old saying "what goes around comes around" is so true.
What you put out comes back. Just don't let the f@ckwits in the world stop you from being awesome.
4. Nothing in your life that you will ever do, will hold up a bigger mirror in front of you than your own business.
Your business, if you maintain a stomach for it, will be the biggest, most confrontational thing you will ever do. (Apart from having children if you are taking that ride also
If your business sucks then it's probably a pretty good indication of what you're doing.
There really is no one else to blame.
You can try to blame someone else for the fact that your business sucks but it's not going to get you anywhere.
If your clients suck, then guess what? You attracted them.
If your staff sucks, then guess what? You employed them.
If your vendors suck, then guess what? You're the one who tolerated bad service.
If the advice you paid for didn't give you an ROI, then guess what? You didn't execute properly.
It's the biggest personal development journey of all time. And It never stops.
I hope this helps. I swear no one told me these secrets; it's all been hard-won. I couldn't have dreamed it would have been like this and I certainly couldn't make it up even if I tried.
I'll tell you what, though. It's been worth every minute and I wouldn't give it up for anything.
Especially not to go back to a J.O.B.
For the past 27 years, John Blake has been a highly successful sales person, sales manager, business owner, author and sales and marketing consultant.
At age 23, whilst national sales manager of Arnette sunglasses Australiasia, in just three years John grew sales from a modest 750 thousand dollars per year to a whopping six million per year in turnover.
John is obsessed with helping business people explode sales results using a unique process that empowers both them and their clients to be 100% sincere and avoids tired, clichéd sales approaches.
Over the last 10 years, John's proven formula for cracking open the vault to unlock huge sales growth has been applied in hundreds of businesses in over 34 industries.
John's approach is unique because EVERY sales strategy and Idea you'll learn has been thoroughly road tested and proven by him FIRST.
The main three problems John solves for his clients are low conversion rates, low transaction size and an inability to engage with and convert premium clients.
Some of these companies include Vantage Performance, Webb and Brown Neaves, Westfarmers Insurance, Oakley, Rip Curl,The West Australian, CINEads, Clough Engineering, Morrison Media and Stocker Preston Real Estate just to name a few.
John's clients typically experience a faster sales cycles and boosted confidence in sales teams which means a more enjoyable, profitable experience for both his clients and their customers.
Related
Popular in the Community