When I turned 60 and moved to Princeton after almost four decades in New York City, I realized how chronically stressed-out I had become. For years, New York's fast pace had helped me ignore the issues I had with sleep and anxiety. These issues had been with me for years, ever since I witness my mother's terrible bike accident when I was a child, which left her with a traumatic brain injury (see my article here). These anxious feelings kept me so wound up that I felt most comfortable when I was working. I put in 80-hour weeks, which were great for my career as the busy founder of a nonprofit, but not so good for my health. Now that I was living in a much more peaceful town, I realized how desperately I needed to learn to relax.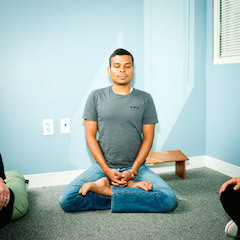 Many businesses now encourage employees to meditate at work, like the Meditation Room at Facebook (source)

I'd heard good things about yoga so I enrolled in a yoga class at Gratitude Yoga, a wonderful place across the street from my home in downtown Princeton. My first class was a vinyasa yoga class taught by a gifted teacher named Gemma Farrell. Vinyasa yoga links poses such as downward dog and triangle into sequences connected by steady inhales and exhales. That first day was difficult. With my tense, uncoordinated and inflexible body, it was very hard to keep up with the class. I sat in the back, embarrassed that I could not touch my feet or even reach to mid thigh.

Each day, however, I found myself getting better. I was hooked and began taking 90-minute classes six times every week. Over the next six months I had the best and most transformative experience of my life as as I learned how to do simple asanas (poses) and vinyasa sequences. I also learned a pranayama (breath retention) practice that solved my sleep issue. This trick involves breathing through the left nostril while holding my right nostril closed, and the first time I practiced it, my sleep improved that night and continues to improve. Another wonderful teacher at Gratitude Yoga, Nina, introduced me to the book Meditation As Medicine: Activate the Power of Your Natural Healing Force, which taught me more ways to combat my insomnia and sleep deeply and restoratively.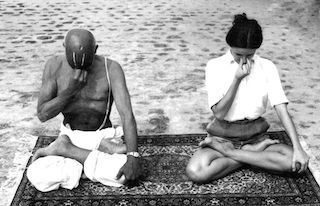 Students practicing Pranayama, which improved my sleep immensely (source)
As I got deeper into yoga I became curious about research into yoga's ability to help prevent diseases like Alzheimer's and cancer. Yoga also offers postures, breathing exercises and meditative visualizations that can help clear the mind of negative energy from past trauma. In that sense, it has been life-changing for me.
Yoga also holds out help for Parkinson's disease patients. A 2014 review of seven studies examining the effectiveness of a yoga program on patients with Parkinson's disease, published in the Journal of Parkinsonism and Restless Leg Syndrome, found that yoga can help patients suffering from Parkinson's symptoms. The researchers found yoga improved mobility, balance and lower-extremity function, and reduced fear of falling and loss of strength and flexibility. Yoga was also shown to improve well-being, mood, depression and sleep.
Entrepreneurs are pros at working hard but not at relaxing. This often means we eat wrong or we don't get enough sleep. Over time, this fast-paced entrepreneurial lifestyle can lead to health problems that will ultimately slow even the most rugged entrepreneur down. I've learned that I'm far more effective with a good night's sleep and a daily yoga practice.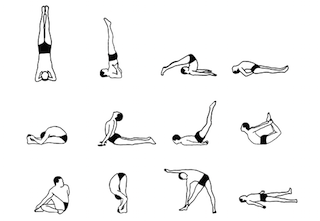 4 Yoga Tips for Entrepreneurs
1) The physical and mental health of you and your loved ones is the most important thing in your life. Yoga can help almost every health issue in some way.

2) Yoga can help you connect with your true purpose and your goals by teaching you to quietly observe your mind and identify what you really want in life. Once you've found these, yoga can help you harness the power of your subconscious to help you make these a reality.

3) By taking classes in your yoga community you will meet many interesting and wonderful people who will introduce you to fascinating ideas about keeping and improving your health through the power within your own body and mind.

4) Yoga teaches you how to relax, which will improve your focus, discipline and general state of happiness.
Related