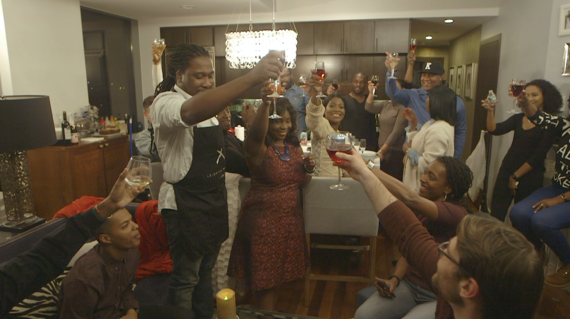 The holiday season is a special time - festivities, food, and most importantly, friends and family! Entertaining loved ones is one of many passions my husband and I enjoy doing together. Creating memorable moments and transforming beautiful spaces requires preparation and attention to detail but it can be fun if you approach it with a fearless attitude. The most fulfilling experiences have the ability to make you lose track of time and leave stress behind. After countless parties hosted, I invited Burlington to my most recent holiday gathering to show them how the Murdocks entertain using Burlington décor to outfit my home and our festive attire. Check it out here!
Here are a few of my easy-to-do tips to accompany my recent webisode for hosting an unforgettable event:

Make a Statement
Make your event stand out with original statement pieces to elevate the energy in your home. Items like festive pillar candles, throw pillows, and specialty knick-knacks give guests a glimpse into your personal style and set the mood for a memorable evening. Wave bye-bye to outdate decor and say hello to new traditions!
Mix and Match Pieces
Mixing your old pieces with a bit of new makes all the difference. Using unique accessories that match the theme and occasion creates an entirely new experience. Up the ante on the glitz and glam because the holiday season is the perfect time to indulge with color (think: bold red, rustic gold and sleek silver), lively centerpieces, and chic table settings. Remember to stick to two or three colors when decorating. Deciding on a palette before you shop makes the selection process quick and easy.
Dine With Vision
On my web series with Burlington, I invited guests into my home to share my top decorating tips and talk about the importance of sharing New Year's goals with friends and family so they keep you accountable. 'Connection through conversation' is a mantra I live by and creating a unique sharing experience over dinner is a great way to fill the room with love and laughter.
Shine Bright
One of the best-kept secrets in party planning and design are flameless candles. They keep your party hot, but not overheated. And while nothing makes winter warm and cozy like a lit fireplace, pillar candles are a great alternative to get the look you want.
For me, breaking bread with loved ones is what makes the holidays so extraordinary. Home is where the heart is, so don't dim your creativity when crafting a holiday table, assembling organic florals, trimming your tree or hanging that special picture frame. Every detail matters when you create warm holiday memories for years to come!