The DIY spirit of the Lower East Side neighborhood almost always provides refreshing contrast against the polish and politeness of Chelsea. Artists are being supported for experimenting and taking risks and for the most part curating is still treated as a responsibility to be taken seriously and it shows. Up until the end of October, these four shows at Lu Magnus, Rooster Gallery, Klaus von Nichtssagend, and DCKT all represent the innovative, quirky, authentic and engaging character of the LES scene.
Keeping up with their reputation for being an 'art laboratory,' Lu Magnus Gallery begins the season with 'Loading,' a solo show by painter (and now animator) Jonathan Allen. The large paintings occupy the cavernous space of the gallery and were developed in collaboration with contemporary poet Anselm Bernigan. They are analog meditations on the overwhelming shift of data into digital form; he focuses specifically on the artificial structure of images. The paintings are ambitious in their fusion of landscape images, collage and schematic drawings that call up the work of Leipzig school painters Martin Kobe and Matthias Weischer. Individually they are beautiful; works like 'Watching' and 'You & Your Signals & Codes' are rich and thoroughly enmeshed pictures that offer an impossible, tactile vision of the data world we inhabit. Yet in concert the paintings fall prey to fragmentation, and it is difficult to discern whether it is an intentional meta discourse about the nature of data or just an arrangement that needed to be more carefully considered. That said, Allen's stop motion animation, 'Loading,' is the real show stopper. The video piece, which is a suite of 12 videos, (each short corresponding to a poem written and read by Anselm Berrigan,) offers the most direct and articulate path to a conversation about data, digitalness, and its inherent intangibility. In its animated form the collage moves in real time as interface between two and three dimensions. This ensures that technique maintains its inherent motion and stays an active process that is witnessed rather than becoming the static and inert remains of the technique in the paintings. It's quirky and low tech and hilarious; collaboration is rarely done so well. This piece is a triumph that deftly places painting, images, and time in a captivating conversation. 'Loading' is open through October 16th.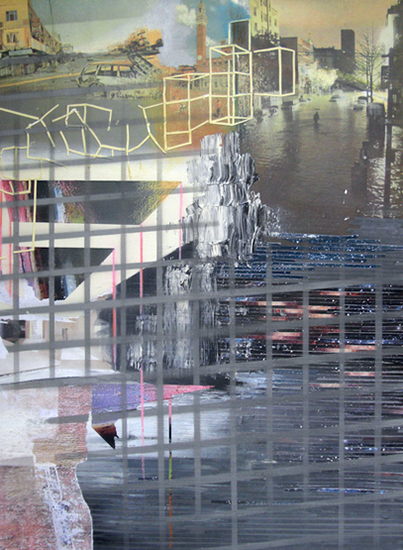 Jonathan Allen, One plus one is nothing. 2013. Paint, paper and pastel on canvas. 37x27 inches.
Courtesy Lu Magnus Gallery.
Click the image to view the suite of 12 stop motion videos here: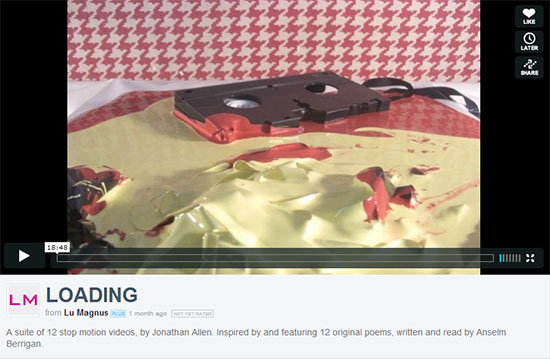 Jonathan Allen and Anselm Berrigan. A suite of 12 stop motion videos, by Jonathan Allen. Inspired by and featuring 12 original poems, written and read by Anselm Berrigan. 18:48
Even more experimental is Tomaz Hipolito's '2013 merge_06,' a multidisciplinary collaboration between the Portuguese artist and the Squat Theatre's Archive at Rooster Gallery. Hipolitio's creative output spans photography, drawing, video and performance and is all in service of what the artist refers to as 'mapping gesture.' He views reality (present, past and future) in a spatial manner and subsequently is driven to map movement between reality, experience and history. He imagines the overlapping spaces as 'intervals,' way-points on his journey between past, present and future. For this exhibition he collaborated with the Squat Theatre's Archive to relocate and reanimate the NYC of the past with its current iteration. The show is in three parts. First is a series of composite works on paper lining the walls that combine drawing, stills from the Squat Theatre's overtly theatrical 70's performances and recent photos Hipolito captured around the LES. They are uncanny, poster-like objects that contain years and lives collapsed. The second part stands out; a spool of thick yellow rope splits the space and serves as a point of performative activation for the various performances held throughout the show. In the downstairs space of Rooster Gallery (which often features some special facet of their exhibitions) Hipolito has set up a single TV that bathes the viewer in the soft (conceptual) glow of history as the old photographs from the Archive play back. The photos of Squat Theatre's gooey, graphic and radical performances. Part expression and part history lesson, '2013 merge_06,' reverses the flow of art historical amnesia and lifts the veil on the early performance art days of NYC. The show runs through October 20th.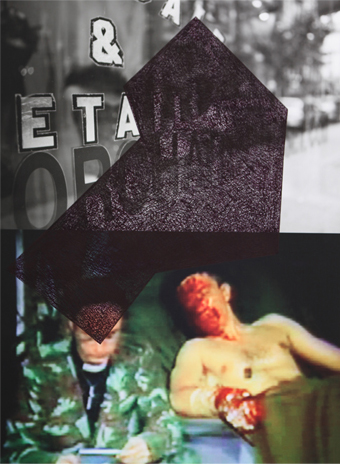 Tomaz Hipolito, 2013 merge_06 #6, 2013. Ink drawing on digital print. Ultra Chrome. 31.5 x 23.5 inches.
Courtesy Rooster Gallery
David Gilbert's latest show at Klaus von Nichtssagend at 54 Ludlow Street introduces and poetic and relentless painterly spirit the staged photographs of his LA studio. In brief, Gilbert's large photos are hard to pin down, they are paintings produced through photographic means. He literally constructs his 'paintings' inside the frame of his viewfinder with the stuff of a painter's studio. The 'painted field' could be a hung sheet of paper overlaid with nylon mesh that slightly obscures drawing scribbled on the wall. Little moments of detail and color punctuate the poetic and gentle tableaus, like the fading sunset in 'Drama at Sunset (Summer)' or the unfinished paintings peeking out in 'Girlfriend!.' The show's title 'Coming of Age' is a perfect encapsulation of how these works feels: masterfully assembled to mimic the lightness of randomness, yet slightly unsteady and vulnerable, complex, a beautiful combination of languid and awkward. They are not attempts towards collage or assemblage but a seamless unification of painting and installation, resulting in something between a Giorgio de Chirico still life and a Sarah Sze installation. Not overstated and not to be missed, open through October 20th.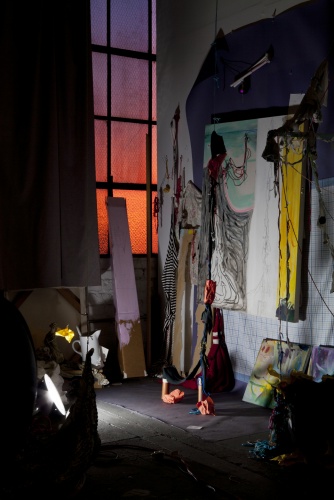 David Gilbert, Drama at Sunset (Summer), 2013. Archival pigment print, 8 x 5.33 inches.
Courtesy Klaus von Nichtssagend Gallery.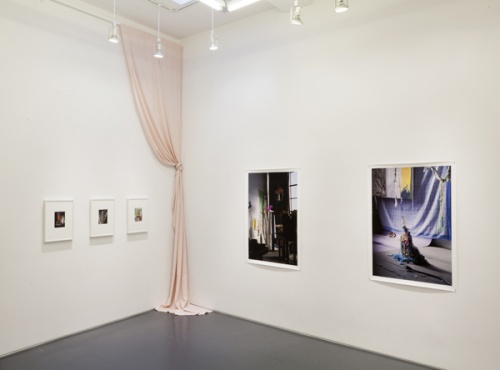 David Gilbert, Coming of Age
Installation at Klaus von Nichtssagend Gallery
In his first solo show with DCKT Contemporary titled Oblivious Path, Matthew Craven flattens history and turns it into an endlessly interchangeable puzzle. Craven arranges grids of images and geometric pattern into cryptic grids latent with imagination and glimpsed connections. Dangerously flirting with the tendencies of similar (and often mediocre) design based art, Craven hits a sweet spot between the disappearing and already disappeared. Like Jonathan Allen's work, Craven engages with the ever present digital world; his works bear a striking resemblance to blogs on Tumblr that 'archive' and 'curate' the images of the web. Yet these have more ambition towards captivation and storytelling and they remain defiantly analog. They are the size of large paintings and they have as much mysterious stoicism as the Eastern Island heads depicted within. The arrangements are felt but not self-conscious, and like David Gilbert's photo paintings they are light and feel almost as authorless and believable as an ancient artifact. Matthew Craven's works unearth questions of authorship; who holds claim to the images of the past and what does our continued remembrance say about them? Oblivious Path runs through October 20th.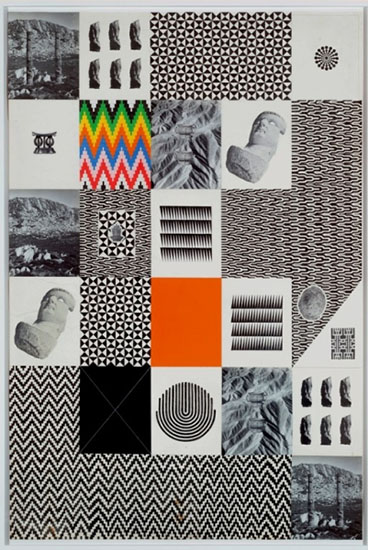 Matthew Craven, Bust II. 2013. Ink, graphite & found book pages on found paper, 60 x 40 inches.
Courtesy DCKT Contemporary
Related
Popular in the Community