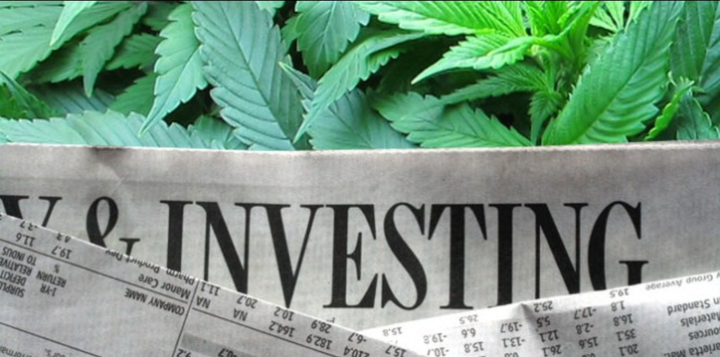 Investors have watched in awe as a large number marijuana stocks have made triple digit gains this past year. Public opinion on cannabis has moved more toward acceptance as people become more knowledgeable. In fact, a 2016 Gallup Poll showed 60% of Americans are for legalizing marijuana, which is up from 12% in 1969.
Increased public support and commercialization of the industry have made cannabis a growing industry. According to a recent Business Insider article, the North American marijuana market posted $6.7 billion in revenue in 2016, up 30% from the year before, based on a new report from Arcview Market Research, a leading publisher of cannabis market research.
Instead of gambling on which marijuana stock will move the most, many investors choose to focus on Medical Marijuana Companies, especially those focusing their research on cannabinoids (CBD), which are the active chemical components of the cannabis plant. Opposed to tetrahydrocannabinol (THC), which creates the pleasant psychoactive "high" that cannabis users are familiar with, CBD offers numerous therapeutic properties, such as anti-inflammatory, anti-anxiety, anti-schizophrenic, and anti-epileptic. So which companies will prosper and which shocks should you buy? Here are four companies in the Cannabis Pharma sector that have a tremendous amount of potential.
First on every list of cannabis-based drug developers is GW Pharmaceuticals (NASDAQ: GWPH). The company's $3 billion market cap makes it the largest in the industry, even though it's currently losing money. Keep in mind many biotech companies with drugs in various stages of the FDA approval process are also losing money, since they are pouring their cash into research and development. Epidiolex is GW Parmaceuticals experimental drug that has promising results for two rare forms of childhood-onset epilepsy in FDA phase 3 trials. In two trials for both Epidiolex, which is derived from a marijuana component called cannabidiol, or CBD, helped significantly reduce the number of monthly seizures suffered by patients with Lennox-Gastaut syndrome (LGS)—a rare disease that often strikes during childhood and usually causes debilitating epileptic episodes. It afflicts about 30,000 children and adults in the U.S., according to the LGS Foundation.
On March 27, 2017, GW Pharmaceuticals announced its Epidiolex had been granted Orphan Drug Designation by the European Medicines Agency for the treatment of Lennox-Gastaut Syndrome (LGS), a treatment-resistant and debilitating childhood-onset epilepsy. Epidiolex could, potentially, be a $1 billion drug, if it is approved by the FDA.
2. Kalytera Therapeutics, Inc.
Kalytera Therapeutics, Inc. (CVE: KALY) (OTC: QUEZF) is a clinical-stage pharmaceutical company pioneering the development of a next generation of cannabinoid therapeutics. Through its proven leadership, drug development expertise, and intellectual property portfolio, Kalytera seeks to establish a leading position in the development of novel cannabinoid medicines for a range of important unmet medical needs, with an initial focus on Graft versus Host Disease ("GvHD"). Kalytera is also developing a new class of proprietary cannabidiol ("CBD") therapeutics. CBD is a remarkable compound that has shown activity against a number of pharmacological targets. However, there are limitations associated with natural CBD, including its poor oral bioavailability. Kalytera is developing innovative CBD formulations and prodrugs in an effort to overcome these limitations, and to target specific disease sites within the body. Kalytera intends to file composition of matter and method of use patents covering its novel inventions, with the goal of limiting future competition.
Based in Beverly, Massachusetts, Kalytera has licensed a patent from the Hebrew University on CBD derivatives and will finance drug development based on the patent. Dr. Raphael Mechoulam, Ph.D., is the Co-Chair of the Scientific Advisory Board for Kalytera. He is also a pioneer in the field of cannabis research, having been the first scientist to complete total syntheses of THC and CBD. Dr. Mechoulam also serves as Professor of Medicinal Chemistry at the Hebrew University of Jerusalem in Israel.
Kalytera Chief Executive Officer Dr. Andrewn Salzman founded and built Inotek Pharmaceuticals, a 140-person biotech company that raised $92M in venture capital and concluded a $600M license with Genentech. As CEO of Inotek, Dr. Salzman brought numerous new chemical entities from conception to clinical stage testing, including a treatment for glaucoma that demonstrated clinical proof of concept in late Phase 2 clinical trials. Dr. Salzman has been funded by the U.S. National Institutes of Health, authoring 75 federal grants and receiving $164 million in federal grant and contract funding, $129 million in venture capital investment, and $27 million in strategic licensing and research support. He received an undergraduate degree from Yale College, a degree in medicine from Harvard Medical School, and completed a pediatric internship and residency at Columbia University Medical Center.
3. Corbus Pharmaceuticals
Corbus Pharmaceuticals (NASDAQ: CRBP) is developing anabasum, which is a synthetic oral endocannabinoid-mimetic drug designed to resolve chronic inflammation, and fibrotic processes. Anabasum was granted Orphan Drug Designation and Fast Track status by the FDA for the treatment of systemic sclerosis in 2015 and Orphan Drug Designation by the EMA in January 2017. Corbus recently completed a Phase 2 study for anabasum, which was supported by a $5 million award from Cystic Fibrosis Foundation Therapeutics, a nonprofit drug discovery and development affiliate of the CF Foundation.
Corbus has reported positive mid-stage results in systemic sclerosis and cystic fibrosis, however, anabasum is their sole drug. On April 5, 2017, Corbus Pharmaceuticals announced plans to commence a single Phase 3 study of anabasum for treatment of Systemic Sclerosis following guidance received from their successful end-of-Phase 2 Meeting with the FDA.
4. Zynerba Pharmaceuticals
Zybnerba Pharmaceuticals (NASDAQ: ZYNE) also depends on cannabinoid therapies as the foundation for ZYN001 and ZYN002, the two drugs it currently has in development. ZYN002 is in Phase II clinical development in patients with refractory epilepsy, osteoarthritis of the knee, as well as in patients with Fragile X syndrome. ZYN001 is a pro-drug of tetrahydrocannabinol (THC) that enables transdermal delivery through the skin and into the circulatory system through a patch. ZYN001 is targeting two pain indications, fibromyalgia and peripheral neuropathic pain.
ZYN001 could potentially treat fibromyalgia and peripheral neuropathic pain, as well as chronic cancer, chronic pain, and gastrointestinal disorders. ZYN002 is a cannabidiol-based gel that is absorbed through the skin and aimed at treating adult epilepsy, osteoarthritis, and Fragile X syndrome. The STAR 1 epilepsy study and STOP osteoarthritis study are expected to yield mid-stage, top-line results by July or August, while the FAB-C Fragile X trial should have mid-stage data by the end of the first half of 2017.
Related
Popular in the Community