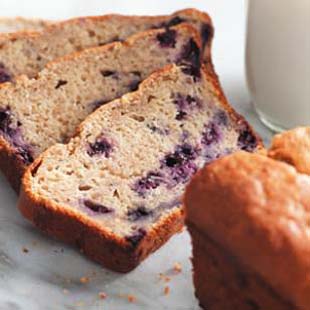 By Emily McKenna, Recipe Developer & Tester for EatingWell Magazine

Over the years I have perfected my banana bread recipe -- one of my favorite solutions for using overripe bananas. I use all whole-grain flour or whole-grain flour mixed with white all-purpose flour, and rely as much as I can on the natural sweetness of the bananas to cut the total amount of granulated sugar called for in the recipe. I also like to roughly mash, or chop, my bananas so that there are big chunks of fruit to bite into. I always throw in a handful of toasted chopped walnuts and sometimes I'll add a pinch of cinnamon or nutmeg and a handful of dark chocolate chips.
Related: Banana Cream Layer Cake and More Easy Banana Recipes
Want to lighten up your favorite banana bread recipe? Here are four of my best tricks you can use to make your banana bread recipe healthier and delicious, and a recipe for EatingWell's healthy Banana-Blueberry Buttermilk Bread (see below).
Related: How to Bake a Healthier Cupcake
1. Use Less Sugar:
This is really a two-part tip. I try to add as little sugar as possible to my banana bread. This means packing as many naturally sweet and creamy bananas into my bread as I can. So, when a recipe calls for two medium bananas, I will usually use three. The more the merrier, in my opinion, and I swear that this tactic has never steered me wrong. The bread bakes up just fine, stays super-moist and has intense banana flavor.
When it comes to choosing sugar, I always go for light or dark brown sugar: brown sugar adds a deeper, more caramel-like flavor to my bread than granulated sugar, which has a less nuanced flavor.
2. Replace All-Purpose Flour with Whole-Wheat Flour:
Generally, you can replace at least half of the all-purpose flour in a recipe with whole-wheat flour. I tend to do a one-to-one swap in my banana bread, using all whole-wheat flour or whole-wheat pastry flour in place of the amount of all-purpose flour called for -- I prefer the heartier, nuttier flavor that whole-wheat flour adds, and I want the extra fiber (almost four times as much as all-purpose), potassium, magnesium and zinc. If you want the nutritional benefits of whole-wheat flour, without quite as much whole-wheat flavor, use white whole-wheat flour.
Recipes to Try: Cranberry-Walnut Quick Bread and More Whole-Wheat Breads & Muffins
3. Add Healthy Fruit and Nuts:
In addition to upping the amount of bananas in my bread (see my first tip), I also like to mix in different kinds of fruits and nuts, which add texture, flavor and health benefits. When it comes to fruit, I love the taste of tart, plump blueberries. I will add as much as 1 1/2 cups of blueberries to my banana bread, folding them in after combining the wet and dry ingredients. As for nuts, 1/2 cup of toasted, roughly chopped walnuts folded into the batter before baking adds nutty flavor and something to crunch on, along with good omega-3 fats, which can help lower "bad" LDL cholesterol. A similar amount of chopped almonds delivers healthy monounsaturated fats.
Don't Miss: How to Make Spring Fruit Bars
4. Use Less Butter and More Buttermilk:
Buttermilk is fantastic in banana bread. By using a combination of 1 cup of nonfat buttermilk plus 2 tablespoons of canola oil, you can get away with almost no butter -- just two measly tablespoons. In addition to lending a pleasant tangy flavor, buttermilk helps keep your bread moist as it bakes.
Recipes to try: Banana-Blueberry Buttermilk Bread and More Healthy Muffins & Quick Breads
What's your favorite way to make banana bread, or other quick breads, healthier?


Emily McKenna tests and develops recipes in the EatingWell Test Kitchen. Emily recently moved to Vermont from New York City, where she worked at Food & Wine, food52.com and Real Simple. She is a recent convert to the glories of kale and has a weakness for doughnuts, strawberry licorice and anything her Italian-American grandmother makes, especially pizza.
Related Links from EatingWell:
REAL LIFE. REAL NEWS. REAL VOICES.
Help us tell more of the stories that matter from voices that too often remain unheard.