A 24-foot long, Sylvan Special Edition pontoon boat with a 115-horse Johnson outboard is where I spend most of my Sundays. My wife and I decided to take the plunge and acquire our first boat in May this year. Since then, our baby has been in the shop twice, been towed once, and proven that boat truly does stand for "Break Out Another Thousand."
But, like Kenny Chesney says, "[I] wouldn't take a million for the way it makes [me] feel."
If Kenny didn't beat me to the line, I'd say the same thing about leadership. Leading people can push us out of our comfort zones, while also fulfilling us more than most activities in business. After reflecting on this summer's experience with our boat, I realized there's actually quite a bit I can learn from that old Sylvan to make me a better leader at Lesson.ly.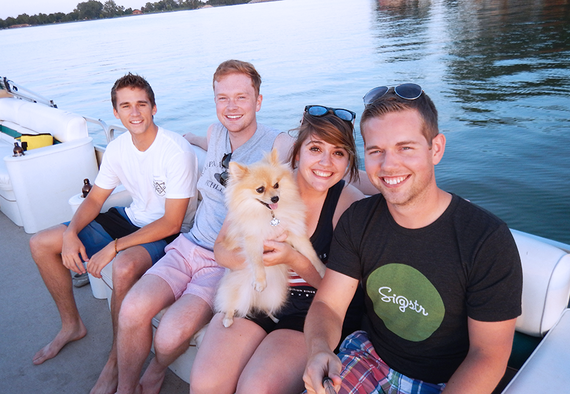 The Lesson.ly marketing team and Pippa the Pom all aboard the pontoon
1. Don't Let Issues Linger
A little while after we bought our boat, it started to lean to one side. I thought this was due to our gas tank being full, but it turns out, we had a hole in one of our pontoons. Not ideal. It was filling up very slowly, so I didn't pay much attention to it. I left it linger on so long that eventually everyone who saw the boat started noticing its significant lean. It was time to get it fixed, or else it might end up at the bottom of the lake.
One of the greatest management mistakes I've made is letting things linger with a specific employee until it was too late. This was dealing with a particular behavioral issue that started slow and grew over time. By the time we confronted the person about this issue, it was so habitual and had been accepted for so long, the individual was unwilling to curb their behavior.
Whether there would've been behavioral change or not, it was my responsibility to that individual, the company, and to myself to nip that problem in the bud as soon as it was clear that it was an actual problem.
2. Invest in Your People to Survive the Tough Times
Our pontoon came with a very old cover. It had lost all of its water repellency it initially had, so I invested a little time and money into restoring it. Now, regardless of how much it rains, the cover keeps the boat bone dry and mildew-free.
When storms come along in your business, it's too late to start investing in your team. Leaders who weather even the strongest of downpours are the ones who prove how much they care about their employees before, during, and after cloudy weather. At Lesson.ly, we are obviously big proponents of training because our business revolves around training software. But, even more importantly, we are big fans of training because we recognize the direct correlation between sharing knowledge with team members, and the business impact that our customers get from doing so.
Other ways we like to invest in our employees is simply by spending time together. We regularly enjoy company-wide events that are actually fun. Some include a visit to Lake Walloon in Michigan, an internship award ceremony, and even a high-five competition. Show your employees that you care when times are good and they will be there for you when the going gets tough.
3. Don't Burn Your Employees Out
Re-energize and refuel them to keep engines running.
In older pontoon boats, there's a chunk of technology called the power pack. If you run a boat with said power pack for too long at too high of an RPM, you experience what I did this summer. Eventually, the boat will still idle, but you're not going to get much more out of it. So, that's a maximum of eight miles per hour versus the typical twenty.
Leaders are in the interesting business of pushing employees as far as they can go, while also providing an environment of positivity, encouragement, and enjoyment. We have to understand that each of us has a breaking point, and we need to respect our employees' limits. If we push our employees past their personal limits, we'll experience lower performance than expected, or high turnover.
Work-life balance is something we take to heart very seriously at Lesson.ly. We are a work whenever, work wherever, and unlimited vacation time work environment. We set goals we know are possible to achieve and trust our people to figure out how to get it done and trust them to get it done. Further, in order to make this work, you have to have great rapport built with your staff that allows them to be honest with you.
4. When You Need Help, Ask for It
My wife and I headed out on the pontoon one night for a nice evening cruise. It was going great, then we had some serious engine trouble. The thing just wouldn't start. We were about 10 minutes by boat away from the house with little daylight left. We had to illegally park at a nearby marina we paddled over to for the night. The next morning, I had to flag down a clearly experienced fishermen whose boat was running well and have them tow me back to my home. It was an annoying, frustrating, and humbling experience, but I needed his help, and he was happy to provide it.
For most of the last eight years, I've been in various roles with at least partial management responsibilities in my daily life. What I am constantly reminded of is the fact that I have a lifetime of experience ahead of me to learn how to get management right. I still mess up even the most fundamental principles of leadership. Each time is a reminder that management is tough and there's always something to learn.
As humbling as it can be, if you make a mistake, it's always best to admit it and do what is needed to repair the fix. If you feel outside of your leadership limits, ask your mentors what to do. If they are the kind of mentors you should be listening to, they'll be completely willing to share their similar experience and help you navigate through your situation. Reaching out for help is critical for improvement.
There you have it, after a great summer on the pontoon, I didn't expect some leadership lessons, but the old boat sure did the trick.
Calling all HuffPost superfans!
Sign up for membership to become a founding member and help shape HuffPost's next chapter