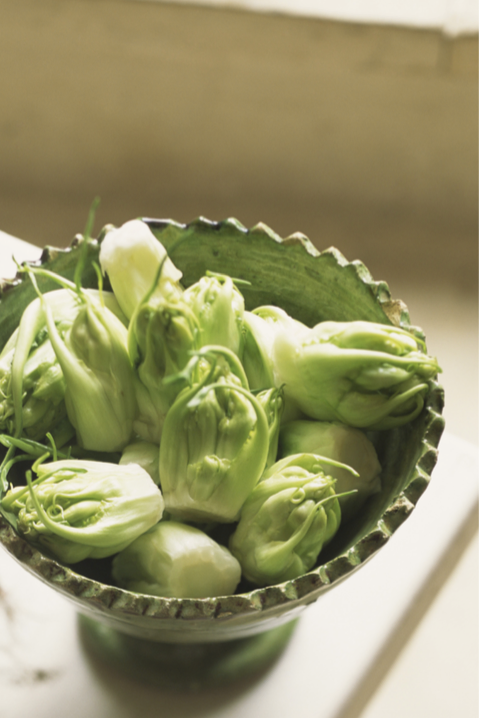 Friarielli, cime di rapa, puntarelle, asparago bianco. These exotic names refer to vegetables that are practically impossible to find outside Italy. In effect, globalization doesn't always work. Some products couldn't care less (or almost) about the concept of glocal, because aside from a few sporadic cases, ties with the terroir have prevailed—for both cultural and agricultural reasons—over the drive for standardization. Perhaps it won't stay that way, but for now it would be a shame to forgo the opportunity to taste recipes that, even in Italy, are often strongly rooted on a regional level. If you're planning an Italian vacation, check these out and be sure to try them if they happen to be on the menu.
Puntarelle
They are the sprouts of a very old variety of chicory and they resemble asparagus to a certain extent, but have a different consistency and distinctive use. Puntarelle are typical of the region of Lazio (but also several areas in the south, such as Campania) and so they are one of the mainstays of Roman cuisine, served raw and with a savory dressing. Insalata di puntarelle is the unrivaled classic recipe: the sprouts are cut into strips, and if you happen to watch their preparation, you'll see that they are plunged into ice water for about an hour. This maintains their bitterish flavor and gives them their typical curled appearance, making them crisper. After the vegetables are drained, the sauce couldn't be easier. It is simply an emulsion of olive oil and vinegar, with some crushed garlic and mashed anchovies. You need to taste this wonderful dish to believe it.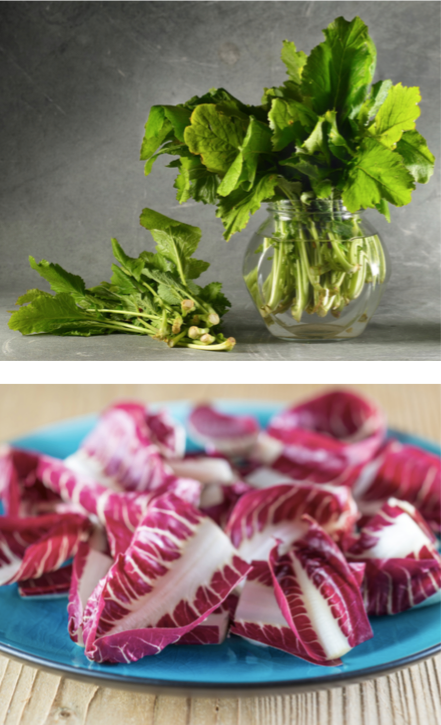 Friarielli
Now we are definitely down south, and it is mainly around Naples that you'll find recipes made with the in orescences of turnip tops. In other words, friarielli. As opposed to puntarelle, in the kitchen they star in recipes that aren't exactly light, because they call for sautéing the friarielli in a skillet with olive oil, garlic, salt and chili pepper. This is the classic side dish for pork sausages. If you're feeling adventurous, you should try Pizza con salsiccia e friarielli: before the pizza is baked, the friarielli are placed over the sausages, mozzarella and tomato sauce.
Treviso radicchio
This very distinctive and prized red head of lettuce is typical of the Veneto region, in the northeast part of Italy, as indicated by the reference to the town of Treviso (its "originality" is safeguarded by the PGI designation, Protected Geographical Indication). It is available starting in September, but the most prized variety comes late, in the winter months. Radicchio is used in salads, but is also excellent grilled and dressed with a little olive oil and salt. Its versatility makes it perfect for more elaborate recipes: you'll find it in risotto, as a filling for ravioli (also with potatoes) and in delicious Lasagne al radicchio, where the layers of pasta are alternated with radicchio, cheese and béchamel.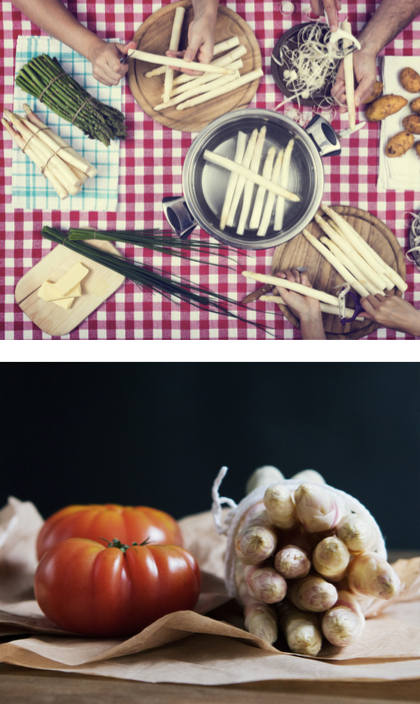 Asparago bianco di Bassano del Grappa
This is a special kind of asparagus grown in the Veneto region, and every year an exhibition/competition gets organized around it. It is white because the stalks grow underground, in specially prepared soil, so they get no sunlight. It has a bittersweet taste that also differentiates it from the kind of asparagus you usually find. There are numerous recipes for white asparagus, but the two that make the most of it are risotto and a traditional dish known as Asparagi bianchi con uova alla Bassanese. In the latter case, the stalks are boiled or steamed, and accompanied by two boiled eggs that you cut up on your plate and dress with olive oil and salt.