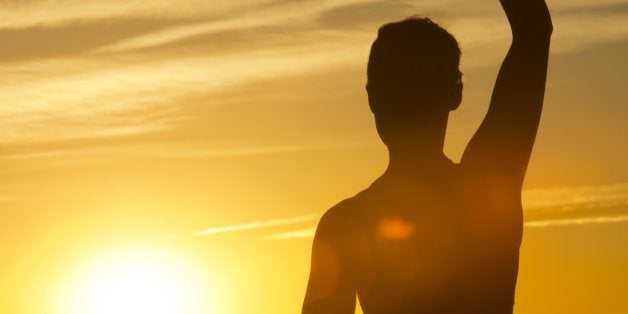 This October marked the one-year anniversary of my mother's cancer diagnosis. While pink ribbons are sported for 31 days by loving supporters, no matter the time of year, those suffering from cancer face physical and emotional challenges from first diagnosis all the way through post-treatment. My mother faced her cancer with tremendous courage and grace. She also took up a new hobby during her treatment, yoga. A fellow survivor and facilitator at the cancer care center she attended encouraged her to take up yoga as it had proven so helpful during her own battle. I would never have guessed that was what it would take to turn my 71-year-old mom into a devoted yogini.
Studies have shown that a structured yoga practice during cancer treatment can radically improve physical symptoms such as pain and fatigue. Additionally, according to a Harvard Medical School Mental Health Letter, yoga reduces stress and anxiety which in turn reduces heart rate, lowers blood pressure, and eases respiration. What's more, patients who practiced yoga were also less sensitive to pain than subjects who did not, and therefore better able to tolerate treatment.
Beyond purely the physical, research at Duke University has also shown how yoga, along with meditation, can alleviate depression, anxiety and insomnia to help patients become "emotionally fit." Medical research is revealing what cancer centers and yogic practitioners have long known, namely that "patients at all stages of health, including cancer survivors, can benefit from yoga. And the benefits are both physical and emotional."
Here are four ways cancer patients can benefit:
1. Yoga Helps Manage Depression, Fear and Anxiety:
Depression and an acute fear of death can be prevalent in patients suffering through the emotional strain of a cancer diagnosis. Undergoing invasive or rigorous treatments may also heighten anxiety. Research has revealed that "Yogic breathing, defined as a manipulation of breath movement, has been shown to positively affect immune function, autonomic nervous system imbalances, and psychological or stress-related disorders."
In other words, guided breathing exercises enrich the respiratory system to regulate nerves that can deeply calm both mind and body. Yoga activates this relaxation response and can thus help relieve feelings of anxiety. With the aid of supported inversions to increase circulation and guided meditation/deep breathing to let go of grief, fear, and foreboding, you can actually re-pattern and calm your stress cycles. This therapeutic phenomenon is beautifully outlined by renowned yogi, ovarian cancer survivor, and Grokker Expert, Sierra Campbell in this video on reducing stress and restoring sleep cycles.
2. The "Mood Boost" Effect:
It's a fact -- exercise produces endorphins and endorphins improve your mood. A regular yoga practice, no matter how gentle the movements, allows the body to release endorphins so you can instantly experience a positive boost in mood.
Several studies also suggest that yoga can increase the level of gamma-aminobutyric acid, a neurotransmitter that plays a key role in regulating the nervous system and managing your mood and outlook. In addition, a regular yoga practice can boost self-esteem because you feel better about your appearance, strength, and overall physical condition.
3. Help to Manage Physical Pain:
Beside the well known and painful physiological side effects of cancer treatment, emotional stress can also produce physical pain. Moderate, appropriately modified physical activity aids in managing the physical pain that can be experienced during treatment, and research has shown that women who practice yoga specifically when in recovery report reduced pain and stress.
Gentle guided movements, such as those outlined in this Everyday Health article, can help to expand range of motion, improve circulation, and relax muscle tension to speed up the recovery process.
4. Yoga Community Can Provide Support:
A support system is crucial to coping with the emotional toll of cancer, not only for those suffering from the disease but for their loved ones as well. There is great value in the support of community for those in any stage of remission, meeting and talking with others who understand what you're going through. Whether it's a group setting or an online meet-up, engaging with others in a similar situation can provide a sense of normalcy and security. My mother certainly benefitted from the community at the cancer care center where she took yoga and cooking classes. I certainly benefitted from my own yoga practice during the six months she lived with me and my family while undergoing her treatment. She is now nearly seven months cancer-free and I am grateful.
So, even if you're not in treatment yourself but have a loved one who is suffering, yoga can serve as a way to help you both deal with your emotional stress. You can take a class together or even practice at home with online videos. Either way, the calming effects of yoga provide a physically and emotionally beneficial activity you can do with each other, allowing you to connect on happy and positive terms.

I hope you share these ideas with someone you love who may benefit from taking up the practice of yoga. Prioritizing daily yoga can be life affirming, whether you are a cancer patient, survivor or supporting someone who is fighting the battle of his or her life.
Popular in the Community