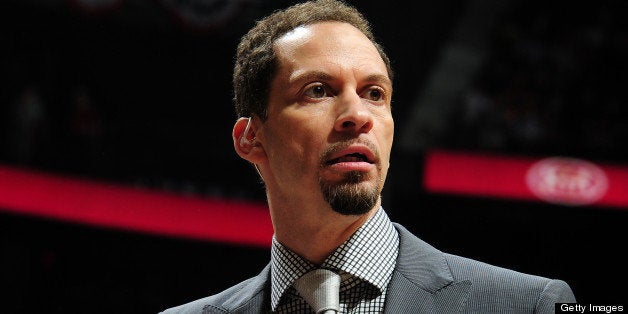 Last week, ESPN anchor Chris Broussard came under fire for his comments about Jason Collins, the NBA player who made waves by publicly coming out as gay:
Personally, I don't believe that you can live an openly homosexual lifestyle or an openly -- like premarital sex between heterosexuals. ... If you're openly living in unrepentant sin, whatever it may be, not just homosexuality -- adultery, fornication, premarital sex between heterosexuals, whatever it may be -- I believe that's walking in open rebellion to God and to Jesus Christ. So I would not characterize that person as a Christian because I don't think the Bible would characterize them as a Christian.
Here are four ways many American Christians are getting this whole thing wrong.
1. Equating "being gay" with "having sex."
If an unmarried person tells you they're "straight," would you assume that they're having sex? Probably not. Most straight adults are having sex, but not all of them are. The same is true for gay adults. In his coming out article, Jason doesn't say anything about his sexual beliefs or practices; he says only that he's single. Why, then, does this suddenly become a debate about the morality of gay sex, with comparisons to sexual behaviors like "fornication" and "adultery"?
I grew up in a Southern Baptist church with strict beliefs that people shouldn't have sex outside of marriage. When I finally, tearfully admitted (after years of trying to avoid it) that I was attracted to guys instead of girls, I found myself on the receiving end of lecture after lecture about how being gay was a sin "just like adultery or premarital sex." But I wasn't having any kind of sex at all. Being gay isn't like adultery or premarital sex, because being gay isn't a sex act. Even if I never have sex, I'm still gay.
2. Using that (assumed) sex act to define us as people.
It's one thing to believe gay sex is sinful, but it's quite another to define gay people and our lives by that one act. This is where that devious word "lifestyle" creeps in. (I've written in the past about why I hate that word.) Even if Jason Collins is having sex, that doesn't mean he's living a particular kind of "lifestyle." Do all sexually active straight people live the same lifestyle? Was Billy Graham's lifestyle the same as Howard Stern's?
Typically, the phrase "gay lifestyle" is just a euphemism for "having gay sex." But by using the word "lifestyle," you end up defining gay people's lives entirely in terms of that sex. Notice how Broussard stumbled when he tried to apply the same terminology to his other examples: "I don't believe that you can live an openly homosexual lifestyle or an openly -- like premarital sex between heterosexuals." It's as if he started to say "an openly 'premarital sex' lifestyle" and then realized that made no sense. Because if two straight people have sex before marriage, Christians might call that sinful, but no one would refer to that as their "premarital sex lifestyle." We view it as one particular act, not a definition of the entirety of their lives.
3. Treating gay people as symbols of a culture war instead of as human beings.
Jason Collins is a person. By his own admission, he's been through a lot of struggles in figuring out who he is and whether to talk about it publicly. But it often feels that when someone like this comes out, many people view them as just a symbol for us to celebrate or bemoan, so that we all must rush to express approval or disapproval.
I wish, instead, that Christians' first reaction to news like this were to want to understand, to ask questions like "Why would a Christian in a decidedly anti-gay field feel the need to publicly identify himself as gay? What brought him to this point? What obstacles did he overcome? What has his experience been like?" These are the questions of a compassionate person, one who is willing to put the other person's humanity first. Unfortunately, it often seems that when you come out, you cease to be someone's friend and become only a representation of an issue.
4. Assuming that being gay is a choice.
Whom you date, marry or have sex with is a choice. Whom you are attracted to isn't. "Being gay" only refers to whom I'm attracted. It's not something I chose, and it's something many of us were, frankly, afraid of when we first realized it about ourselves.
Perhaps if more Christians understood this, they wouldn't say things like the commenter who wrote that "living as an open homosexual is open rebellion to God." Think about that for a moment. If "living as an open homosexual" is rebellion against God, what choices do I have? I'm already gay; I can't change that. I could choose to lie and not to be "open" about it, but I don't believe in dishonesty. Other than that, the only way I could avoid "living as an open homosexual" would be to stop "living." I don't have to tell you where that kind of thinking leads.
Is that what the commenter intended? Of course not. But that's how the message comes across, day after day, to gay people across the country and around the world.
Let me be clear: I think everyone has a right to their moral views, even when they disagree with mine. But this isn't just about a moral disagreement; it's about how we treat one another and how we talk about one another.
If we Christians can't show more love and willingness to listen, it won't change one person from gay to straight, but it will turn a lot of people against Christianity.
Calling all HuffPost superfans!
Sign up for membership to become a founding member and help shape HuffPost's next chapter