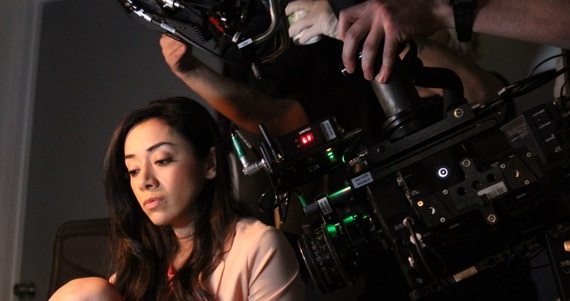 My name is Emily Dell. I'm a screenwriter, director, and proud genre filmmaker. I make action movies, horror movies, movies where people fly, fight demons and punch each other in the face. As a woman in genre I lean heavily towards female-driven horror and action movies. And unfortunately, if you've read the news lately, that is hard. There are extreme difficulties that everyone faces to making movies, but trying to make non-traditional genre fare as a woman presents additional hurdles. There are few models, mentors and case-studies of success and it's an uphill climb. That's the bad news.
The good news is that this specificity is also strength -- not just for me but for every filmmaker out there. I've recently learned that the source of your uniqueness -- and what may feel like loneliness -- is also that which can help you connect on a deeper level to fans and advocates. And now the tools to help you find those people are easier than ever.
In the fall I wrote a horror script about a woman whose anxiety roars to life as a demon and tries to destroy her. The themes of perfectionism and fear were deeply personal -- there's plenty of anxiety in the film industry, trust me.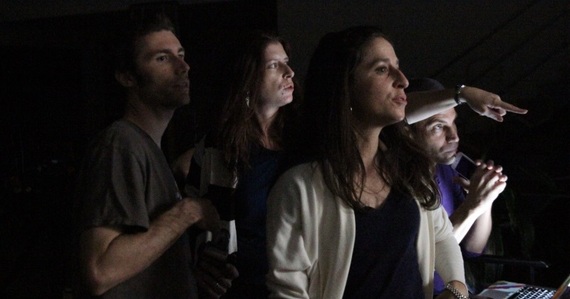 My sister and producer Elizabeth Dell, and our amazing friend, actress, and producer Aimee Garcia (Dexter, Robocop, Rush Hour) could relate to this story and suspected Helen would ring true for others as well. And more than anything, we knew we could make something together that would be really scary and fun.
This was an exciting and [ironically] anxious process as I'd never made a horror movie before. My sister suggested crowdfunding, but we were nervous about convincing people to back a female-driven genre film as a first-timer. We decided to shoot Helen on our own and crowdfund the post-production. That way we could share the fun of our set with the world as we tried to build an audience of supporters and backers. Turns out, it has been an amazing ride.
Today we are in the middle of Helen's crowdfunding campaign but the results are already in: it's a huge success. We set a Seed&Spark record by reaching 100% financing in the first 12 hours. How did this happen? Crowdfunding and genre filmmaking are a perfect match. The crowdfunding platform, in this case Seed&Spark, gives you the tools to directly find and interact with your audience. And genre fans are the best. They're enthusiastic super-fans who love movies and will become lifelong supporters and friends. What's the lesson here? Appealing directly to niche audiences empowers genre filmmakers. It lets you bring your project to life while being true to your vision and the genre it lives in. And here's how:
1. Your audience, and potential supporter base, is defined for you
One of the biggest challenges of crowdfunding is finding your audience. Who is going to be excited by this project and contribute?
In genre -- horror, science fiction, dance, etc. -- there are passionate and loyal fan bases. They appreciate a great story in any form, from blockbuster to indie. If you have a great story to tell, and a clear pitch to demonstrate it, fans in the niche audience will be eager to support. And you know where these fans hang out! The most popular horror blogs and sci-fi twitter handles are just a Google search away, making it easy to engage with your potential audience and understand the material they respond to.
2. Interaction between filmmakers and niche audiences makes for better content
Crowdfunding in genre filmmaking means the only people you answer to are supporters of your work. You are creating content that goes directly to a hungry audience. And niche audiences know their stuff, so in my case, I knew I better bring original scares! This kind of interaction is empowering as a filmmaker -- it challenges you to push the boundaries. To effectively engage our audience throughout our campaign we have been very active on social media. We post stuff about our campaign constantly -- everything from "come support!" to "check out this BTS footage from set!" -- and gauge the response to see what fans respond to best. Outside of our own material, we also actively promote the work of websites and forums where our target audience spends their time. If you Tweet out a link to a good entry from a horror blog, this will catch the attention of the website's readers, and you never know if that blog could become a promotional channel for your film later on.
Keep in mind that we're only running our campaign for post-production funds. Imagine how productive this dialogue could be if we were raising money to shoot the film? This level of interaction between the audience and the creator can bring the best out of you as a filmmaker.
3. It's not just content, it's distribution
Another advantage of working in genre is that there aren't just built-in audiences, there are built-in channels of distribution as well. Passionate genre supporters have created an amazing network of festivals, conventions, and digital outlets through which you can get your film in front of an audience. These well-developed avenues of distribution allow filmmakers to join the conversation surrounding our genre of choice, instead of having to create the buzz ourselves.
With distribution in mind, it's essential that you be strategic about the publicity and narrative surrounding your film from Day 1. If you are gearing up for a festival push, be mindful of the people and outlets who attend and cover these events, and where they spend their time online. Films that can boast several hundred supporters through crowdfunding or a mention on a popular sci-fi forum have a powerful advantage come festival time.
A huge perk of hosting our campaign on Seed&Spark are the distribution incentives. Projects that amass 500 followers -- who don't even have to contribute, they can just click 'Follow' -- qualify for distribution through a number of Seed&Spark's impressive partner platforms, including Netflix, iTunes, and Amazon, as well as Xbox and Playstation, which are particularly popular genre channels. In so many ways, Seed&Spark was the ideal ally for this journey, because they put the filmmakers first and give them the tools to succeed. "Seed&Spark is not meant just to be a crowdfunding and distribution platform for your single film" says Founder and CEO Emily Best. "It's a set of tools meant to help creators build sustainable careers." Seed&Spark offers classes for filmmakers and has a successful fund rate of 75%, that's twice the average of other platforms.
So whether you choose to crowdfund on Seed&Spark or another platform, it's imperative to research the distribution options provided and the allies you can make along your way before launching your campaign.
4. Use what you have, embrace resources
As I've been saying, working in genre provides you the resources to find your audience and distribute your film to them. This is true for all aspects of the filmmaking process! When starting on your filmmaking journey be mindful of the resources you have at your disposal.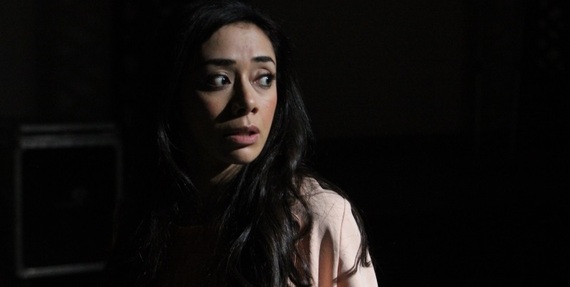 I wrote the script for the resources I had -- an amazing actress, friend, and producer, locations I could have free access to, relationships with stunt teams, and more. People who work in genre films are just as passionate about them as the consumers, so it pays to develop relationships with the makeup artists, VFX supervisors, and costume designers who are active in your genre and can help make your vision come to life!
The experience of crowdfunding for a new project in a new genre has bolstered my passion for making genre films. It's reminded me that there are people who love a fight scene and a scare like I do, and are willing and eager to support projects that advance the genre. It has opened my eyes to the vast network of festivals, conventions, and channels through which I hope to distribute my work. This process has demonstrated the power of embracing an engaged niche audience. Working in genre empowers indie filmmakers like myself to push the conventions of our craft, and enables us to reach the audiences who are primed to enjoy it.
Popular in the Community