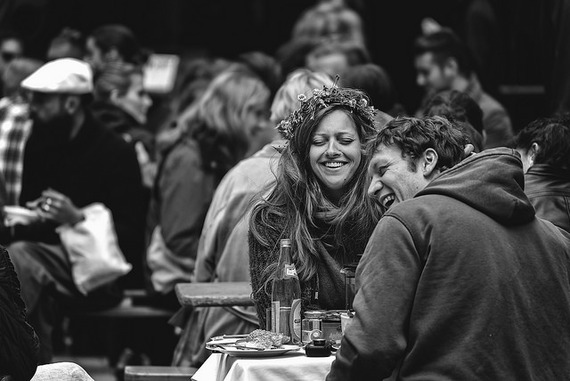 There are approximately 1.2 trillion medications now available over the counter according to a study I just made up in my head. So maybe it's not quite that many. But it's a lot. Sickness and the subject of illness seems to be more and more prevalent as is evidenced by the many new infirmities and remedies advertised nightly on your TV. Just the side effects alone will keep the medical profession in business for a very long time. And we all want that.

Yet as helpful as the pills, creams and patches are, there is one remedy that is readily available, highly effective and even more fun to implement than an injection. It's Laughter. And many experts agree.

The old proverb about a merry heart doing good like a medicine may contain more truth than we ever knew. My grandfather Pa lived most of his life with emphysema and was missing half of his lungs. He breathed in short breaths. A truly miserable condition yet his constant companion was humor. He quoted funny poems, sang ridiculous lyrics to songs out loud as if he didn't know you were listening and had a funny comment for almost everything.

My grandmother Teenie always had a chore for him to do and bellowed frequently across the house. She addressed him by his last named which, over the years, morphed into something that sounded like "Cawnton." Not even close. "Cawnton! If you don't get out here and fix this porch, I am gradually going through." Pa yelled back with a smile,"As long as you go through gradually it won't hurt you."

There was never a sense of sickness around Pa. In fact, instead of calling attention to his breathing impairment he whistled a happy tune. Every day. All day. How was he able to overcome his issue? With laughter and a merry heart. Here are a few reasons levity can, like my grandpa, help us heal and rise above our own sickness.

1. A new perspective: When our mind is focused on a negative, that condition becomes larger to us. A broken toe can be debilitating if we allow ourselves to think about nothing else.Laughter takes our mind in a completely different direction and even though it may be brief, we are left with a new perspective and a way to almost begin again.

2. An endorphin rush: Have you ever been met suddenly by someone who just completed a jog and noticed how happy and excited they were? The smiles, the joy radiating from their face. Isn't that irritating? What is wrong with those people? Are they on drugs? Yes. Exercise releases a happy endorphin naturally and give us an actual buzz. Fortunately for the non jogger types, laughter creates the same effect. Oxford psychologist Robin Dunbar explains that it's the physical exertion from laughter that triggers an endorphin increase, a chemical in the brain known for that feel good effect.

3. A boost to the immune system: Believe it or not, laughter helps produce the antibodies that prevent and fight infection by activating the immune system which increases the number of t-cells and produces immunoglobulin A which fights disease. In her work, "Laughter, Play and Keeping Well," Sandra Tunajek explains it well. It's those happy buzz endorphins at work again.

4. A reduction in pain: The positive effects of laughter on the mind and body is wide spread and while there is naturally some disagreement, there is almost complete unity on the position that laughter reduces pain. A report from Mayo Clinic states, "Laughter may ease pain by causing the body to produce it's own pain killers." And the best part is, they are free and legal.

We can learn much from the medical community about the great value of hilarity however more can be learned from living it. By deliberately infusing genuine laughter into our lives we will benefit greatly even if we don't know the difference between an immunoglobulin and a gaberlunzie.

My grandfather didn't complain about his illness, I believe because he honestly didn't think about it that much. He was too busy making others smile. One of our relatives said,"When I get to heaven, I'm going to rest for a thousand years." Pa said, "Me too if Teenie don't get there first."