Glacier Bay is a homeland, a living laboratory, a national park, a designated wilderness, a biosphere reserve, and a world heritage site. It's a marine park, where great adventure awaits by boating into inlets, coves and hideaway harbors. It's also a land park, with its snow-capped mountains, spectacular glaciers, and emerald-green forests. From the summit to sea, Glacier Bay's wildness is remote, dynamic and intact. --The National Park Service
While Glacier Bay National Park in Alaska has plenty of beautiful mountains, rainforest, and cultural history to explore, the heart of the park is in the water--where glaciers spill out from adjacent mountains to create the icy seas. From the vantage point of the water, you can immerse yourself in the marine habitat that is home to humpback whales and a variety of other marine wildlife. Visible on the shore, wolf, brown and black bears feed on tidal delicacies. Beneath the sea, halibut and salmon thrive, making this one of the best places on Earth to drop a line. It is for all of these reasons and more that in the water is exactly where we stayed during our time in Glacier Bay.
Our methodology is not unusual--90% of visitors arriving at the crown-jewel of cold-weather cruise destinations never get off the boat. We arrived to the Frontier State with our Airstream in tow via the the famed Alaska Highway, so we had to think a little more creatively to find our way onto the waters in Glacier Bay. It wasn't difficult, there are plenty of outfits in the area that know the waters better than any, and go hard each summer season to share the beauty with visitors. In that spirit, we are outlining four different ways to enjoy water-based adventures in one of the few U.S. National Parks that is made up almost entirely of water. We've also teed up some advice on where to establish your land-based operations.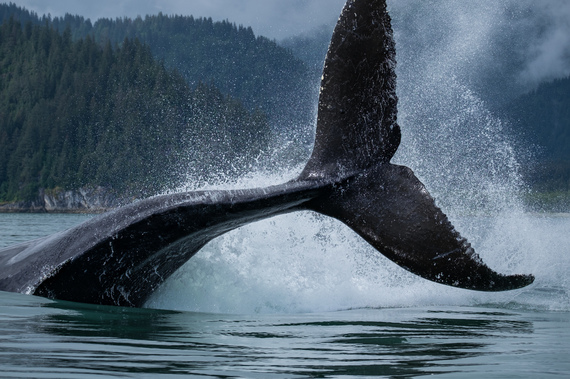 A humpback whale fluke in beautiful form in Glacier Bay National Park in Alaska. Photo credit: Jonathan Irish
National Park Tour Boat
Each time we hit a new park, we head first to the park visitor center to talk to the rangers about what there is to do. The Glacier Bay Tour Boat operated by the National Park Service is typically the first outing for most visiting Alaska's water wilderness. Each day, the boat embarks at the dock adjacent to the Glacier Bay Lodge and sets off on a 130-mile trek through Bartlett Cove and Glacier Bay. Lunch is served at the mid-way point, sandwiched by a day-long traverse of the bay offering views of its wildlife, birdlife, and the tidewater glaciers that gave the park its name. Along the way, park rangers lend insight to everything you are seeing and then some. This is a perfect introduction and overview to life in Glacier Bay.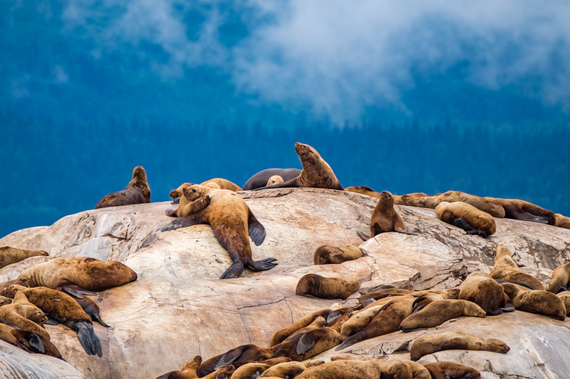 Just one of the incredible wildlife sightings to be had in Bartlett Cove aboard the National Park Service Tour Boat: Harbor seals happy at home in Glacier Bay. Photo credit: Jonathan Irish
Whale and Aquatic Wildlife Watching
Taz Whale Watching is the most popular game in town when it comes to whale watching, a result of their stellar record of producing sightings--75% of all outings see whale activity. Minky, Humpback, even Orca live in the Glacier Bay feeding grounds during the summer season, showing at the surface to spout air, and if you are lucky, bound from the water in what is called a "breach"--a complete lift from the water. A breach is the marine wildlife equivalent to watching a bear paw a salmon from the river or a lion take down a wildebeest in Africa. It's more of a wildlife watching expedition than merely a whale watching one, you will likely also see harbor porpoises, stellar sea lions, harbor seals, sea otters, bald eagles, and again if you're lucky, orca ("killer") whales. Taz operates trips seven days a week from May to September.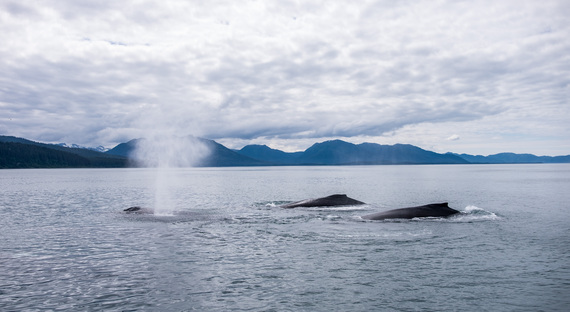 Taz Wildlife Watching is one of the most popular outfits in Glacier Bay, with a 75% success rate in spotting Humpback Whales in their feeding ground. Their experienced captain took us into the heart of their habitats continuously through our all day outing. Seen here, a pod surfacing right next to the boat. Photo credit: Jonathan Irish
Sea Kayaking
The Glacier Bay Lodge is also the jumping off point for sea kayaking excursions (guided or solo) where you can paddle the shorelines in Bartlett Cove and take in views of Alaska wildlife. From the water, you can safely view shore-side bear activity from a distance. Humpback whales are active in the area during each summer season, which is incidentally the most popular time to visit, and can be seen on the icy blue horizon. If you are lucky, you will see them breaching in the distance and even in your immediate vicinity. It's pretty awesome when the kayak outfit braces you with instructions on what to do if a multi-ton sea mammal coasts beneath your tiny watercraft. Sea otters also common the area but you probably won't get too close, they are protective of their young, and as such, not too keen on being near humans. All the same, this is a wildlife habitat and we aren't meant to get too close anyway! Glacier Bay Sea Kayaks organizes backcountry kayak/camping trips up to ten days long and will outfit the entire experience for you. We went out for only a day, and that too, was totally awesome.

Halibut and Salmon Fishing
Fairweather Adventures Glacier Bay took us out for a day of cold-water fishing and it turned out to be one of our favorite memories of our time at this water-based park . You don't need to be an expert fisherman, or even good at fishing to find success--we both pulled up 70-pound halibut! What was so cool about this experience was what we learned from our boat captain, Jim Kearns, a local guide who has lived in Glacier Bay for 30 years and is regarded as one of the best in the area. He and his wife Julene run a bed and breakfast in the nearby town of Gustavus, where they invited us into their home to eat "the bounty of the sea," as they called it--our halibut, rockfish, and salmon catch from the day.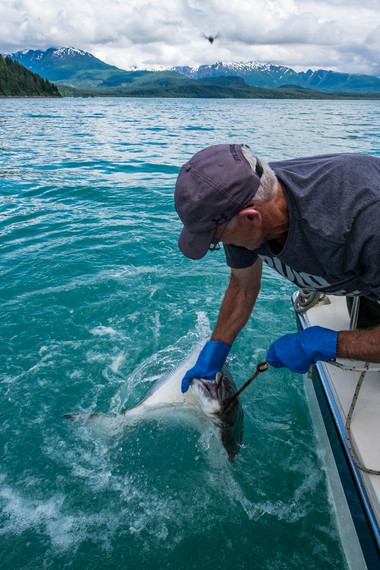 Captain Jim Kearns is one of the most experienced and knowledgable skippers in Glacier Bay, having navigated the waters for decades. Here, he shows us how to wrangle a 70-lb halibut, one of many we pulled up that day, and enjoyed for dinner at his bed & breakfast in Gustavus. Photo credit: Jonathan Irish
The Glacier Bay Lodge and Park Visitor Center
The Glacier Bay Lodge is located in the only established area in the park in Bartlett Cove, where nearby you can set out on easily accessible hiking trails, explore native historical exhibits, push off for day-long paddling excursions, sign up for and set out on the Glacier Bay Park Tour Boat, and easily pick up park information in the park visitor center that is conveniently located on the second floor. The restaurant deck offers sweeping views of the bay, positioned west making it a perfect place to enjoy dinner and take in the sunset after a day of exploring!