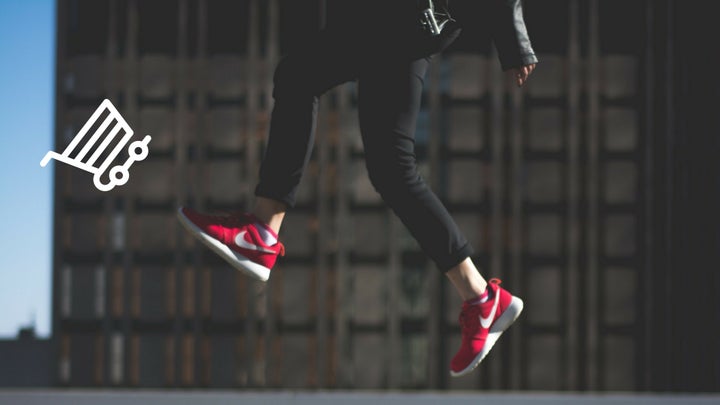 Are you looking for an easier way to generate more revenue from your eCommerce site, without spending more on customer acquisition? Then you need to encourage your customers to spend more on their first purchase.
Product bundling is the best way to raise the average order value of first-time purchases. It's a go-to strategy of merchants of all kinds where they group products as a package for a discounted price to sell more.
A classic example of product bundling is McDonald's Extra Value Meals where you get burgers, fries, and drinks cheaper in a bundle than they would cost individually.
Bundling helps you boost your overall revenue, yet it's one of the most underutilized selling tactics when it comes to eCommerce businesses.
Let's take a look at how product bundling can help you jumpstart your eCommerce revenue.
1. Increases the Perceived Value
You might be wondering, why would your customers buy multiple products in a bundle when you're not even sure that they're going to purchase one?
The primary reason that product bundling works is that customers see bundled packages as a deal. As it offers a cost savings benefit to the customer, it creates a perception of a higher value, and makes your offer more attractive.
For example, Liftsuggest found an increase in the order value from $160 to $182 within 15 days after implementing product bundling for one of their customers
In order to increase the perceived value and revenue while selling product bundles, below are a few things to consider.
Don't mix a cheap item with an expensive item in a bundle. It has been proven to reduce the perceived value of your offer.
Highlight non-price attributes, like comfort, durability or versatility of the products in a bundle.
If you want to test bundling multiple products with different values, establish the value of individual items to increase the perceived value.
2. Influences the Purchasing Decision
When you buy something online, your purchasing decision is hugely influenced at a subconscious level.
In fact, according to a survey, 85% of respondents realize that majority of factors driving decision making are subconscious. Now, this survey might seem odd because participants are realizing it after they've purchased, but that's the way your subconscious works.
Your subconscious mind influences the buying decision in many ways. And one of them is the convenience of buying.
For instance, with bundles, customers do not have to add each item individually to the cart. Since the curated items look nice together, they'd rather purchase them all as a package.

Now, most of your customers will not have a rational answer to justify why they purchased such a bundle. But, that is how the subconscious mind works.
One of the things that bundling capitalizes on is the convenience of buying. And when it is convenient, people are more likely to make a purchasing decision.
3. Increases the Average Order Value
Focusing on a key metric like the average order value (AOV) is a great strategy to boost your overall revenue. The average order value tells you the average revenue you generate from each transaction.
Selling bundled products is one of the best ways to encourage your customers to spend more when they make a purchase, increasing your AOV.
Know Your Customers' Habits
Always make informed decisions by tracking your customers' habits. Ask yourself: what do your customers prefer: buying a 3-item bundle or a 5-item? Conduct an A/B test to see what works best for your audience in terms of the number of items in a bundle. This can be a relevant data to shape customer acquisition strategy.
Instead of offering a prebuilt bundled package, allow your customers to choose the products or accessories they want in their bundle before completing an order.
For example, to increase the AOV, Endeavour encourages customers to build a custom surfboard by choosing additional features, and add-ons during the checkout.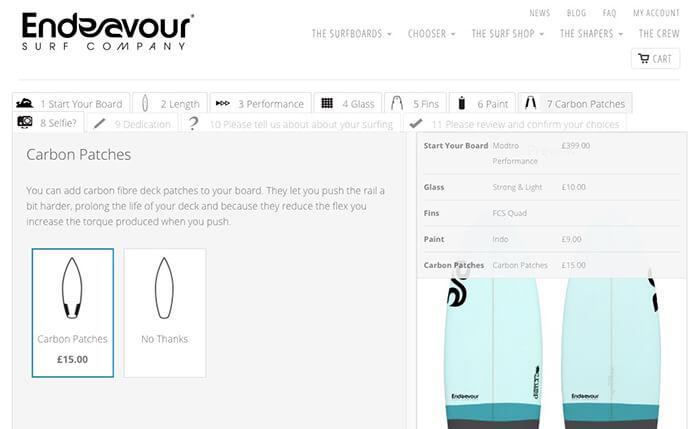 An easy way to promote custom bundling is to create a popup using OptinMonster to sell related products or products that are usually purchased together. OptinMonster is the best popup and shopping cart abandonment tool that allows you to create any type of onsite campaign to sell products or build your email list.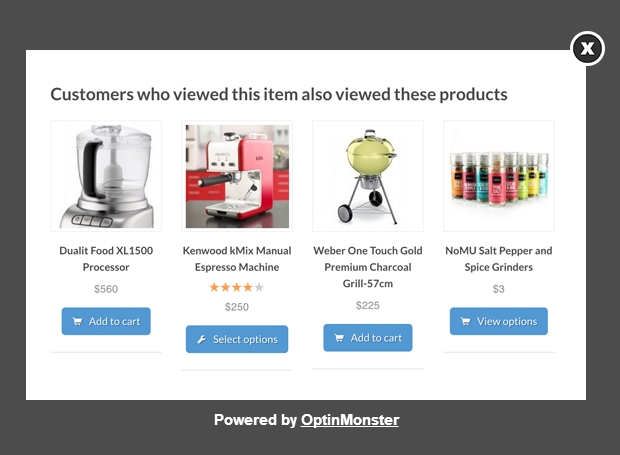 With OptinMonster's exit intent technology, you can even trigger the popup just before your customers leave your site by detecting the user behavior. This way you can display exclusive bundle discounts to your customers at the precise moment they're about to leave.
Promote a Buy More and Save Offer
Another great tactic to boost the AOV is to promote a buy more and save offer. You can offer a discount for a minimum spend threshold and encourage your customers to add more products to a custom bundle.
4. Inventory Clearance
Inventory management is one of the biggest hassles of eCommerce business. When done right, product bundling helps you manage your inventory better by clearing out old stock.
You can find a complementary product that can be bundled with a dead item. Then set a price to make the new package attractive and push the deal out to your customer base.
Another go-to strategy to inventory clearance is to sell multiple units of a dead item at a discounted price that is profitable for you. You can even target those customers who previously purchased the dead item, and curate a discounted bundle offer exclusively to them.
Product bundling is a great tactic to increase the average order value, and thus boost the overall revenue. When done right, it can help you to better manage your inventory by clearing out old stocks.
If you've not tested product bundling on your store yet, you can use the above tips to create a bundling strategy for your store.
Related
Popular in the Community