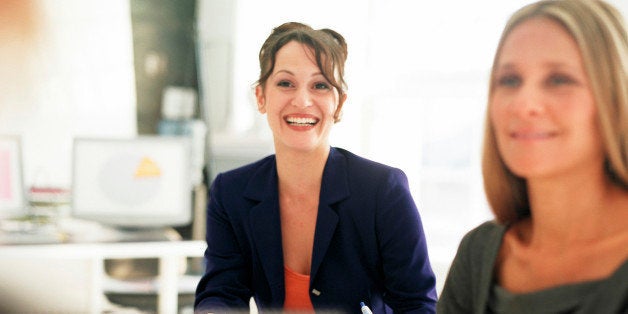 A recent article in the Los Angeles Times highlighted the male-dominated culture that is often prevalent in the tech community. The women profiled in the article were fed up with being passed over for promotions, being denied raises and being told someone else (likely a man) was more qualified. So, they up and quit their jobs. Not all women are able to do that, nor should they.
Women in all industries -- especially the tech sector -- need to assert themselves and hopefully, with the help of some progressive-thinking men, we will be able to level the playing field. I truly believe that gender diversity and equality is attainable. Patricia Arquette said it perfectly at the Oscars: "It's time for us to have wage equality once and for all, and equal rights for women." I couldn't agree more. Whether you are in the entertainment industry, tech sector or another line of business, there are some universal tips that women at all levels can embrace to help ensure they are being recognized and compensated appropriately.
1. Build a coalition. The reality is that you have to be your own advocate, but you shouldn't be your ONLY advocate. If you want others to recognize your work, especially in the form of a raise or promotion, you need to find other colleagues who can speak to your abilities. The old adage of "never go at it alone" couldn't be truer. Finding a female (or male) colleague to sponsor and advocate for you is essential to your success.

2. Be a team player. One of the first lessons you learn as a kid is to play well in the sandbox. Not only is this important in childhood, it is critical in the business world. It doesn't mean you shouldn't be assertive. What it means is that you should figure out how to play by the rules while maintaining a sense of authenticity. If you are abrasive, you will get left out. If you are a team player, you will build trust over time and effectively move the needle.
3. Give in order to get. In order to move up the food chain, you need to figure out what is important to the higher ups and focus on that. By seeking out and tackling what is important to others -- especially your boss -- you are building goodwill. This doesn't mean you should abandon your own projects or priorities, but it does mean that you should keep in mind what is important to the decision-makers at your organization. The analogy here is to create a personal value-add savings account for yourself. By helping others you will make deposits into your savings account, which will amass a reward you can eventually withdraw.

4. Accept feedback. An important part of building up deposits in your personal savings account is to ask yourself (and others), "What value did I add today?" When you ask this question, you should be open to feedback. It is important to be gracious when it is positive and accepting when it comes in the form of constructive criticism. If you're falling short, ask yourself, "Is there something missing in my skill set?" Or "Is there anything else I could have done?" If the feedback or personal reflection is negative it may be a little hard to swallow, but chances are it is what you need to help propel you to the next level.
Empowering and coaching women is only half of the equation. As Catalyst put it, "gender equality is not just a women's issue -- men also lose out when workplaces are gender-biased." Increasing gender diversity and equality in the workplace can lead to increased revenues, greater innovation and improved employee satisfaction, which benefits us all. While we have our work cut out for us if we encourage men to be our partners in this effort we will all succeed -- women, men and the entire business community.
Dr. Bernice Ledbetter is Practitioner Faculty of Organizational Theory and Management at Pepperdine University Graziadio School of Business and Management. Her research and teaching interests focus on leadership and values, especially gender differences, as well as on moral developmental and non-western approaches to leadership. Dr. Ledbetter was recently awarded a grant from Pepperdine University to start the Center for Women in Leadership.
Calling all HuffPost superfans!
Sign up for membership to become a founding member and help shape HuffPost's next chapter