It's hard to believe, but fall is here. If you're thinking this might be a good time to start exercising, or to boost your current fitness routine, I'm right there with you. Although fall is busier than summer for most of us, it also benefits from schedule and routine - both of which we can use to our advantage to establish an exercise habit and get fit this fall.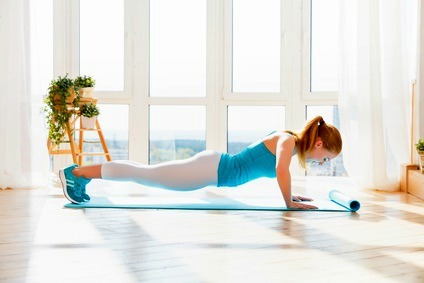 But
we have to be smart about it and make sure we get the most fitness "bang" for our time and energy "bucks."
So if you're thinking about making a plan to get fit this fall, here are 4 strategies to help you start and stay on track:
Acknowledge your need to be healthy and fit, and recognize that it deserves some of your time and energy. Your health and sense of well being are important, to you and your family. They're as important as work, play group, soccer practice, piano lessons and volunteer activities. Many women have trouble taking time to exercise. If that's been an issue for you in the past, work to move beyond it this fall. Set a goal, write it down, put it on your calendar - or do it takes to help you make exercise, fitness and your health a priority.
Choose an activity you enjoy. "Exercise" doesn't have to mean "go to the gym." If you enjoy going to the gym, great. If not, figure out what you do enjoy. Walking, jogging, hiking, biking, swimming, and dancing are great. So is working out with a yoga DVD in your bedroom or taking a Zumba class at your church. Or just doing simple exercises at home. Or mix it up - walking today, dancing tomorrow, biking on the weekend. Figure out what works with your interests and your schedule - those two things need to align in order for your exercise plan to succeed.
Look for "pockets of time" you can devote to exercise/physical activity. The Physical Activity Guidelines for Americans recommend 150 minutes of moderate exercise per week - the equivalent of 30 minutes a day, 5 days a week. Review your schedule at the beginning of every week and see where you can fit it in. The idea of "pockets of time" comes from my friend Christina at Juggling Real Food and Real Life. She finds "pockets of time" to do real-food prep so she can feed her family well. I'm suggesting we need to find the same kind of "pockets" - little bits of time here and there - when we can get up and move. So, can you walk around the field while your son practices soccer or around the gym while your daughter practices basketball? Can you walk for 15 minutes during your lunch hour and another 15 after dinner? Can you and your husband walk for 30 minutes on Saturday morning or Sunday afternoon? Can your family ride bikes together? Can you get up 30 minutes early to walk or do a DVD workout? Can you keep moving while your younger children play at the park? (No sitting on the benches!) Find your "pockets" and use them to get up and move.
Use technology to encourage you and help you stay on track. If you like gadgets or technology, even just a little bit, then put them to work to help you get fit and stay fit. The range of options available boggles the mind. You can use a basic pedomter, like the ones by Yamax, to track your steps (shoot for 10,000 per day). Or use a fitness tracker like the FitBit Alta or Charge HR. These fun little gadgets link to an online account through your computer or smartphone and let you track steps, miles, calories burned and other health information (depending on the model). You can also download a fitness app for your iPhone or Android phone (many of them are free or low cost). Or use MyFitnessPal on your phone or computer to track nutrition and exercise. I used a simple pedometer for many years and loved it. Right now I'm using a FitBit Charge HR that my husband gave me for my birthday. It's fun, but you definitely don't need something that fancy to track your steps and exercise.
Making time to exercise and get fit isn't easy, but it's important and well worth the effort. Once you get started, your mind, body and spirit will thank you over and over again. So use the changeover to a more structured fall schedule to help you start and stick with a regular exercise routine.