If you have decided that getting a divorce is the best (and maybe only) option that will promote your future emotional and psychological well-being, and that of your spouse and children, your next step is to determine which of the four paths to a legal divorce is right for you and your circumstances.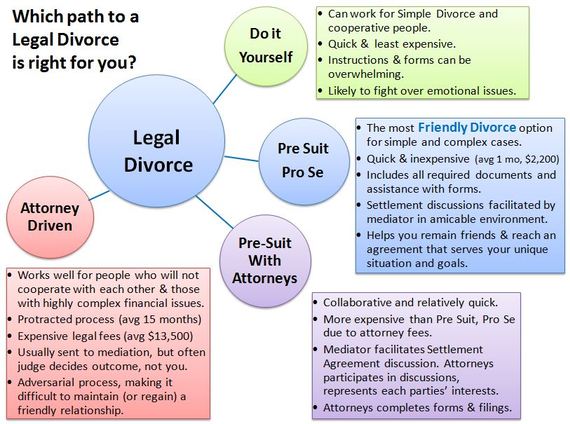 To decide which path will serve you best, answer the following questions:
(1A) If you have children, what type of divorced parenting partnership is in the best interest of your children. For most people, the answer to this question is either "Facilitating Friends" or "Accommodating Allies," both of which involved high levels of good will and cooperative communication. Read more about types of divorced parenting partners here.
(1B) If you don't have children, would you and your spouse like to remain on friendly terms?

If you want a friendly divorce, you could select from among the Do It Yourself, Pre-Suit Pro Se (without attorneys), or the Pre-Suit, with Attorneys.

(2) How complicated are your financial circumstances?
Do you have customary assets like a home, car, bank accounts, and retirement accounts, as well as typical liabilities like a mortgage, car payment, and credit card bills? Or are your finances more complicated, involving a family business, a trust, or a complex investment portfolio?
If you have simple finances and no children, the Do It Yourself may work for you. If you have children and simple/moderately complex assets and liabilities to equitably distribute, then you could choose between Pre-Suit Pro se (without attorneys), or Pre-Suit, with Attorneys. If you have a highly complex mix of assets and liabilities, you may best be served by an Attorney Driven divorce.
(3) What amount of family resources are you able or willing to invest in the divorce process?
The Do It Yourself divorce is the least expensive, but comes with the need to complete complicated forms and work through emotional issues on your own. If your finances are simple AND you and your spouse are detail oriented, well organized, have a high level of good will for one another and excellent communication and conflict resolution skills, then the DYI option may work for you.
The Pre-Suit Pro Se path (a friendly divorce without lawyers) is also relatively inexpensive. For example, Pre-Suit, Pro Se fees at Amity Mediation Workshop on Florida's Emerald Coast range from $1,400 to $3,000, depending on the complexity of your assets and whether or not you have children.
For this moderate cost, in the Pre-Suit Pro Se option your mediator facilitates the emotional discussions and empowers you to reach mutual agreement on all of your current issues. The mediator also prepares your Marital Settlement Agreement, Parenting Plan, and Child Support Guidelines Worksheet. Many mediators, like those at Amity Mediation Workshop, also include assistance with document preparation and Family Law Forms. This type of one-stop shop helps simplify and de-stress the divorce process.
The Pre-Suit with Attorneys path is more expensive than a divorce without lawyers, but also typically less expensive and less adversarial than an attorney driven divorce. Along this path to divorce, attorneys guide their clients' decision making, but work in a collaborative manner with each other. The mediator works directly with the parties to help them resolve issues and create their Marital Settlement Agreement.
The Attorney-Driven path to divorce is the most expensive and will vary by lawyer and region. For example, the average attorney fees for a divorce in Florida are $10,700 and the average total cost of a Florida divorce with attorneys $13,500. The costs range depending on whether or not children and complicated assets are involved, as well as how acrimonious and protracted the process becomes.
(4) How quickly would you like to complete the divorce process so you can start building a stable future for you and your children?
The DYI divorce could be the quickest, if you have limited/no assets, no children, no problem completing the forms, and high levels of good will and cooperation with one another.
The Pre-Suite Pro Se friendly divorce without lawyers typically involves a one-hour planning session and two weekly 2-to-3 hour mediation sessions. This means that by utilizing a mediation practice like Amity Mediation Workshop you could resolve all of your issues and be ready to file for a non-contested divorce in about one month.
The Pre-Suite with Attorneys path stretches over a longer time period than the Pre Suit, Pro Se, in large part due to the attorneys' scheduling and the time they need for advance consultation and preparation with their client. Still, this path is much quicker than the Attorney Driven path.
The Attorney-Driven path to divorce takes the longest. For example, the average duration of the attorney-driven divorce process in Florida is 15 months and ranges from 7 to 30 months, depending on attorney schedules, the complexity of the case, and the amount of acrimony that creeps into the process.
If you are like most (but certainly not all) people, a Pre-Suit, Pro Se divorce may be your best option:
1. You want to remain friendly with your spouse, especially if you will continue being Parenting Partners.
2. You have typical assets and liabilities that can be equability distributed without complicated legal transactions.
3. You would rather reserve family resources so that you and your spouse have the money you need to start over and build a stable future for yourselves and your children.
4. You would rather move forward deliberately and begin building a happy, stable future rather than be stuck in limbo for a year or more rehashing the past.
If you select the Pre-Suit Pro Se option, find a mediation practice that has a guiding philosophy of civility and a friendly approach to facilitating conversations that permeates their mediation work. You'll need a mediator who is optimistic about what people can do with and for each other if they are simply willing to focus on finding solutions that are good for them AND for the others involved in their issues, especially children.
If you have decided to divorce, share the Paths to Legal Divorce graphic with your spouse. Decide which option is best for you. Then, start to work it out.
Related