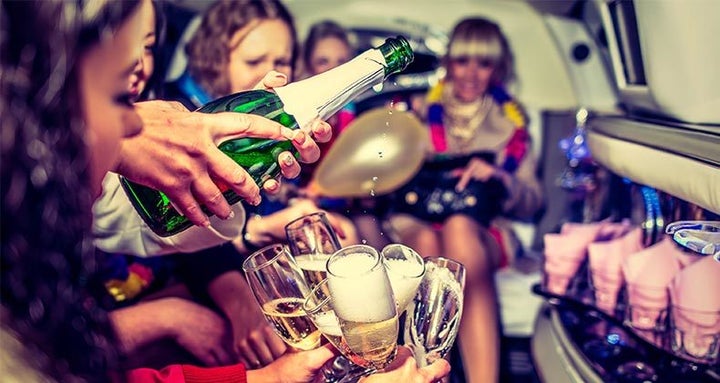 Some people eagerly count down the days until their wedding ceremony, dreamily pinning on Pinterest color schemes and cake flavors. Other people, however, are more pumped to party with their bridesmaids at the bachelorette party. It's a significant event, after all ... it's the last time you can authentically dance to "All The Single Ladies" and not have to worry that a wild night out could result in a messy divorce.
However, partying can be pricey. Your hangover after the bachelorette should be punishment enough, though, and there's no need to feel the pain that comes with spending thousands, too. Here's how you can throw an amazing bachelorette bash, sans the hefty bill.
Re-think the location. It doesn't have to be Vegas
While movies have made Las Vegas seem like the go-to spot for you bachelorette party, you have other options! If you don't have the cash to trek across the country to party in a neon hub plopped in the middle of the desert, consider more local destinations.
If you live in the Midwest …
Check out Chicago or St. Louis. Both are big cities that offer a fun nightlife scene, but are more affordable for Midwesterners than Las Vegas. If you're over the big city vibe and really just want to have a relaxing bachelorette weekend with your besties, rent an Airbnb in Lake Geneva, Wisconsin, or at the Lake of the Ozarks in Missouri.
If you live in the Northeast …
Take a trip to Cape Cod, and rent a beach house on Airbnb with your girls. You won't get a wild nightlife scene, but if you want to spend quality time with your bridesmaids in a beautiful location, this is a perfect option. If you really want a dark club and pulsing music, head to Boston or Philadelphia. Both are big cities with a party atmosphere, but are also rich in culture.
If you live in the South …
Nashville is where it's at. It's a city laden with whiskey drinkers and hard partyers, and the music scene is iconic. If you're actually trying to escape the city, though, take your bridal crew to Gulf Shores, Alabama. It's a great choice if you want a combination of fun beach bars and relaxing, sandy shores.
If you live in the Southwest or Northwest …
You're probably close enough to head to Vegas. Do it. Just don't take part in any "Hangover" antics.
Take advantage of online discounts. They're perfect for groups
Not only do you have the best time with your crew, but going out with a group of people can actually score you amazing deals. There's strength in numbers, right? Chances are, you've already used Groupon for discounts on a haircut or a fun weekend activity. So why not use it for your bachelorette bash? The app offers tons of discounts on popular bachelorette activities ― like spa visits ― as well as vacation packages at beach resorts or lake houses.
LivingSocial might also be worth checking out. Similar to Groupon, this website offers heaps of local deals, from restaurants to events and activities. LivingSocial Escapes also offers discounts on travel packages and getaways, which are perfect for bachelorette parties. It also has a "Me + 3" option on certain deals. If you purchase a deal, LivingSocial will email you a referral link, and if 3 of your friends purchase the deal (here's where your loyal bridesmaids come into play), one of your vouchers is free!
Get in the spirit and dress up. It'll pay off
Deck yourself, and your bridal party, out in feather boas, matching shirts and any other over-the-top, obnoxious bachelorette attire. You'll be surprised at the freebies you'll score. Clubs and bars might waive cover fees, and you'll be getting free drinks all night from bachelors who are eager to congratulate you (or just win over your bridesmaids).
Etsy is a great place to shop for matching bridal party gear, and offers a wide range of handcrafted bachelorette attire (like matching T-shirts) for affordable prices. If you really want to cut costs on your order, you can contact the seller and try to negotiate, or ask if they'll offer you a group discount.
Throw an old-school slumber party
It's easy to get caught up in the glitz and glamour of the wedding, and it can be tempting to throw an elaborate bachelorette party. But when it comes down to it, as long as you're with the people you love, chances are you'll have a blast. So throw an old-school pajama party and avoid the prices tacked on to bottles of champagne, crazy cover fees and pricey getaways.
Order pizza, turn on Netflix and get all your bridesmaids together for a night in. You can have a spa night complete with homemade facials, or have fun trying out new cocktail recipes. Your bridesmaids are already spending a good chunk of change on your wedding. They'll appreciate the low-key night.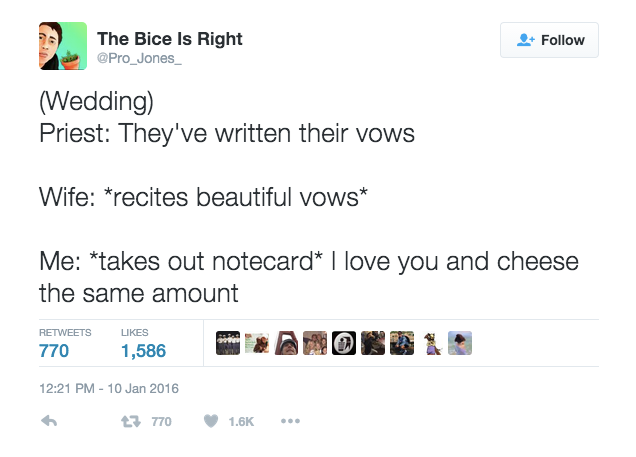 LOL-Worthy Wedding Tweets