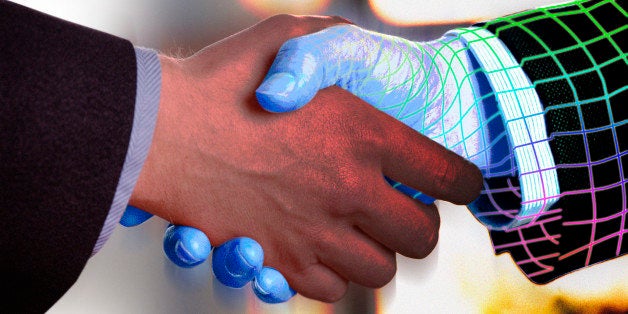 Google the phrase omnichannel for retailers or online/offline retail strategy. The articles on this topic and stats around it are mind blowing. And still, most retailers don't employ an Omnichannel strategy, and those that do have only touched upon the possibilities which present themselves. Most of the time this is due to lack of knowledge or lack of budget. Neither one is an excuse in 2016. By merging and combining the customer's in-store and online experience, you create a journey which will drive sales, engagement and loyalty. Being knowledgeable in this space is well worth the time and effort to create this dream retail trifecta.

Here are 4 methods you can use to start bringing your online and offline experiences together.

1. In-store Technology
This one's easy. Physical installations in-store which bring together the two worlds. These can include kiosks connected to the shop database, with a custom UI to display all available products and features. In a recent development, Echidna developed a Face Chart for Sigma Beauty customers to try the products virtually. This could easily be transferred to an in-store technology experience as well to further the customer experience.
It doesn't have to be so overt, however. Beacons, or iBeacons, are hidden pieces of tech which interact with personal devices at a very short range. These can provide additional functionality to the user directly to their phone or tablet, negating the need for a kiosk or screen installation at all.
2. Click and Collect
Click and Collect services are becoming more common for the simple reason being that as well as offering more convenience to a busy shopper who can't wait for deliveries, they also drive customers back to the store, where up-selling opportunities are abound. In an effective Ecommerce build, goods can be prepared for collection in as little as 5 minutes from ordering.
3. Store Apps
Apps are already a major part of the Ecommerce ecosystem, but the majority of them are stand-alone, for shopping online only. Store Apps can be developed which accompany the user throughout their shopping experience. These can sync with iBeacons, be updated with the latest special offers in real time, offer alternative payment methods or can just provide more detailed information on in-store products, bringing us to our next point:
4. Customer Reviews
Customer reviews are the single most influential tool people use to make their shopping decisions. It's a mainstay of online shopping, so why not bring the process in-store. Beacons or QR codes could be placed on the product display and recent customer reviews could be sent directly to the browsing customer's personal device via an in-store app, once purchase is complete, customers can be encouraged to leave their own feedback, increasing the likelihood of further sales for that product.

What are some other ways to merge online and offline customer experiences? How does your organization leverage your customers digital journey with its face to face journey of your brand?
Bloggers Note: Interested in leveraging these ideas for your own organization or simply hearing more? Our team will be at the upcoming Imagine Conference by Magento and if you will be also, let's connect! You can always contact me at kali@echidnainc.com and visit www.echidnainc.com, where our company mission is to delight our customers with fresh perspectives in e-commerce, UX, mobile app development, and digital marketing.
Related
Popular in the Community