Summer is coming and if you're a college student that probably means a couple things to you:
No. 1: Let's see how many Natty Ice I can chug before I fall face first into the Miami Beach sand. No. 2: you probably need an internship. I can relate, I once needed an internship too and here's my confession.
Roughly 15 years ago I was charting out my career path at the University of Southern Maine, and came across a snag in my plan -- I needed to land an internship. It was a requirement of the class I was taking and I had no idea where to turn. I was not focused enough on what I wanted to accomplish with the internship -- all that I had ever wanted to be was independently wealthy and there are not a ton of internship opportunities with wealthy retired business people. So I chose what made the most sense for my personality and quickly gobbled up an opportunity at a local radio station. This was mistake number one. Since I had no realistic focus on what I wanted to receive from the internship I accepted the first (and only) opportunity I came across.
I vividly remember my first week as an intern, folks kept asking me what I wanted to do be doing after college -- assuming it had to do with broadcast -- I would give them all the same answer, "Not totally sure, but this seems like fun!" The sales manager went as far to tell me that my personality lent itself to either sales or broadcasting (some would argue one in the same). She even offered to have me go on the road with her top sales rep so I could experience what they do. I never took the initiative to lock that opportunity down and soon it was lost. (This was not at fault of the folks managing me. In fact, they were incredibly supportive and often offered me new opportunities. It was my lack of focus that resulted in my results.)
Soon I found myself doing simple data entry that a monkey could do. Due to my lack of focus and unclear intentions with the internship I was quickly becoming a member of the administrative team. I delivered mail, filled out excel sheets, and dropped off mascots at large events. None of which I was remotely interested in.
Truth be told, I was interested in being on-air. But since I was never clear with the folks who arranged my internship that opportunity happened only once. I ended up spending two months as an intern doing things that I wasn't interested in, and due to my lack of focus and clear representation of my interests, I probably wasted my time -- and theirs.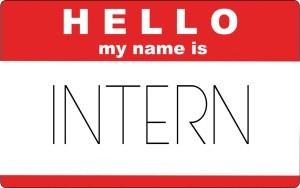 Lesson 1: Have a laser focus on what you want to get out of your internship: Just saying I'm interested in radio and this seems like fun was not a good plan for me. The results reflected my lack of preparedness and focus.
Lesson 2: Ask for what you want -- more than once: You just became an intern and you're super pumped about where you're headed. The company who is about to add you into their fold may not be as pumped about your arrival. Interns can be distracting, annoying, and a burden. When you arrive it's your job to prove what you've got. Offer ideas, ask to be in meetings and ask for what you want. Do you want to be on-air? Ask to be on-air.
Lesson 3: Find a mentor: If you wanted to play professional sports I would tell you that you're going to need a coach. If you want to be a professional anything, you're going to need a mentor. During your internship, that is no different. Find someone who is genuinely interested in you and ask them questions, offer to help, and be a good student. The connections you make during your time with them may result is wonderful things for your future.
Lesson 4: Know what you don't want: My life pretty much revolves around my continued journey for happiness, helping businesses grow, and finding strength and energy by believing in others. It was about three days into my internship that I realized 75 percent of the folks I was around hated what they were doing. This spoke volumes to me about the company and more importantly, the lifestyle of the different careers. Go into your internship knowing what you want but more importantly be open to finding out what you don't want.
My final piece of advice is to never give up on what lights your fire. If you secretly want to be a professional artist, photographer or some other less traditional career -- don't give up. There are millions of people in this world who live a life that they love.
Henry David Thoreau said it best, "Go confidently in the direction of your dreams. Live the life you have imagined."
David Pride is a professional youth motivational speaker and the owner of Social Impressions, a social media agency that specializes in helping businesses prepare to take part in social media. He can be found on Twitter and Snapchat @DavidaPride.
Calling all HuffPost superfans!
Sign up for membership to become a founding member and help shape HuffPost's next chapter