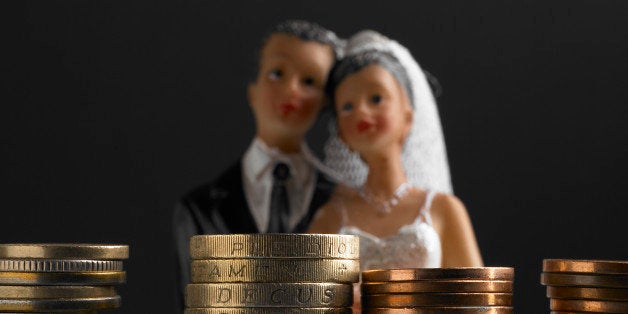 Brides and grooms are spending more on weddings than ever before. According to The Knot's 2014 Real Weddings survey, the average wedding spend is now $31,213. While the cost of your wedding might be significantly higher or lower than this number, we find every couple is looking for ways to save money wherever possible while at the same time not wanting to give up the vision of their wedding that they have already created in their heads or on their Pinterest board.
For those brides and grooms looking to save anywhere from a couple dollars to a couple thousand dollars, here are my favorite ways to save money on your wedding without any of your guests noticing.
The number one easiest way to save money on your wedding is to cut the guest count. When determining the cost of adding a guest to a wedding, most think to calculate the cost of that guest's food and beverage but often stop there. For every 8-10 guests you can remove from your guest list, not only will you save the cost of their meal and bar package, but you will also be able to remove a whole table -- including the centerpiece, rental chairs, specialty linen, menu cards, place cards, table number, welcome bags and favors. Depending on the size and scope of your wedding, removing one table of guests from the wedding can save on average between $500-$5,000.
Select Flowers by Seasonality, Color and Texture -- Not Type
Here's another easy one: Work with your florist to design your florals based on a style you are looking to achieve rather than favorite types of flowers that may or may not be in season at the time of your wedding. Check your Pinterest board and look at the flowers you are pinning. Are the bouquets and arrangements loose and airy or tight and compact? Use descriptive words to explain what you are looking for instead of simply requesting peonies in the off season, which will cost you a fortune if you can get them at all. Your florist will be able to offer you flowers you might have never heard of that can help create your look without the excessive cost.
Buy Bridesmaids Dresses in a Department Store
If you and your bridesmaids are lucky enough to find a dress you like, in the right color and sizes off the rack in a department store, you might be able to save a bundle this way. Bridesmaid dresses are expensive because they are custom and anything custom comes with an increased cost. If you have some flexibility in what you are looking for, there is a big opportunity to save here. I often find gorgeous, designer dresses at high end department stores like Nordstrom and Neiman Marcus that cost less than a "custom" bridesmaids dress that your girls might never wear again. If you have a large bridal party, make it easier for your girls to find the dress by selecting something from the current season. If you are looking for anything glittery or with sequins, check before New Year's Eve for a great selection.
Hire a Great DJ Instead of a Mediocre Band
We often hear from parents that they are dreaming of a live band at their daughter or son's wedding because they think it will be more impressive and formal. In reality, a great wedding band, like the ones you see in the movies, will cost at least $5,000 and up to about $30,000 in most markets. So instead of selecting a less expensive "bar band" that might not be able to properly emcee your wedding, save a bundle by selecting the best DJ you can find who will be professional and can read your crowd. Our favorite DJ works with a percussionist so if you can find one of those, you get the best of both worlds at a much more favorable price.
Please share with us ways you are planning to save money at your wedding without anyone noticing.