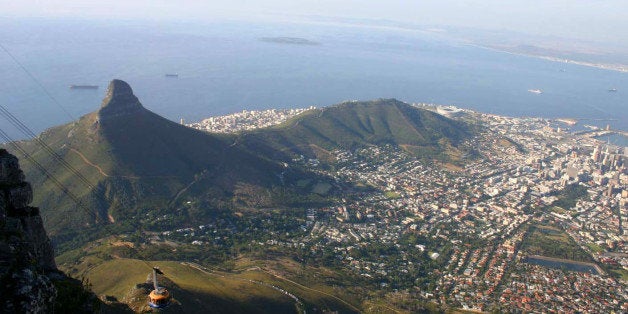 I left my native Britain for South Africa's Mother City back in 2009 thinking I might hang around for a few months and play a bit of cricket.
Suddenly it's 2015, I'm still here and I haven't picked up my cricket bat once (apart from the time I thought someone was breaking into my flat). I don't really know when it happened, but I've certainly got the Cape Town bug alright.
Here are a few of my personal recommendations on how to get equally intimate with this incredible city:
Many of the tourists that come to Cape Town leave with a pretty limited view of what the city really is. They see the plush beachfront restaurants and hotels, take the cable car to the top of Table Mountain, top up their tan, then head home with a suitcase full of overpriced carved wooden elephants.
However, the overwhelming majority of Cape Town's residents inhabit a pretty different world. That world is broadly referred to as the Cape Flats, and constitutes the range of largely impoverished informal settlements and townships that sprawl beyond the city proper.
For me, the best and easiest way to experience this other side of Cape Town life is to head to Mzoli's Place in the township of Gugulethu.
Mzoli's is essentially a (not very) glorified butchery. You buy your raw meat over the counter, take it out to a dark cavern full of wood fires at the back, then go find a seat under the canopy outside until it's done. While you wait you can go and buy alcohol from a number of local residents' houses that serve as makeshift bars and bottle shops.
On a summer weekend Mzoli's is chaos in its most beautiful form. The eaters and drinkers spill onto the streets and stop the traffic; there are live DJs; innumerable animals are consumed; there is no cutlery to be seen, nor any class or racial barriers.
My first trip to Mzoli's was like a revelation. 'This is the future,' I thought. I threw my arm around the nearest black person I could find and we swayed together to the Kwaito beat. He felt it too. He had to. Everyone did. And his head was so shiny. So bald and shiny. And in that moment, nothing else mattered; we were all one.
2.) Hipster it up in Woodstock
Not so long ago Woodstock was a no go area for tourists unless you wanted to join a gang or felt like getting stabbed. Today the suburb is fast becoming Cape Town's new arts hub and is considered so cool that even Michelle Obama and her entourage stopped off for lunch at local favourite The Kitchen when the first lady visited South Africa with Barack a couple of years back.
Previously run-down Victorian-era buildings, spacious warehouses and industrial spaces are being 'gentrified' like there is no tomorrow, and a host of contemporary art galleries, bookshops, painfully trendy cafés and boutique stores are popping up all over the place. Think Brooklyn in New York or Shoreditch in London, only with a lot more Congolese people.
The popular Saturday market at The Old Biscuit Mill is also just a little bit further down the road in Salt River, and is a great place to taste the best local and international fare and some good craft beers, while admiring Cape Town's beautiful people admiring themselves in the reflections of each other's over-sized sunglasses.
I moved to a new house in Woodstock a while ago, and though I'm still not sure exactly what a hipster is and haven't started wearing any of my girlfriend's jeans or a Jesus beard yet, I love the feel of the place -- the feeling that comes with being part of a movement and living in a garish mauve house.
3.) Have a night out on Long Street
When it comes to nightlife, Long Street is the beating neon-splintered heart of Cape Town and quite possibly the reason that much of the rest of the city suffers from occasional power outages.
Long Street runs uphill from the city center in the direction of Table Mountain and is home to any number of backpackers, bars, restaurants and clubs, many of which are housed in pretty pastel-colored colonial buildings which have first floor balconies where the clientele gather for air and a cigarette, while the music (and sometimes vomit) spills down onto the bustling street below.
Whether it's live rock bands, African Highlife music, rooftop parties, Nigerian drug dealers, prostitutes, Germans, a good old-fashioned pickpocketing or the world's worst hot dog that you are looking for, you are sure to find it here.
On my first night out in Long Street back in 2009, I met the Argentinian rugby team, drank the best Mint Julep of my life, had an impromptu twerking lesson from three large black women, lost my phone, got into a fight and had a gun put to my head.
Not a bad night all in all.
4.) Give Robben Island a miss
Since the passing of Nelson Mandela and the subsequent film about his life, you might be more tempted than ever to go and visit the former icon's prison cell on Robben Island.
The Robben Island experience is over-priced, overdone and about as enjoyable as . . . well. . . going to prison.
I made the mistake of visiting the island after a particularly heavy night. Despite my hangover and some strange gurgling sounds from within, I was pretty much the only person on the rough ferry ride over that wasn't sick.
Once on the grim island, we had a talk from a former apartheid-era prisoner who seemed to be yearning for a career change.
Then when I finally got my chance in Mandela's cell, there were so many other visitors queuing up to get in behind me that I didn't even have time to do the Matt Damon in Invictus impersonation that I had been planning for so long.
The whole thing was too forced to feel anything real.
And the truth is that for all his wonderful achievements, Mandela only constitutes a tiny part of the fascinating transnational history of Cape Town, so save some money and some time and rather visit the numerous worthwhile museums and exhibitions that can be found in and around the city center.
You can learn about the integral part that imported slaves had to play in the creation of modern Cape Town and see their former quarters at Iziko Slave Lodge. Or you can relive one of the worst travesties of the apartheid regime at the District Six Museum. 60,000 people of color were forcibly removed from the cosmopolitan District Six neighborhood and into the Cape Flats in the late 60s and early 70s, their homes then reduced to rubble.
This is an abridged version of a post originally published on Medium
Christopher Clark is a British freelance writer and wanderer based in Cape Town. He has traveled to and written about 13 different African countries for more than 25 local and international publications, and has twice been featured as one of South Africa's best writers and thought leaders by The Big Issue magazine. You can find out more about Christopher or read his work at www.cawclark.com