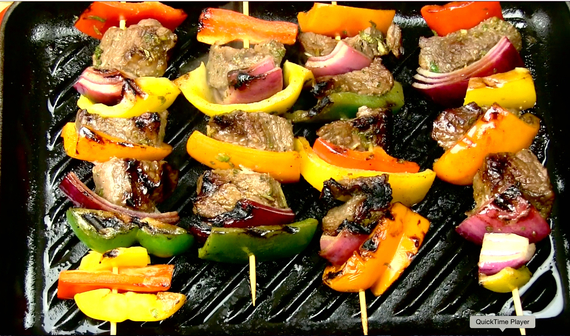 We are halfway through the summer and at the peak of the grilling season. I am sure that we are all enjoying a great time, hitting the grill and having fun with friends and family, enjoying delicious foods. This is also the time to tweak your culinary skills with a variety of new flavors. Sure, you can have your burgers and hot dogs, but you should also be on the look-out for other alternatives.
There are all kinds of tasty foods that you can add to the grill, but did you know you can add superfoods to your favorite dishes? By adding superfoods, you take some familiar ideas and turn them into something new, while also providing healthier alternatives for everyone to enjoy, both meat lover and vegetarian alike.
Here are my top recommendations for grilling with superfoods.
Not Just Meats On The Grill
Start off by thinking outside the world of meats and try adding some vegetables to "beef up" the grill. Adding vegetables such as zucchini, eggplant, tomatoes, and corn can add a dose of nutrition with an array of different health benefits.
Throwing fruits on the grill can add a different layer of flavor. By adding fruit, such as peaches, pineapple and watermelon, you let the natural sugars caramelize with the heat, resulting in a delicious, concentrated flavor.
As always, when picking fruits and vegetables, remember to always change color, to benefits from the variety of antioxidants and phytochemicals. Using the full rainbow spectrum of foods can boost your immune system and support the repair processes in your cells. That's because the phytochemicals that give plants their color -- the blue in your blueberries, the orange in your carrots -- have antioxidant effects, helping to clear away the free radicals in your body. A free radical is an unstable molecule that latches onto healthy cells making them unstable as well, even to the point of contacting our DNA and mutating the strains. The antioxidants in anti-inflammatory fruits, vegetables, herbs, whole grains, and fats can help reduce the number and effect of free radicals by neutralizing free floating free radical throughout the body. But each phytochemical has different strengths, which is why you need to eat a rainbow of them, not just one.
During summer outings, hydration can play a big part in nutrition. Instead of limiting options to either sodas or alcoholic beverages, try adding flavored fruit spritzers. Adding fruits to sparkling water can give you a satisfying and refreshing break from other beverages, while also cutting calories and adding some superfruit power. I recommend using fruits like strawberry, blueberry, and raspberry. Mix it up some more by adding herbs like mint to give you a lasting, cooling off sensation.
Don't forget to add some fresh fish to the grill. This is a great way to add more health benefits, especially if you choose superfood salmon, with its omega-3 content. Studies show that omega-3 fatty acids, especially from fish, is known to protect your heart.
Most lean meat cuts have the word "loin" or "round" in the name. This lets you know that these types of cuts are leaner than other cuts. My favorite cut of beef that I use is top sirloin steak because of its amazing flavor and texture. Here, I present to you my Latin Fusion Sirloin Skewers, using top sirloin steak.

Latin Fusion Sirloin Skewers
Portions: 4 Serving Size: 2 skewers
Ingredients
For the marinade:
1 cup lime juice
4 tablespoons soy sauce
2 tablespoons canola oil
¼ teaspoon black pepper
2 tablespoons garlic, minced
2 tablespoons aji chili paste, or other chili paste
½ cup cilantro, finely chopped
For steak:
2 pounds top sirloin steak, cut into 2-inch cubes (approx. 1-oz each)
1 medium red onion, rough chop
1 green bell pepper, rough chop
1 red bell pepper, rough chop
1 yellow bell pepper, rough chop
1 orange bell pepper, rough chop
Canola oil spray
Skewers, wooden or metal
Directions
Whisk together lime juice, soy sauce, canola oil, pepper, garlic, chili paste and cilantro to make the marinade.
After cutting the steak into cubes, pour marinade on top of steak. Marinade for 1 hour.
If you are using wooden skewers, place them in water to soak.
While you are marinating the steak and soaking the skewers, begin chopping up the vegetables. Place the vegetables in a bowl and set aside.
After the steak is done marinating, drain the skewers and prepare an assembly line for making the skewers. Grab one skewer and alternate between the steak and vegetables, in no particular order. Limit 3 pieces of steak per skewer.
Recipe and photos by Manuel Villacorta, MS, RD
Manuel Villacorta is an internationally recognized, award-winning registered dietitian/nutritionist with more than 18 years of experience. He is a trusted voice in the health and wellness industry. He is the author of three books, Eating Free (HCI, 2012), Peruvian Power Foods (HCI, 2013) and Whole Body Reboot: The Peruvian Superfoods Diet (HCI, 2015). Manuel is the founder of the Whole Body Reboot App, a weight loss program with emphasis on superfoods. He is one of the leading weight loss and nutrition experts in the country.