The idea of women helping other women succeed - both personally and professionally - is not a new way of thinking in Silicon Valley.
According to AngelList, San Francisco is home to 15,233 startups. In 2015, it was noted that 24 percent of startups in San Francisco were launched by female founders.
Fortunately, women have the power to create change.
Four women in particular have come up with unique and creative ways to help women everywhere succeed in leadership and tech positions.
Here is what these inspiring women are doing:
Adriana Gascoigne, Founder/CEO of Girls in Tech
Adriana Gascoigne founded Girls in Tech (GIT) in 2007 to create a supportive network designed to help women advance their careers in STEM related fields.
Since it's founding, Girls in Tech has taken a unique approach to encouraging women entrepreneurship and involvement in tech. This non-profit is committed to providing tangible results for women, which is accomplished through bootcamps, hackathons, pitch competitions in front of investors, virtual classrooms and more.
For example, Girls in Tech's AMPLIFY Women's Pitch Night is an annual event dedicated to female-founded startups. AMPLIFY took place this year in San Francisco on November 16th and featured 10 startup finalists along with several keynote speakers. The female founder-only pitch competition is the largest in the world and brings together top technology leaders, entrepreneurs and investors.
"Many technology companies took a great first step by releasing their internal diversity figures, which only made it more apparent for the need of opportunities and exposure for women working in technology," said Adriana. "With Amplify, women don't have to wait for companies to do the right thing; they can be their own companies and leaders. We're proud to spearhead Amplify where they will be able to network with top investors and business leaders in their company's early growth stage."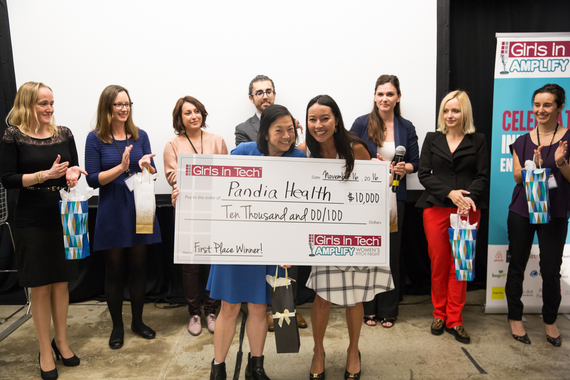 The winner of AMPLIFY this year was Pandia Health, a company that has designed a revolutionary way for women to receive birth control online. Through regular events like AMPLIFY, Girls in Tech has created a unique way of helping women-led companies and women in tech succeed in tangible ways.
Vicki Saunders, Founder of SheEO
Vicki Saunders is the founder of SheEO, a two-decade long initiative aimed at transforming the way in which we support, celebrate and finance female entrepreneurs.
By taking a unique approach to raising capital for women-led ventures, SheEO has created a new economy for women entrepreneurs. The organization raises a $1M fund within active SheEO communities. This money is raised through 1,000 women committed to contributing $1,100 each to invest in a small number of women-led ventures.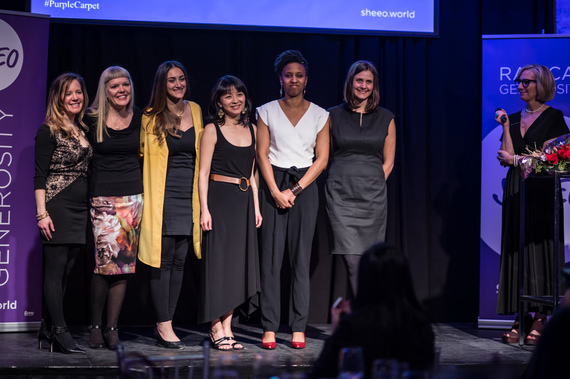 The SheEO community is made up of entrepreneurs, public leaders, executives and everyday citizens. The women who become members of the SheEO community are called "activators" because they are activating money, capital, buying power and experiences.
This title makes sense, as SheEO has noted that women make 80 percent of purchasing decisions. However, only 4 percent of venture capital goes to women. Yet emerging data shows that women investors better understand women-led ventures, and that these ventures perform better when funded by other women.
"We are so much more than we think we can be. And we won't become our potential until we come together and lift one another up. We are social beings. We need each other in order to thrive. Imagine how you would dream differently if you were surrounded by radically generous women committed to supporting you," Vicki Saunders wrote in a recent Medium post.
Earlier this year, a SheEO activator in Toronto persuaded 500 women to contribute $1,000 each. Saunders isn't stopping there though. Most recently, Saunders started engaging women in San Francisco and Denver. Of course, building communities in more cities will take many years, but Saunders appears to be up for the challenge.
If you want to become involved with SheEO, the SheEO Activator portal is open for women who wish to activate (there will be a total of 500 activators across the San Francisco Bay Area, LA and Colorado). Each activator will be able to vote for 5 finalists in January.
Jillian Manus, Managing Partner at Structure Capital
Words of encouragement can go a long way, a point proven by Jillian Manus, venture capitalist and inspiring startup mentor for female founders.
"If you believe in yourself, then people will believe in you. Your personal path and personal currency is what you have to establish before the professional piece can reach its full potential. I mentor a lot of women and female founders to help them learn how to believe in themselves," said Jillian.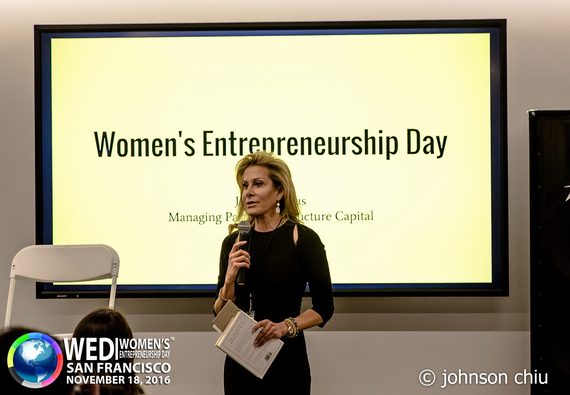 By acting as a mentor, Jillian's mission is to help women reach their full potential so they can accomplish their goals. Her advice for women wanting to "get out of their own way" is to be truthful, not to whine or complain, and to take responsibility for their actions.
"Be truthful and honest with yourself. I used to write down 3 things that I needed to work on. At one point, I wrote down 3 things that were stopping me from succeeding, which were the most self-destructive parts. I would then try to fix one. I would fix one and try to fix another and reward myself for fixing the third," said Jillian.
Jillian currently serves as a mentor for female founder of Copia, Komal Ahmad, along with other women CEOs in the Bay Area. She also mentors women in shelters whom have faced domestic violence.
Melisa Lin, Founder/CEO of Nommery
Nommery is a social-dining network that connects women with other women (and men) through fine dinning experiences. Unlike other social networking sites, Nommery brings together like-minded individuals for great conversations over shared meals at restaurants in the San Francisco Bay Area.
Founded by Melisa Lin in 2014, Nommery has hosted 1,800 food-related events for over 4,600 members. Nommery members can even host their own events to bring together specific groups of people or they can create public events to meet new faces.
While Nommery is a platform aimed at gathering like-minded people together for shared meals, Melisa is now focused on strengthening social networks for women.
"We are especially excited to help grow and strengthen networks of like-minded women. Nommery's first investors were women whom I met over various Nommery meals," said Melisa. "We encourage all women to create Nommery meals and share them with their networks. As an event creator, your Nommery profile will be featured in our newsletter and on social media accounts as well."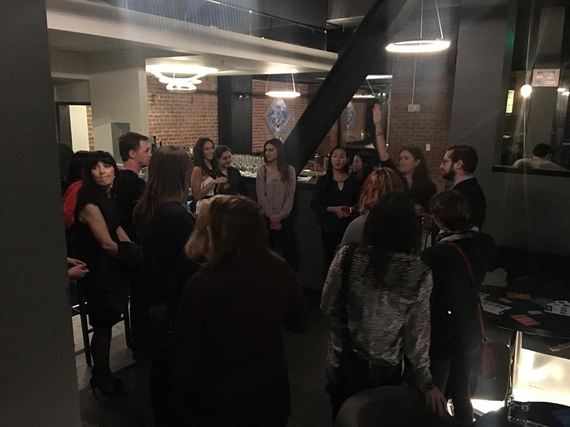 Melisa's most recent Nommery event was held at The Modernist in San Francisco. The event was a happy hour for female founders and entrepreneurs to mix and mingle over tasty cocktails. About 40 attendees -both women and men - came to this event. The event's featured guest was Julie Trell, the San Francisco lead for SheEO.
The unique efforts being made by Jillian Manus, Vicki Saunders, Adriana Gascoigne and Melisa Lin are just a few of the many initiatives being taken by women to help other women.
I believe that "Together We Can" create change for women everywhere. Through community efforts and encouragement we can bridge the gender gap we are currently facing in society today.
Related
Popular in the Community