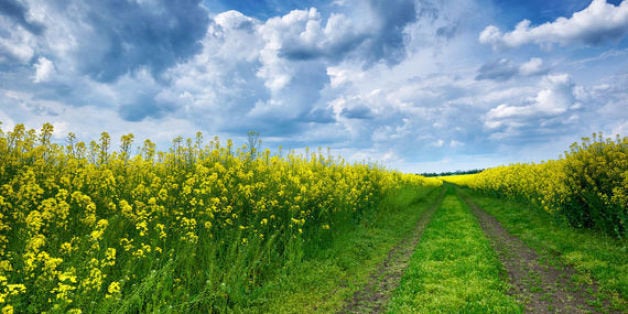 I love finding a simple solution, road testing it, and then passing it on -- and maybe you're the same. But the problem for most of us is remembering these solutions when we need them most.
For example, the proverb "As you sow, so shall you reap" is simple. If we plant daisies, we get daisies. And on the other hand, if we hurt others, we'll be hurt in return. I don't know how many times you've lost sight of this one while pointing your blame gun in somebody else's direction, but for me it's too many to count. And this lesson is just one of many. In the midst of our busy lives is there any hope?
Yet just three months ago four words came to me that are so infallible and so powerful that when I follow them, I'm feel I'm naturally practicing life's most significant lessons. I believe taking this guideline to heart is worth all the mindfulness and discipline we can muster.
I first referred to these words in an article called "5 Ways to Fall in Love Again" because they've been so useful in my relationship with Tim. The words Be present lead me to stop saving up gotcha coupons, to forget about the past, and to enjoy this moment. Key to living this part of the guideline are found in the words of Henry David Thoreau:
Never look back unless you are planning to go that way.
Be positive generates an atmosphere in which our love can thrive -- who can adore a grump?
What problems are nagging at you right now? How would using these four words make a difference with the biggest one? For instance, here are some places where these words are helpful in my life. Imagine the difference they could make in each instance.
Worrying about whether we'll have enough money in the future.
Wondering whether Tim still finds me attractive.
Anxious about meeting my next writing deadline.
Not having time for other projects I long to do.
Here's a fresh example -- and the one which led me to share these words with you. Last night a sudden storm crashed through Denver. One moment we were in the garden preparing for a dinner party. The next hard rain, hail the size of golf balls, driving wind up to 70 miles per hour, and flash floods in rivers already swollen to record highs.
Leaves and branches fell along with the hail, and our freshly planted flower pots and blooming perennials were beaten into the ground. Not a tragedy in the grand scheme of things, but so disappointing given how hard we'd worked to get ready for a family reunion we're hosting in just two weeks.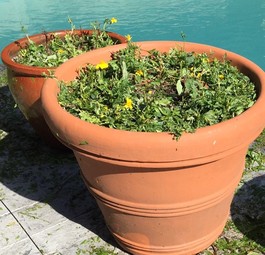 But this morning as I surveyed the damage, wiping off soggy lawn furniture, and lamenting the loss of what was so luscious only yesterday, I remembered these four words and became present to my compassion for Tim, who has done most of the work and positive about what we could do to make the best of it without going near the nursery.
And then my thoughts expanded to the possibility of a world where we all live in the present, being positive about those around us, and solving the problems we face both individually and collectively by remembering these four words. I know in my heart it will work.
So, please go back to my earlier questions for you:
What problems are nagging you at this point in your life?
Which one is causing you the most pain?
How could these four words solve this issue?
Please take a moment to write your answers to these questions -- and then make a little sign for yourself:
In part two on this topic I'll share in more depth about how to use these 4 words to solve anything.
I'd enjoy hearing about problems you've solved with these words -- or ways you're planning to give them a try. Either scroll down to leave a comment, or write to me directly at jinny@bestyearyet.com
To make your own Best Year Yet Plan: