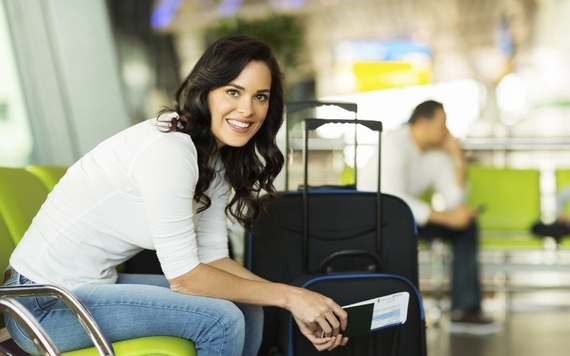 By Melanie Lockert, Contributor
Airports often mean long lines, big crowds and a looming headache for travelers. While traveling might be a hassle to some people, frequent travelers and insiders know the secrets to living the good life while traveling and avoiding the headaches most normal travelers experience. If you want to travel like the pros, here are 40 airport secrets and travel tips from the insiders.
1. Global Entry and TSA PreCheck Are Totally Worth It
While many travelers are dealing with long waits to get through security, insiders are taking advantage of Global Entry ($100) and TSA PreCheck ($85) for faster screening. "Global Entry is a must for anyone who travels internationally and includes TSA PreCheck for your domestic flights. Because you are what's known as a Trusted Traveler, you can skip security lines at the airport and don't have to take off your shoes or remove your 3-1-1 liquids bag," said frequent traveler Lee Huffman, founder of BaldThoughts.com.
2. Sign Up for Airline Rewards Programs
Even if you don't fly often, you could benefit from signing up for airline rewards programs. After just a few flights, you might have enough miles or points to get them redeemed for free or low-cost travel. You might not even have to use the same airline to redeem your miles.
"You can often fly on partner airlines using your airline's miles," Huffman added. "In some cases, using Airline A's miles to fly on partner Airline B requires less miles than if you used Airline B's miles for the same flight," explained Huffman. Before your next flight, be sure to sign up for the airline rewards programs.
3. Don't Check Your Bags
One way to make sure your stuff arrives safely is to pack like a pro and only take carry-on bags when you travel. Typically, airlines allow for one carry-on bag and another small item, like a purse or laptop. Checking your bags can mean waiting in lines, and there's a risk of having your luggage get lost or even stolen. Instead, you can utilize carry-on advantages to save time and ensure your stuff arrives with you.
4. Some Airport Lounges Are Available to Certain Credit Card Holders
Airport lounges aren't just for the rich and famous. "Many credit cards and airline loyalty programs provide free or discounted access to airport lounges," said Huffman.
In the airport lounge, you can avoid the hustle and bustle while relaxing before your flight and enjoy complimentary beverages and snacks. Call your credit card company ahead of time to see if you're eligible.
5. Pack Only What You Need
It's a good idea to be cautious when you pack and bring extra items, but ask yourself if you really need everything. "When packing, think about exactly what situation you'll want a certain item of clothing," said Gillian Morris, the CEO and founder of Hitlist, a travel app that alerts you when cheap flights are available.
6. Fly Off-Season for the Best Deals
Many people enjoy taking a summer vacation, but airport insiders know that traveling off-season is where the best deals are. Typically, traveling at off-peak times -- for example, during rainy season -- for your intended destination can save you money. Do your research to see when the "low season" is for wherever you'd like to go.
7. Pack an Empty Water Bottle
Instead of having your water bottle thrown out by the TSA or forking over $5 for a water bottle at the food court, pack an empty water bottle to get your water fix. Airports have water fountains where you can fill up and hydrate before your journey -- for free.
8. Clear Your Cookies Before You Book a Flight
If you've ever searched for a flight and then, not even an hour later, you go to book and the price has increased -- your cookies might be the culprit. Internet browsers track your activity online and some booking sites might increase the price depending on demand. To avoid this, travel pros suggest clearing your cookies or using a private browser when booking a flight. It's worth a shot, and might help you get a lower price.
9. Bring Your Own Headphones
Many airlines offer free in-flight entertainment, but not all of them offer headphones for free. In order to save money and keep yourself entertained during a long flight, pack your own headphones. Bonus perk: You'll look busy and avoid any unwanted conversations with people in your row.
10. Avoid Baggage Fees by Gate-Checking Your Bags
More and more airlines are making baggage fees the norm -- charging $25 or more for your checked bags, according to FareCompare, an airfare comparison site. One way to try and avoid baggage fees is by checking your bags at the gate, though check ahead of time to make sure the airline doesn't charge for gate-checking, too.
Overhead space is becoming a hot commodity and many airlines ask for volunteers to check their bags as there's simply not enough room in the plane for everyone's baggage. This tactic is an insider loophole that could potentially get your bags checked for free.
11. Fly on a Tuesday for the Best Deals
The weekend is prime travel time for many, which can mean higher prices and large crowds. For the best travel deals, fly on a Tuesday instead. Flying during the week, specifically on Tuesday, could result in huge savings. For an even better deal, consider flying at non-peak times -- such as early morning or a red-eye flight.
12. Four Wheels Are Better Than Two
The luggage you travel with matters, and having four wheels can be better than two. This way, you can avoid dragging your bag and push it in front of you. Not only that, but you can navigate tight spaces and have more control over your bag, making it easier to travel and get through the airport.
13. Download Your Airline's App
One easy travel tip that can make air travel easier is downloading your airline's app. In most cases, you can enjoy paperless boarding and get real-time updates about any flight delays, changes or updates. Having a mobile boarding pass can help you save time -- and some trees.
14. Wear Slip-On Shoes
If you dread taking off your shoes in the security line, make your life a little easier and wear slip-on shoes. Slip-on, slip-off. This simple travel hack can keep the line moving and make going through security a little less painful.
15. Pack Your Own Food
"Mmmmmm, airline food," said no one ever. Instead of forcing yourself to eat airline food or paying high prices at the airport, pack your own food instead. Think sandwiches, fruit, crackers and granola bars -- check with the TSA first to make sure your menu follows security guidelines. This travel tip can help you save money and your appetite.
16. Spend Money to Save Money
While it's common knowledge that airport shops tend to jack up prices on items, that's not always the case. Some areas, like Portland, Ore., forbid shops to charge more for goods and services. In addition, some states, like Oregon, have no sales tax. If you're thinking of shopping at the airport, compare prices online and check tax laws before you travel.
17. Pick an Aisle Seat
Brrrrr. Planes can be cold, but it can be even worse if you're by the window. The cold air can leak through the window at such high altitudes. Opt for an aisle seat to stay warm. Bonus: You won't have to climb over anyone to go to the bathroom.
18. Bring the Sanitizer
Airplanes can be a hotbed for germs. Be sure to bring hand sanitizer and sanitizing wipes to kill germs and avoid illness. One area not to miss: Your tray table. Tray tables might not be cleaned between flights, so sanitize your tray before you use it.
19. Get Social
One of the best travel tips for saving money is to get social. Follow various airlines, airports and airline booking sites on social media, like Twitter and Facebook, to get promo codes, discounts and insider tips.
20. Know Your Airport Code
Before arriving at the airport, know your airport code -- the three letters that refer to your destination, such as LAX. Some cities have multiple airports and your luggage tags can get mixed up if you're not sure where you're headed.
21. Make Your Luggage Unique
At baggage claim, the sea of bags can look eerily similar. One of the best travel tricks is to make your luggage unique. Put a ribbon on your luggage or go all out and opt for something colorful. Differentiating your bag from the rest can save you time and help ensure that someone doesn't walk off with your bag, thinking it's theirs.
22. Wear a Jacket
As mentioned earlier, planes and airports can be mighty cold. Wear several layers, including a jacket, so you're prepared to handle temperature fluctuations. Wearing a jacket that you can easily take on and off can also help you deal with various temperatures between your destinations. It can also give you more pockets for small items you want to keep handy.
23. Get a Rewards Credit Card
If you like flying with a particular airline, it might make sense to get an airline rewards credit card. Often, these airline-based cards can have generous sign-up bonuses and offer perks like discounted travel, early boarding and access to airport lounges.
"If you have great credit and do not have any spending problems, you can sign up for credit cards to earn hundreds of thousands of frequent flyer miles so your upcoming trips are all free, or heavily discounted," said Eric Rosenberg, travel hacker and founder of Personal Profitability.
24. Plan Ahead
Frequent travelers plan ahead to make their lives easier and make sure they arrive at the airport on time. In order to plan ahead, pack the night before, look up driving or public transportation directions, check the weather and traffic, and print out important documents ahead of time.
25. Choose the Path of Least Resistance
While we've all seen the Departure and Arrival lanes at airports, you can still get where you need to go regardless of which lane you choose. If there's crazy traffic in the departures lane, consider changing it up and getting dropped off at the arrivals lane.
26. Check In Ahead of Time
One travel tip that can limit your check-in time is to check in ahead of time. Many airlines allow you to check in ahead of time and print your own boarding pass. If you only bring a carry-on, you can head straight to security.
27. Avoid Wearing Jewelry
Security lines can be a pain. But you can make your life easier by leaving the jewelry at home. In some cases, you can keep your jewelry on, but it might set off the metal detector. In that case, you might have to put your bling in the bin or get a pat down by security. Instead, just avoid wearing jewelry altogether and pack it in your bags instead.
28. Don't Wrap Your Gifts
If you're going home for the holidays, you might want to think twice about wrapping your gifts ahead of time. Airport security might have to unwrap and inspect your items. In this case, having a gift bag might make more sense.
29. Volunteer to Go on a Later Flight
If you're not in a rush to get somewhere and you want to maximize your travel, volunteer to get bumped on a crowded flight. Many airlines offer vouchers, and in some cases they could possibly even be worth more than the cost of your flights.
30. Check Your Flight Status Ahead of Time
Before heading to the airport, check your flight status online ahead of time. Delays happen and instead of waiting at the terminal for hours, you can get real-time updates before leaving the house.
31. Mix and Match Flights
In order to get the best deals on flights, consider nixing the round-trip ticket in favor or two one-way tickets. One airline might have the cheapest departing option, while another airline might have the cheapest return. You don't have to stick to the same airline and have a round-trip flight. You can purchase two one-way tickets on different airlines to save money.
32. Make Copies of Important Paperwork
Traveling can mean organizing a lot of moving parts, and things can get lost in the shuffle. To ensure you have all of your required documents, make copies of your important paperwork -- including passports, driver's license, itineraries, hotel reservations and directions.
33. Skip the Starbucks Line
While Starbucks (SBUX) might be calling your name on those early flights, skip the cup of joe and the line to save money. You can get free coffee on your flight. Also, if you're flying Alaska Airlines or Delta, you can enjoy Starbucks coffee as part of their complimentary beverage service.
34. Bring Travel Size
To ensure your toiletries aren't thrown in the trash, make sure your liquids are 3.4 ounces or less. Most people don't have that size at home, so bring samples of shampoo that you've received on your other travels. Some stores also carry travel size shampoo and toothpaste.
35. Bring a Spare Plastic Bag for Toiletries
Per TSA guidelines, your toiletries must be in a separate bag for screening. However, those bags can break or get dirty during your travels. Bring a spare resealable plastic bag for your toiletries for your next flight.
36. Keep Your Laptop Easily Accessible
During the security checkpoint, you'll have to take out your laptop for screening. In order to move through the line quickly, have your laptop in an easily accessible location so you're not digging for it while in line.
37. Check for Free WiFi
You have some time to kill at the airport and start browsing on your phone. Instead of eating up all your data, check for free WiFi. Some airports have free WiFi, while some restaurants in the airport might offer free WiFi. Check ahead of time to see if there's free wireless you can access.
38. Bring a Portable Phone Charger
Your smartphone could be your number one travel tool to help you with directions, a mobile boarding pass, answering emails and communicating with others before and after your flight. While most airports have charging stations, they can often be crowded. Instead, bring your own portable phone charger so you're never out of juice.
39. Wear Your Luggage
If you truly want to avoid baggage fees, consider wearing your luggage. Some clever travelers have stuffed their jackets with items. One company, Jaktogo, is taking it a step further and has actually created wearable luggage.
40. Use the My TSA App to Check Current Wait Times
Using the My TSA app, you can get answers to your most pressing travel questions and verify what you can bring on flights. Not only that but you can get updates on any delays and check wait times in the security line. Before your flight, check out wait times and get real-time updates to help you plan accordingly.
More from GOBankingRates:
Related