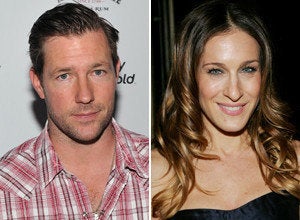 Imagine "Entourage" without the lifestyle, and "Sex and the City" without the ladies. Throw in a midlife crisis or two, and you've got HBO's newest pilot.
'Variety' reports that Doug Ellin, creator of "Entourage," is bringing the four buddy concept back east with a new show called "40". About four friends in New York whose lives are at varying stages of success and sudden struggle, Burns said that it will seek to chronicle the real life struggles of men in this day and age "dealing with marriage and friendships," especially since the 2008 economic collapse -- struggles that hit home for the producer.
"It's something I've lived with my friends," Ellin said. "People were thinking that 40 is the new 20 and their life is all set -- and all of a sudden they woke up one day and had no money."
Set to star in a role modeled after that conundrum is Ed Burns, who will play a wealthy banker who finds himself holding the bag after his bank collapses. Burns and Ellin have worked together -- in fact, Burns plays himself in episodes of "Entourage". A native New Yorker, Burns has created a number of small, indie films in the city, making him a natural choice for the role, at least as far as geography is concerned. With its New York location, interplay of four friends dealing with their personal lives and HBO backing, some are calling it a "Sex and the City" for men, though it likely won't be that fabulous.
The rest of the cast has yet to be announced.
Ellin announced in 2007 that a "Hedge Fund" version of "Entourage" had been developed and would be written by the writers of "Oceans 13," but that project has since been put on hold. Perhaps because of the economic collapse since that announcement, the project has morphed into a more sober look at the employees after some of those big hedge funds collapsed.
At the time of the announcement, HBO programming president Michael Lombardo said, "We have a long-term relationship with Doug Ellin, and I'm sure you'll soon see another series from him here."
Looks like it's happening sooner than later.