Chicago has been host to an amazing array of artist-run spaces since at least the 1970's. Many of these spaces originally emerged as venues working counter to the predominately commercial (and early on, predominantly male) gallery culture in Chicago. Starting with Randolph Street Gallery, Chicago's artist-run spaces have continued to evolve along the lines of commerce and culture. A common earmark of the contemporary artist-run space is that of transience. These spaces tend to erupt, flame, sizzle, and enter the final stage of transformation or destruction. This final stage is not absolutely inevitable, however, the unique stresses of running a self-funded artist space act often as a pressure to organize, be it into a commercial venture or a legitimate non-profit, or to disband. Alternative spaces have also tended to be the arena of the young; there are, however, some successful, established, mid-career artists who choose to remain in the mode of space keeper. As part of our 40 Over 40 Project, we've chosen to highlight these Chicago artists, 40 and over, who maintain both a thriving art practice and a contemporary art space: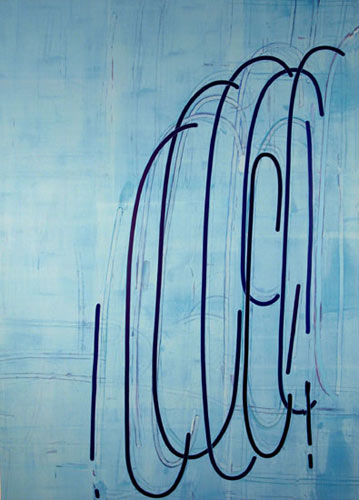 Dan Devening, Wave, 2005, courtesy of the artist
Dan Devening/devening projects + editions:
Dan Devening (b. 1958) attended school at the University of Nebraska, receiving his BFA there in 1980, before coming to Chicago. Over the next couple years he attended the University of Chicago, where he received his MFA in Painting and Drawing in 1983. He has exhibited throughout the Midwest, as well as nationally and internationally, and is currently represented by Roy Boyd Gallery here in Chicago. Devening Projects + Editions, run by Dan, is located 3039 West Carroll, in a neighborhood filled with artists' studios in west Chicago. Dan's space host's exhibitions as well as making artists' editioned work available. The current exhibition, Kabinett 5: Andreas Fischer + Melissa Pokorny, will be up until March 19th, 2011. http://deveningprojects.com/
Tony Fitzpatrick/Firecat Projects:
Tony Fitzpatrick (b. 1958) has been a central figure in the Chicago art scene for many years. For many years Tony maintained an open studio on Damen Avenue, where people could walk in off the street and into the artist's inner sanctum, a rare and delightful gift. Recently, after 17 years working in the neighborhood, Fitzpatrick has decided to transform his former studio into an exhibition space: Firecat Projects. Fitzpatrick has long been a proponent for artist's empowerment, and is putting this to use in his new space. The space will operate as few commercial spaces do today, by providing all of the sales profits to the artists. To those who know the gallery business, this is unheard of, in a time when common commission on a gallery piece is 50%. Fitzpatrick maintains a thriving artistic practice, and new works can constantly be seen on his blog No. 9: An Artist journey.
Pamela Fraser/He Said She Said:
Pamela Fraser (b. 1965) received a BFA in painting from the School of Visual Arts in 1988, and proceeded to get her MFA in New Genres at UCLA in 1992. In the past year she's had three solo exhibitions, in Golden Gallery, Chicago, IL, Galerie Schmidt Maczollek, Cologne, Germany, and 1k Projectspace de Ekster, Amsterdam, NL. Together with Randall Szott she runs He Said She Said, a contemporary art space in Oak Park. Fraser and Szott take turns curating the space, Fraser focusing on art, and Scott focusing "the activities of people who work in other contexts." As Dan Gunn wrote, "He Said She Said is the embodied disagreement between Pamela Frasier and Randall Szott over the values of art and everyday life, argued through exhibitions in their Oak Park home."* http://www.hesaid-shesaid.us/contact.html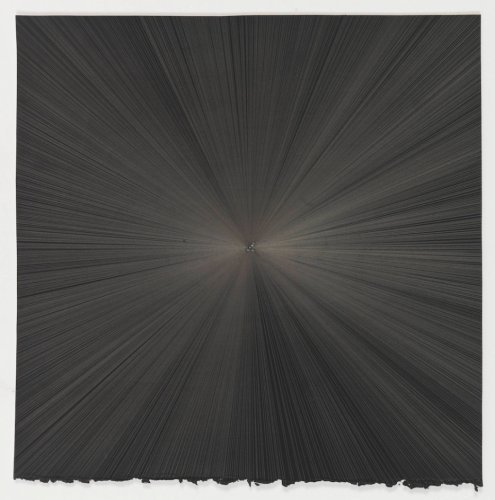 Michelle Grabner, Untitled, 2008, courtesy of the artist
Michelle Grabner/The Suburban:
Michelle Grabner (b. 1962) runs probably one of the best known artist-run spaces, situated in Oak Park alongside Fraser's He Said She Said and Tom Burtonwood's What It Is. Run with her husband Brad Killam, The Suburban has shown many nationally and internationally renowned artists since its establishment in 1999. The Suburban itself is a small space, even by "apartment gallery" standards, but offers a unique opportunity for artists to experiment outside the normal pressures of a highly publicized commercial space. In 2008 Grabner and Killam expanded their repertoire, founding the not-for-profit Poor Farm, an artist's space and residency located in the Township of Little Wolf in Central Wisconsin. Alongside running two thriving art spaces, Grabner is the Chair of the Painting and Drawing Department at The School of the Art Institute of Chicago, and maintains a dedicated studio practice. She is currently exhibiting at Shane Campbell Gallery. Her solo exhibition, Like a Rare Morel, with be on display through March 5th. http://www.thesuburban.org/
Laura Schaeffer/Home Gallery:
Schaeffer has made an artist practice out of running alternative spaces. After many years running a commercial gallery space, Schaeffer decided to experiment with the integration of art exhibitions into the domestic space, and Home Gallery of Hyde Park was born. Since 2007 Schaeffer has been exhibiting the works of painters, sculptors, and printmakers in her intimate town house. Recently, Schaeffer has turned her energies toward invigorating vacant store fronts throughout Hyde Park with her nomadic curatorial project, The Op Shop. Schaeffer is quoted as finding inspiration for her curatorial practices in the squatter galleries of late 80's Berlin. The Op Shop is now in its 3rd iteration in Hyde Park, while exhibitions at Home Gallery have been temporally suspended. http://thelarch.org/home.html

Johannah Silva/Portage ARTspace:
Silva, a Chicago painter and full time faculty member at Wright Community College, is a relative new comer to the artist-run space scene. Portage ARTspace, located in Portage Park, opened its doors in mid-2010 and is purported to be a one year experiment. Exhibited artists include Hui-min Tsen, Tom Burtonwood, Holly Holmes, and Phillip Von Zweck.
*Dan Gunn, "Artist-Run Spaces: A Brief History Since 1984" Proximity Magazine #2 07/13/09.
Related
Popular in the Community