Beyoncé or Adele? That was the message from this year's Grammy Awards, and the debate they'd like us to continue until next year's ceremony. While "25" sold millions, it was far from the best album of the year.
2016 will be remembered for its political earthquakes and for the tragic deaths of musical giants including David Bowie, Prince, George Michael, Leonard Cohen, Sharon Jones, Maurice White, Glenn Frey, and Esma Redzepova, several of whom shared their final thoughts and dreams for eternity in their last albums. Similar messages of hope and desperation can be found in magnificent recordings made in African prisons and in Syrian refugee camps. The plight of refugees and migrants have shaped the political climates on both sides of the Atlantic, their music and demanding stories can be found throughout this global list of the best recordings of 2016:
1. Aziza Brahim: Abbar El Hamada (Glitterbeat) (Western Sahara)
It is doubtful that many American high school seniors would have any luck trying to locate Western Sahara on a map. I wonder if a majority of college professors know about the calamity of this country either. Musician/activist Aziza Brahim was born and raised in a Sahrawi refugee camp following the Moroccan invasion in the 1970s. On "Abbar El Hamada", she exquisitely blends Sahrawi rhythms including asarbat and sharaa, with sounds of neighboring West Africa to amplify her message of resistance and independence that is impossible to ignore.
2. Dimitris Mystakidis: Esperanto (Fishbowl) (Greece)
Greece's greatest living guitarist has returned with a rembetika tour-de-force. Rembetika are songs that grew out of the crisis following World War I and the Asia Minor Catastrophe that led to huge numbers of refugees arriving in cities such as Piraeus, Thessaloniki and Volos. Here, Mystakidis revisits this historical tragedy with the help of Greece's greatest vocalists, including Eleni Vitali, Eleftheria Arvanitaki, Eleni Tsaligoupoulou and George Dalaras to produce an album so magnificent, it is "desert island disc" listening.
3. Leonard Cohen: You Want it Darker (Sony)
Of all the musical giants who died in 2016, Leonard Cohen left with one of the strongest punches to the gut. You Want it Darker was released just before he passed away, and in Cohen's true fashion, he touched a nerve. In the grim title track, he sings "Hineni", telling the lord in Hebrew, "Here I Am", backed by the cantor and choir of his local synagogue, Cohen is presenting himself raw both to the public and his creator. As much as I love Bob Dylan's music, back when he was awarded the Nobel Prize for literature in 2016, I felt that if this award was intended for a poet-songwriter, the greatest of our times is indeed Cohen, the poet who penned "Hallelujah", "Dance Me To The End of Love" and others destined to be true standards in the English songbook. Cohen leaves us as the darkest of poets, a musical masterpiece of a deathbed's last gasp, leaving the listener to question just about every assumption:
"They're lining up the prisoners. And the guards are taking aim
I struggled with some demons. They were middle class and tame
I didn't know I had permission to murder and to maim.
You want it darker. We kill the flame"
4. Bonga: Recados de Fora (Lusafrica) (Angola)
More than four decades ago, Bonga launched his musical career with the timeless Angola '72, an album that raised the spotlight on the consequences of Portuguese colonialism and its ramifications across Africa. Here on Recados de Fora, Bonga is back with another gem.
5. Various Artists: God Don't Never Change: The Songs of Blind Willie Johnson (Alligator) (Blues-Gospel)
If you have ever wondered what it might have sounded like if Blind Willie Johnson could have been teleported to a modern recording studio, this album is for you. Johnson made a series of classic recordings from 1927-1930 when audio technology was in its infancy. Still, his blues-gospel fusion shaped generations of singers and composers. It even earned a place in the immortal golden disc on NASA's Voyager spacecraft along with Bach and Beethoven, humankind's musical time capsule. Here, producer Jefrey Gaskill brought together an all-star lineup to record the ultimate Blind Willie Johnson tribute, including Tom Waits, The Cowboy Junkees, The Blind Boys of Alabama, Rickie Lee Jones and Sinaed O'Connor.
6. Charles Bradley: Changes (Daptone) (Retro Soul)
For all of us who longingly wished there was a musical wayback machine to return to the glory days of James Brown and Ray Charles, the creative minds at Daptone Records have perfected retro technology (this is the group behind the late Sharon Jones' groundbreaking recordings). As recently as 2010, Charles Bradley was working at small nightclubs as a James Brown impersonator when he met Daptone's Gabriel Roth. Here on Changes, he builds on the 1950s and 1960s magic of James Brown and Ray Charles, and creates his own searing sound through musical tales of his decades long roller coaster road to the musical pinnacle at the age of 68.
7. Leyla McCalla: A Day for the Hunter, A Day For the Prey (Harmonia Mundi) (Louisiana USA/Folk)
Leyla McCalla, a veteran of the critically acclaimed Carolina Chocolate Drops, has a new album that is a genre-crossing achievement. McCalla is a Haitian-American classically trained cellist now living in New Orleans, and she brings all of these backgrounds to bear in this masterpiece of an album. The songs deal with life, death and freedom, through the worlds of Haitian creole, Louisianan folk, jazz and beyond.
8. Calypso Rose: Far From Home (Because) (Trinidad & Tobago)
Simply put, this is one of the greatest albums in the history of Calypso music. Linda McCartha Monica Sandy-Lewis (aka Calypso Rose) was born in 1940, and began composing at the age of 15. Calypso has a history as an oral "sung newspaper" and Calypso Rose has used this platform to highlight countless issues including the exploitation of domestic servants. For her latest album Far From Home, she teamed up with producing heavyweights Ivan Duran and Manu Chao, and the result is magical: an acoustic masterpiece led by the undisputed Queen of Calypso's poignant and timeless musical storytelling, backed with layers of vocals, intricate guitar work, and a brass section from the acclaimed Kobo Town.
9. Elsa Soares: A Mulher Do Fim Do Mundo (Mais Um Discos) (Brazil)
This is another epic release from 2016 by one of Brazil's legends of samba. With A Mulher Do Fim Do Mundo (The Woman at the End of the World), Elza Soares pulls no punches in a stunning album dealing with slavery, prostitution, racism and violence against the LBGT community.
10. Noura Mint Seymali: Arbina (Glitterbeat) (Mauritania)
Mauritania's Noura Mint Seymali began singing at the age of 13 as a backup vocalist with her stepmother, the legendary Dimi Mint Abba. Seymali hails from a family of griots (musicians/oral historians) and can trace her family's lineage through song back 15 generations. On Arbina, Seymali's deeply evocative vocals are matched by the mesmerizing playing of her husband/fellow griot Jeiche Oud Chighaly, who takes the intricate fingerwork and phrasing of the tidinit (a traditional West African guitar also known as xalam or ngoni) and adapts it to the electric guitar.
11. The James Hunter Six: Hold On (Daptone) (Retro Soul)
If you have been pining away, longing for the glory days of Motown and Stax, your wait is over. The James Hunter Six have set the time machine to the early 1960s, and the results are astonishing.
12. Cigdem Aslan: A Thousand Cranes (Aslphalt Tango) (Turkey)
Born in Istanbul, Turkey, Cigdem Aslan's repertoire extends to the far reaches of the Balkans and Middle East, with Kurdish, Greek, Bosnian, Bulgarian, Roma, Ladino and Turkish folk music. A Thousand Cranes focuses on songs of exile from Greece and Turkey during the period following World War I.
13. Rolling Stones: Blue and Lonesome (Universal) (Rock/Blues)
The rock and roll legends are back with the ultimate gift, an album of Chicago blues that inspired the band's original sound in the 1960s.
14. Lisa Batiashvili & Daniel Barenboim: Tchaikovsky & Sibelius Violin Concertos (Deutsche Grammophon) (Classical/Orchestral)
You may be asking to yourself, "These are two of the greatest classical violin concertos of all-time, and I already have a CD of these pieces, so why do I need this one?" Two reasons: Lisa Batiashvili's captivating performance (culminated in the rousing finale of the Sibelius concerto) places her in that elite company among the world's top violinists. The second reason is Deutsche Grammophon's latest recording technology, which transports you to the conductor's podium in one of the world's greatest orchestras.
15. Various Artists, Musicians from the Calais Jungle: The Calais Sessions (Sessions of the World) (Syria, Iraq, Afghanistan, Ethiopia, Sudan, and more)
The "Calais Jungle" was a refugee camp in France, near the entrance to Channel Tunnel. While many politicians attempt to dehumanize refugees, the team behind this project (which includes members of Jamiroquai and The Boxer Rebellion) assembled a makeshift portable recording studio to document the remarkable musical talents as well as the harrowing and uplifting stories of the "inmate refugees" at the "Calais Jungle" shortly before its demolition in late 2016.
16. Neko Case, K.D. Lang, Laura Veirs: Case/Lang/Viers (Anti) (Alt-country)
Will this trio, with a last name band title reminiscent of Crosby, Stills and Nash follow suit with songs could define a generation? Whatever happens in the future, these alt-country legends that have united at least for one recording are off to a flying start.
17. Chopin - Mazurkas (Pavel Kolesnikov) (Hyperion) (Classical/Piano)
Pavel Konesnikov's recordings of Chopin's famous mazurkas are haunting, seductive and exquisite. The young pianist's (b. 1989) attention to the smallest intimate detail truly brings these Chopin masterpieces to life.
18. Earls of Leicester: Rattle & Roar (Rounder) (Bluegrass)
The Earls of Leicester's name is a pun on bluegrass legends Earl Scruggs and Lester Flatts (leaders of the groundbreaking band, the Foggy Mountain Boys that crossed into popular culture on the soundtrack to Bonnie and Clyde and the theme of TV's Beverly Hillbillies Show). Rattle and Roar runs the gamut of the repertoire, from gospel to rapid bluegrass picking wizardry to the melancholy of a convicted prisoner's letter to his wife, telling her it's pointless to wait for him in "Branded for Life".
19. Mohammed Fairouz: Zabur (Naxos) (Classical/Choral)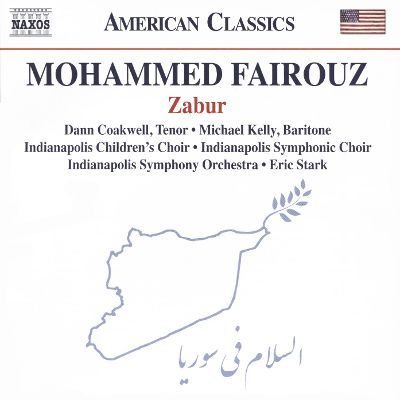 Powerful, devastating and simultaneously hopeful, Fairouz's epic new choral work is a Syrian war requiem that documents this calamity's effects on children. Commissioned by the Indianapolis Symphony, and backed by its choir and children's choir, Fairouz's message is indeed a hopeful one. It is set in a bomb shelter, and based on biblical psalms that are essential to the three Abrahamic religions: Judaism, Christianity and Islam.
20. Agent Sasco (Assassin): Theory of Reggaetivity (Sound Age) (Reggae)
Sasco's brilliant new release uses reggae to tackle issues such as slavery, poverty, and the exploitation of agricultural workers.
21. Roberto Fonseca: ABUC (Verve/Impulse) (Cuban Jazz)
Roberto Fonseca manages, in one album, to take his audience on an extended tour of the rich history of Cuban music. The Buena Vista Social Club pianist is joined by another BVSC legend, Eliades Ochoa on "Tumabo De La Unidad" while New Orleans' Trombone Shorty shines on "Cubano Chant". There's 1940's style big band mambo, as well a host of other Latin jazz tracks, all beautifully arranged and produced on 2016's Cuban album of the year.
22. Daniel Hope: My Tribute to Yehudi Menuhin (Deutsche Grammophon) (Classical/Orchestral)
Daniel Hope was born in South Africa, and came to London in the 1970s as his parents were forced to flee the apartheid regime. His mother managed to land a job as a secretary to legendary violinist, Yehudi Menuhin. As a result, Daniel Hope grew up in the ultimate musical environment, learning from the true master. Hope's tribute celebrates the broad range of Menuhin's talents, from Mendelssohn's violin concerto to songs based on Roma (Gypsy) folk music.
23. Patricia Kopatchinskaja: Death and the Maiden (Alpha) (Classical/Orchestral)
This is Schubert's Death and the Maiden as you've never heard before. Yes, many have tried creating orchestral adaptations of this famous string quartet, but, in the past, the results have been more or less "muddy", losing the intimacy of the original quartet. Audiences in North America might not know it, but those in Europe (and Minnesota) have quickly discovered that Patricia Kopatchinskaja is near the top of any responsible conversation of who is the world's greatest living violinist. Here, Kopatchinskaja's new arrangement is brilliant, with her solos exquisitely captured in Alpha's new recording with the St. Paul Chamber Orchestra.
24. Refugees for Refugees: Amerli (Muziek Republik) (Syria/Iraq/Afghanistan/Pakistan)
This is a remarkable Belgian project from the team at Muzeik Republik, who were moved by the plight of migrants arriving in Europe. They brought together virtuosi refugees from Syria, Iraq, Afghanistan, Pakistan and other countries in the region to share their ordeals and hopes through the universal language, music.
25. Semer Ensemble: Rescued Treasure (Piranha) (Yiddish)
Musical director Alan Bern, musicologist Dr. Rainer Lotz and the entire talented Semer Ensemble truly deserve medals for their heroic work on this project to rescue songs from the Golden age of Jewish music in Berlin. When the Nazis came to power in 1933, they prohibited Jews from performing (and recording) in non-Jewish settings. The newly established Semer label began feverishly recording the entire range of Jewish music, including Yiddish folk songs, show tunes, classical, and religious songs. On Kristallnacht, November 9, 1938, Jewish businesses were burnt and destroyed across Germany, including the Semer label. Its rich recording catalogue was thought lost to history: a precious time capsule of a culture that was about to be decimated by the Holocaust was gone. Half a century later, Dr. Lotz began an endeavor that would last over a decade to track down the entire vinyl catalogue. His quest took him around the world, which culminated in the material that became the basis for this project.
26. Various Artists: Jorge Aragao Sambabook (Musickeria) (Brazil)
Brazilians know Jorge Aragao as one of the nation's greatest songwriters (and cavaquinho players, a small four-stringed instrument in the guitar famliy). Here, Brazil's top singers return the favor with the ultimate all-star tribute to the great samba composer, featuring Elza Soares, Maria Rita, Alcione, Ivan Lins, Beth Carvalho, Zeca Pagodino, Martinho da Vila and more.
27. Allen Toussaint: American Tunes (Nonesuch) (Jazz)
A touching posthumous release from the American jazz legend, with repertoire from Professor Longhair, Louis Armstrong, Louis Moreau Gottschalk, Fats Waller and Bill Evans.
28. Joyce DiDonato: In War & Peace (Erato) (Classical/Opera)
The wars in the Middle East and terror attacks in Paris have led many to start soul-searching for answers. American mezzo-soprano Joyce DiDonato's response is this is a stunning album drawn mostly from the repertoire of baroque operas by Handel and Purcell.
29. Catherine Russell: Harlem on My Mind (Harmonia Mundi) (Jazz)
Just when you were wondering where today's great jazz vocalists like Dinah Washington are, the answer is Grammy award winner Catherine Russell. Her father, Luis Russell was Louis Armstrong's bandleader, and here on Harlem on My Mind, Russell's repertoire focuses on gems from earlier days in Harlem made famous by Billie Holiday, Bessie Smith an Ethel Waters.
30. Le Tout Puissant Orchestre Poly-Rythmo de Cotonou: Madjafalao (Because) (Benin)
Formed back in 1966 in Cotonou, Benin, this big band magnificently fuses Afrobeat, funk, soul and soukous.
31. Orkesta Mendoza: Vamos a Guarachar! (Glitterbeat) (Latin Fusion)
This is one of those albums that is hard to categorize, but is nonetheless infectious. Led by Sergio Mendoza (from Calexico), this Arizona ensemble fuses traditions from Mexico, Latin jazz, electronica as well as pop elements to create their unique sound.
32. Zomba Prison Project: I Will Not Stop Singing (Six Degrees) (Malawi)
The ultimate project of giving hope to the hopeless was recorded in a maximum-security prison in Malawi. The overcrowded African prison was originally designed for 340, and now holds over two thousand that have for the most part, been given life sentences. For many at the Zomba Prison, composing and singing has become their only solace.
33. Richard Bona: Heritage (Qwest) (Cameroon/Cuba)
West Africa is the source of most of Cuba's rich musical roots, so it was no surprise that Cameroon's Richard Bona's tribute to Afro-Cuban music would be spectacular.
34. Various Artists: Songs of Separation (Navigator) (Celtic)
This moving recording is a concept album about Scotland's recent push for independence. A group of 10 female vocalists including Jenny Hill, Eliza Carthy, Karine Polwart and Hazel Askew joined forces to musically contemplate the consequences of Scottish separation.
35. Rokia Traore: Ne So (Nonesuch) (Mali)
The themes of home, refugees, and ethnic violence can be found throughout Rokia Traore's stunning release, Ne So. The recent rebellions in northern Mali drove millions from their homes, and ever since the conflict started, Traore has been performing free concerts in refugee camps. The album is produced by John Parish (who has worked with P J Harvey, among others), and features songs in Bambara, as well as French and English, including a devastating version of Billie Holliday's classic "Strange Fruit", reminding us that the world still has yet to truly confront racism and its consequences.
36. Giuliano Carmignola: Vivaldi & Amandine Beyer: Concerti Per Due Violini (Harmonia Mundi) (Classical/Baroque)
No one brings baroque violin concerti back to life better than Giuliano Carmignola, and his latest release on period instruments, immaculately recorded by Harmonia Mundi is captivating.
37. Stojowski & Winiawski, Violin Concertos, Bartlomiej Niziol, BBC Scottish Symphony Orchestra (Hyperion) (Classical/Orchestral)
If you thought the only composers creating romantic violin concertos in the 19th century were Mendelssohn, Brahms and Bruch, think again. Here is yet another gem in Hyperion's remarkable series rescuing the forgotten treasures of romantic violin concertos.
38. Djelimady Tounkara: Djely Blues (Label Bleu) (Mali)
Djelimady Tounakara is widely considered one of Africa's greatest guitarists, and his talents shine on Djely Blues, as he seamlessly flows between traditional folk songs and improvisation, the melodies of West Africa, and guitar elements from musical neighbors Congo and Cuba.
39. Andreas Staier, Daniel Sepec, Roel Dieltiens, Schubert Trios (Harmonia Mundi) (Classical/Chamber Music)
These works by Schubert represent the pinnacle of the romantic piano trio. Many audiences were first introduced to these works on the soundtrack of Stanley Kubrick's Barry Lyndon. This latest recording by Harmonia Mundi with Andras Staier (piano), Daniel Sepec (violin) and Roel Dieltiens (cello) is so immaculate it can stand with the best who have recorded Schubert's legendary trios: The Beaux Arts Trio (Philips) and Ashkenazy/Zukerman/Harrell (Decca).
40. Anda Union: Homeland (Anda Union) (Inner Mongolia, China)
This is cowboy music from the wild wild east (Inner Mongolia to be precise). The songs are about horses (that are even played with horse head fiddles), and of course, throat singing.
Dan Rosenberg is a journalist, blogger and music producer, who reports about music and culture for the Huffington Post, The Times (UK), The Rough Guides, and various public radio programs including, "Afropop Worldwide", PRI's "The World", and the CBC.
Related
Popular in the Community